So, what exactly is kombucha? It's a fermented, refreshing, fizzy, invigorating tea beverage created by millions of microorganisms that come together to form a symbiotic colony of bacteria and yeast, otherwise known as a SCOBY. And if all that sounds a little complicated, let me assure you: all you need to know about kombucha is that it's seriously delicious. And if you're drinking Kombucha Town kombucha, it's also seriously good for you.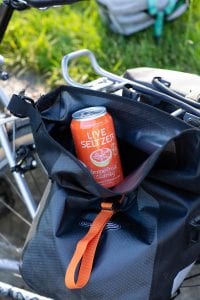 Kombucha Town kombucha is full of probiotics, also known as living culture that keeps your body energized and ready to take on whatever adventures the day might deliver. However, that spirit of living culture extends into the core values of the business itself, as well as several of its new, exciting ventures.
Kombucha Town has a triple bottom line, which means they focus on social and environmental aspects of company practices, not just profits. They pride themselves on being "good for you, good for your community, and good for the planet." And that's so much more than just a tagline.
Trent Banks, the marketing manager for Kombucha Town, describes how Kombucha Town has grown throughout the years and the ways that they're adapting to the changing landscape of the COVID-19 pandemic.
"Chris McCoy, our founder and CEO, was looking to provide a healthy beverage for people," Banks says. "Kombucha Town started locally in mom-and-pop stores, the Co-Op, and the farmers market. In 2015, it became the first kombucha in a can, which is great because cans have the lowest carbon footprint of any shippable beverage container and are infinitely recyclable."
Of course, Kombucha Town is adapting to the times along with many other small and medium-sized businesses. They're launching a new product in accordance with their triple bottom line values: live seltzer.
"Live seltzer is exactly what it sounds like," says Banks. "It's sparkling water infused with kombucha culture and probiotics and some 'hero' ingredients. We've got three new flavors coming out." Kombucha fans and newbies alike can look forward to cracking open a cold one of Cucumber, Grapefruit, or Ginger Live Seltzer. It's low calorie, low sugar, and still high in flavor and health benefits. Sounds like the perfect thing to take along on your next adventure.
That's part of what Banks loves so much about Kombucha Town's drinks. "As somebody who's active and loves to get after it in the mountains, you know you have to stay hydrated," Banks says with a laugh. "Having a really delicious and healthy way to do that is great. This past weekend I was loving and crushing the Cascadian Hops flavor. I ran up Ruby Mountain in the North Cascades and had one, and it totally changed my day. It was definitely what I needed."
When it comes to Kombucha Town, the "good for you" aspect is only one piece of the puzzle. Their team recognizes that what is good for the individual must also be good for both local and global communities. "Back in April we teamed up with One Tree Planted, an organization that does just that: they plant trees across the world and team up with companies like ours that are interested in launching initiatives that help support that goal," Banks says. "We're working with them on their orca project here in the Pacific Northwest, planting trees along creeks in salmon habitats to help regenerate habitats with the end goal of increasing orcas' main food source. For every case we sell online, we plant a tree."
Pretty rad, indeed. Also pretty rad? Kombucha Town's commitment to stepping up to support their community and make healthy beverages—and a healthy lifestyle—accessible for all.
"We're increasingly working to prioritize the democratization of health. Historically speaking, the natural and health food world has been associated with affluence. We'd really like to break that down and disrupt that thought pattern, making healthy beverages available to everyone," Banks says. "It's our intention to have healthy drinks like kombucha available in food deserts—places where the only food opportunities are convenience stores. Tying in social and food justice is an important part of addressing the systemic issues we're dealing with as a country."
Sponsored