Every year, an estimated 800,000 Americans experience a stroke—or loss of blood flow to the brain. Some die, while others suffer the loss of physical and cognitive abilities, which can either be permanent or require extensive rehabilitation.
While a stroke has many causes, among them is carotid disease—a narrowing of the carotid arteries in the neck due to plaque build-up. If there is enough build-up to cause a blockage, a stroke can occur. Fortunately, carotid disease is treatable with both medications and several surgical options, one of which was recently introduced at Bellingham's PeaceHealth St. Joseph Medical Center.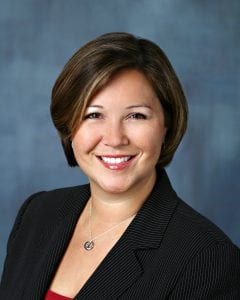 The new procedure, called Transcarotid Artery Revascularization, or TCAR, is a less invasive procedure which offers the lowest overall stroke rate. Dr. Connie Zastrow, a vascular surgeon at PeaceHealth St. Joseph Medical Center, says TCAR procedures also typically offer quicker recovery times than traditional carotid surgery. TCAR, she says, is essentially a hybrid of the other two surgeries.
"It combines the best features of both surgical treatment and stenting," she says. "It's a way of placing a stent that reduces the risk of stroke, and it provides a new way of protecting the brain during a stent procedure."
How It Works
Traditionally, Dr. Zastrow says that anyone with risk factors for carotid disease should be on medication to reduce their stroke risk; this includes a regimen of aspirin or cholesterol-reducing drugs. Other ways to prevent stroke for at-risk patients include managing issues like blood pressure and diabetes.
But when patients have significant narrowing of their carotid artery, surgery becomes an option. Traditionally, the "gold standard" procedure for this is a carotid endarterectomy, where a skin incision is made in the neck and plaque is removed from the inside of the carotid arteries.
Also utilized is transfemoral stenting, traditionally done by entering the femoral artery via the groin. Stenting, says Dr. Zastrow, carries a slightly higher stroke risk than the endarterectomy, but tends to offer a slightly lower risk of other complications like nerve damage or heart attack.
With a TCAR procedure, a smaller incision is made at the base of the neck, right above the collarbone, and a tube is then inserted directly into the carotid artery. That tube connects to a filter device connected to a vein in the patient's groin, completing a circuit. When the device is turned on, after the carotid artery is clamped, blood flow is reversed inside the carotid artery. This allows any plaque that may break off and form a clot to be directed away from the brain instead of towards it. The plaque is then caught in the device filter, and blood is returned to the vein.
Blood flow is typically only reversed for five to ten minutes, Dr. Zastrow says, and the whole procedure only takes about 90 minutes—less than the traditional surgery. Patients usually have an overnight hospital stay, just to monitor for any complications, before going home the next day. Recovery is typically short and simple.
"The patients that we've seen have felt pretty much back to normal within a couple of days," says Dr. Zastrow.
Who Should Have It?
The ideal candidates for TCAR procedures, Dr. Zastrow says, are those considered at high surgical risk for stroke. Many patients age 75 and older may qualify for the surgery, especially if they have severe heart or lung disease, difficult to control diabetes, prior surgery on the neck, or have the need for other major surgery.
All three surgical options for carotid artery disease have similarly successful long-term outcomes. But Dr. Zastrow says TCAR is a great new and possibly superior option that might be right for you or someone you love.
"In order to offer this surgery, we have to participate in a clinical trial where all the outcomes are being continuously reported," she says. "So, we have a really good sense of how safe and effective this procedure is. It's pretty exciting to have this kind of technology and be able to offer it to patients in our community."
Sponsored