The 4th of July is a time to celebrate independence, community, and our families. Of course, like so many holidays and special occasions these days, COVID-19 has affected the ways we can safely spend time together.
Since Whatcom County is currently in Phase 2 of the Safe Start reopening plan, it's still recommended that people practice social distancing, minimize gatherings, wear masks, and practice responsible hygiene. In fact, Governor Inslee announced a statewide mandatory face covering order effective June 26.
Whatcom Unified Command has all the information you need to keep yourself, your family, and your community safe (and keep us all on track for progressing to Phase 3). That means that Independence Day festivities will look a little different this year—but there's nothing more American than caring for your neighbors.
So how can we celebrate the 4th of July safely this year? Tap into that American spirit of innovation, creativity, and resourcefulness. This year might look different from years past, but it can still be one to remember.
Keep your celebration small by spending time with immediate family or those you live with. Video-streaming services offer a chance to connect with loved ones near or far. Is there a childhood friend you used to watch fireworks with? See if they and their family are up for a Zoom session to share stories of favorite 4th of July memories.
And while there's nothing like experiencing fireworks in person, there will be many televised fireworks shows from across the country. Never experienced a Macy's fireworks display in New York City before? Me neither, but this could be the year, as the historic fireworks display will be televised and accompanied by musicians and uplifting messages from fellow Americans.
Keep the American spirit going and register to vote! Nothing says Independence Day like participating in democracy and making sure your voice is heard.
This is also a prime time to support local food businesses, restaurants, and grocery stores. Is there a fun grilling recipe you've always wanted to try? Now's the time to stock up from local butchers, like Carne. Vegetarian? We all know that Whatcom County in the summer is bursting with fresh produce that can easily take the place of ribs in a 4th of July feast.
The 4th of July is a great time to brush up on some American history, too. Post-barbeque, why don't you and your family or friends take a virtual tour through some of America's most famous, historic, and beloved sites? While the pandemic has limited travel in some ways, it's opened up whole new ways of experiencing new places. You could visit the National Museum of African American History and Culture, Ellis Island, or the National Parks—all crowd-free!
And while local residents might be missing community events such as the free Elizabeth Park Concert Series, never fear! The concerts are live-streamed, and though there are none scheduled for July 4th, you can catch pre-recorded tunes from The Sweet Goodbyes or the "Grateful-Dead-meets-New-Orleans-funk" of CraigO's Planet Groove on Facebook or the City of Bellingham's YouTube channel.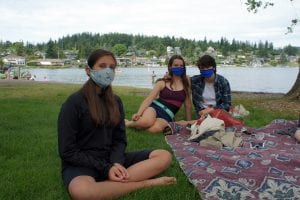 See if there are any socially-distanced events happening in your neighborhood. Bellingham's Columbia neighborhood, will host a Chalk Festival on July 4th. Neighbors, friends, and families are invited to play with chalk on the sidewalk in front of their own home. All ages and skills are welcome to participate. Enjoy art and live music from 2:00 p.m. to 5:00 p.m., with a neighborhood tour where musicians play from their front porches and households can admire neighbors' art. Non-residents are welcome to attend virtually, to maintain social distancing!
Flip Breskin, Columbia resident and participant in the neighborhood association, says that the community has really come together to support a safe, fun Independence Day—from the principal at Columbia Elementary School, the folks at Immanuel Bible Church, and Franklin Academy. "Bellingham is a small enough community that an individual can make a difference. Our elected officials are our neighbors. We're all in this together," says Breskin. "And [there's] so much creativity! Folks have really stepped up to help their neighbors through this pandemic. This is the home of my heart."
So if Whatcom County is the home of your heart, too, please celebrate the 4th of July responsibly this year. That means adhering to Safe Start guidelines like mask-wearing, social-distancing, and washing your hands. We'd love to see the creative ways you're doing Independence Day this year—tag us in your photos with #WhatcomVirtual4th.
Sponsored