For 2020 Mount Baker High School graduate Kali Cook, the middle part of the cross country race is the hardest.
At the beginning she has energy, and at the end there's a boost of adrenaline. But at that two-mile mark? "You have to be really strong mentally and physically," she says.
This is when Cook thinks of her team and coaches and knows she has to run her best for the team to have success. In cross country, competitors compete both individually and as a team—Cook's favorite part of the sport. She's able to run hard and have personal success, while still supporting her team.
Cook just finished her senior year, and is awaiting a belated graduation ceremony on August 7. After that, she'll head to Carol College, in Helena Montana, to continue her cross country career.
Cook has enjoyed personal success, like making it to state last fall, and has individual goals, such as running a sub 20-minute race. But it's the draw of the team that has always kept her running.
The idea of going off to college is "weird and scary, but exciting," she says. But she looks forward to running with a new team in a new environment. "Making that new team connection will be really cool; there are a lot of freshman on my team."
Cook discovered running at Acme Elementary while participating in its Girls On The Run program, but never planned to run in college. She decided to try cross country in junior high and, after finding some early success, decided to stick with it.
Carol College was one of her top choices as a place to study nursing, so one day she picked up the phone and called the cross country coach to see if there was a chance of joining the team. The coach said they'd love to have her the deal was sealed on her college plans.
Cross country isn't a sport for the faint of heart. The season starts in the August heat, and—if you have success and go to state—ends in the chill of mid-November. In addition to battling the elements, training involves logging lots of miles. To prepare for the 3.1-mile races, athletes must get out and run.
During Cook's high school cross country seasons, her Mount Baker coach had her running between 25 and 30 a week—a number that's already been pushed up by her college coach. Her summer training schedule has her currently running 35 miles a week, which will tick up to 45 miles a week before she heads off to preseason camp on August 12.
Cook admits that all this training has her a little nervous. "I've run way more than I ever did in the summer so far," she says.
To stay driven, Cook thinks about the great experiences she's had and the ones she gets to look forward to. Her favorite memory is from bi-district at South Whidbey during her senior season. "For every bi-districts race, you know that if you don't run as fast as you can at that race, there are no more races, so you might as well run like it's your last race," she says
In that particular contest, she saw her extra training pay off, leading to her make it to state—the accomplishment she's most proud of from her running career. She says running with all those top competitors was awesome and running in college will give her the opportunity to do more of that.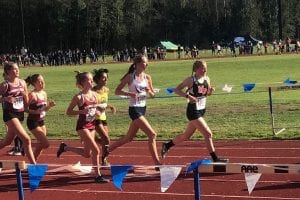 Cook has been recording miles on the same routes for six years now and looks forward to traversing totally new areas at college this fall. It will be a different environment, but she says that part's exciting, not scary.
She's focused on the opportunity to run in new places, with new teammates—and create new memories. Leaving Whatcom County for college is a big deal for any high school grad, but knowing that she'll be joining the Carol College cross country team has Cook running to get there.
Featured photo by Tony Moceri