Whatcom County's own Nooksack River Valley might not be the first place you think of when you imagine a winery and vineyard, but the mild winters, cooler summers, and rich soil have helped Samson Estates Winery grow, thrive, and make some seriously delicious wines here.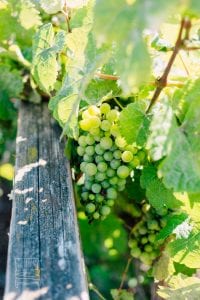 Located in Everson, Samson Estates crafts artisan fruit wines, dessert wines, seasonal varietals, and much more. They're all high-quality and unique, so manager Becci Comley finds it a hard decision picking her favorite. "All of our dessert wines are wonderful," she says, musing. "But my favorite table wine is the blackberry wine. I'm a big fan of the varietals that we make as well—the Riesling and Cabernet Sauvignon would be my choices."
The aforementioned blackberry wine is made with berries grown on their own farm, and it's perfect for sipping chilled or brought along for a picnic (a great choice for social-distanced dining these days).
Local berries have defined Samson Estates since the very beginning. Did you know that the Nooksack River Valley grows 75% of all the frozen raspberries in North America? "Samson Estates Winery started in 2002. The winery is an offshoot of Samson Farms, and all of the berries for the fruit and dessert wines are sourced from the farm, except for the hazelnuts for the dessert wine, Oro. The hazelnuts are sourced from a third-generation farm in Lynden. Samson Estates Winery is a family-owned and operated business, and community is at the heart of all they do and create.
Samson Estates is beloved as an event space and a place for people to experience the best of the Northwest with the ones they love. "We have a tasting room," Comley explains, "and we do weddings, receptions, private tastings, concerts, and parties in the outdoor events center." Campfire Chef Cooking Competitions are often hosted at their beautiful space.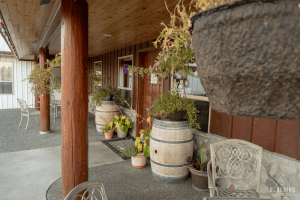 Of course, the COVID-19 pandemic and resulting restrictions have put many of these events on temporary hold. But Samson Estates is known for their innovation, and this unprecedented time is no exception. With both the Lynden Farmers Market and the Wednesday Bellingham Farmers Market closed for the time being, food-lovers are clamoring for another way to support local makers, crafters, and farmers. "We're hoping to fill that gap," Comley says. "We're going to start a farmers market."
The farmers market will be held at Samson Estates Winery, and will open as soon as they secure enough vendors. "We're in the process of getting vendors to sign up," says Comley. "We have a covered pavilion or a lawn area for people to set up." It's only $25 per day if vendors are in the pavilion, and free in the lawn or gravel areas.
The market days will be determined on vendor feedback, and be open from 10:00 a.m. to 4:00 p.m. All products must be grown or produced in Whatcom or Skagit Counties. Samson Estates is looking for produce (except berries), plants, flowers, handmade crafts, packaged foods, and cheese.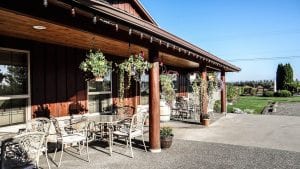 "As soon as we get enough people—at least ten vendors—we'll be open!" Comley says excitedly.
Creating special events is one of her favorite parts of her job. "I really like that I get to be creative and put together what I want to see and do," she says. "We had a rock concert series scheduled for the summer, but we're only able to do one now. It will be on Saturday August 29th and will feature local band "Still Kick'n". I love putting together fun events for the community. We have such a beautiful space."
Soon, that beautiful space will host even more makers, crafters, and farmers. So if you—or someone you know—has some delicious cheese, abundant veggies, or fine chocolate to sell, Samson Estates Winery's Farmers Market just might be where you belong. Or, if you're a consumer of these tasty treats, you might soon find yourself wandering amidst the vines and taking in the beauty of Samson Estates—hopefully having found a local bottle of wine (or two) to take home!
Sponsored