Local storefronts that have had "temporarily closed" signs in their windows since mid-March are now marked with open doors and neon green traffic cones. The cones signal to pedestrians that the shop is open to visitors, but with updated safety restrictions and precautions.

As Phase 2 allows for more stores to open, local business owners are navigating a new landscape and taking measures to protect the safety of the public and their staff.
Drizzle
Fairhaven's husband-and-wife-owned Drizzle Olive Oil and Vinegar Tasting has re-opened for tasting and purchases. Before the announcement of Phase 2, owners Dana and Ross Driscoll offered curbside services at the store and online orders with free delivery in Whatcom County. The shop has a new layout to accommodate safe oil and vinegar sampling, which is now handled only by trained staff, a change from the previous self-service sampling.
The Driscolls missed the interactions and conversations that come with in-person shopping while only doing delivery and curbside. They also faced losses resulting from a lack of ferry traffic, tourism, and particularly Canadian visitors and shoppers. Despite these challenges, Drizzle received "overwhelming, tear-jerking  support  from the community," says Ross Driscoll.
Customers are welcome to sample, shop, and refill empty oil bottles, and rest assured that dispensing units are sanitized after each use. Patrons are also encouraged to wear a mask while shopping and asked to respect the 6-foot markers on the ground while sampling or purchasing.
Village Books
Local booklovers' home away from home, Village Books and Paper Dreams is open to in-person shopping again, with safety measures in place to keep staff and patrons safe. For pick-up orders, Fairhaven shoppers can retrieve purchases at the Village Green entrance, and anyone interested in shopping in-store can enter from the 11th Street entrance.
The shop is currently welcoming up to 30 shoppers inside at a time, and monitors this by handing each person a sanitized number card to keep with them while shopping. The card is then returned on their way out, so staff can maintain the 30-person limit for safe social distancing.
During Phase 1, Village Books shifted their business model quickly from doing a little online business to a lot, says co-owner Kelly Evert. A portion of the staff diligently worked in the store fulfilling online orders and preparing gift boxes for graduations, holidays, and birthdays.
Evert worked to keep the community well-read during the Stay at Home order by delivering local orders via bicycle. She wanted to make sure that everyone could continue reading, especially those unable to pick up books curbside for safety and health reasons. Evert even peddled as far as Ferndale, and continues to deliver while the shop is again open for in-person customers.
Village Books celebrate its 40th Anniversary with an anniversary sale on the weekend of June 20-21, and later in August will host an anniversary party.
Village Books in Fairhaven is open 10:00 a.m. to 6:00 p.m. daily and from 10:00 a.m. to 4:00 p.m. Monday through Friday in Lynden. The online shop is available for orders that can be shipped directly to your home.
Övn Wood Fired Pizza
Övn Wood Fired Pizza shifted their business format to a takeout model in Phase 1, and now offers contact-free service with outdoor seating. They have hopes of expanding their patio seating for outdoor dining soon, as currently do not offer indoor seating.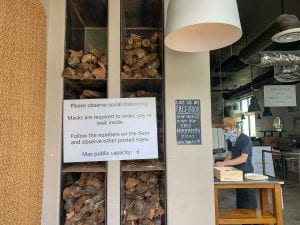 The eatery originally shut down during Phase 1 while management determined what next steps looked like to keep everyone's safety in mind. Their thoughtful consideration brought a new shift for the woodfire pizza favorite, to a to-go model, and they started their own in-house delivery system for orders within Whatcom County.
This in-house delivery also allowed some of their staff to continue serving pizza to the community by taking on driving positions.
For those walking by on the South Bay Trail or in the mood for some of Bellingham's best pizza, Övn is open daily at noon for delivery, takeout, or outdoor dining.
Black Sheep
Downtown's craft cocktail bar and taco destination Black Sheep "didn't skip a beat," in reorienting their menu and delivery methods to continue to serve Bellingham, says server Amory Hiller.
They initially served customers using delivery food programs, but have since moved to an in-house delivery team with free delivery within Bellingham city limits.
Their takeout house-made packaged cocktails and new blended drinks are available to go, for delivery, and can also be picked up at their new drive-up window in the alleyway alongside the storefront.
Being able to reopen to half-capacity indoor seating was huge for staff morale, says Hiller, as they all missed the interactions with people and the presence of everyone enjoying the hospitable atmosphere.
Black Sheep is open for delivery every day from 3:00 p.m. to 8:00 p.m. and open at partial capacity for dine-in every day from 11:30 a.m. to 12:00 a.m.
The Third Planet
The crystals, candles, and local jewelry, among many other unique items at downtown Bellingham's Third Planet, didn't see any in-person visitors from March 16th until their soft reopening on June 6th. With no established online shop, buyer/manager Erika Millage and her colleagues were faced with a need for creative methods to continue selling goods.
They took on a "virtual shopping" method, with livestreams on their social media and one-on-one video calls with customers where staff members walked around the store with a phone, showing available items if a shopper was seeking something in particular.
Third Planet also hosted live crystal shows, Millage says, in their attempts to figure out new ways to reach the public.
In mid-May, the store transitioned again, implementing contactless curbside pick-up purchases. This has continued as the store reopens its doors for Phase 2. Indoor shoppers are asked to wear a mask and to sanitize their hands or wear gloves upon entering the store. Staff meticulously clean all touch points and surfaces, and have implemented a full sanitation protocol once an hour to protect staff and shoppers.
Third Planet is open from 11:00 a.m. to 7:00 p.m. daily and offers virtual shopping on an as-needed basis, in addition to contactless curbside pick-up.
Camber
Camber is dedicated to serving the community consistently and safely, with take-out options and limited outdoor seating available now in Phase 2.
Being a coffee-centric cafe, they've focused their attention on to-go coffee and quick takeaway options, with a wider selection of food choices on the weekends.
Camber is dedicated to continuing to provide the best hospitality to their customers, while also helping promote the health and wellness of the community, says Christian Lawrence, who is part of the management team.
Signs outside the front entrance ask that customers wear masks inside when ordering, and respect a 6-foot radius from others as they wait for orders. The front register is adorned with two stickers, one featuring a coffee cup wearing a mask and another of a mask with the words, "Badge of Honor," reminding visitors of the importance of wearing a mask for themselves and for others.
Camber is open for carry-out options and outdoor dining six days a week, 8:00 a.m. to 2:00 p.m., closed on Tuesdays. 
All photos by Ali Raetz