Submitted by Trident Seafoods
How we shop for groceries has changed. We don't just zip to the store when we're out of one or two things anymore—we shelter in place and minimize grocery store visits. When we finally do shop, we have to maintain a safe distance. There are limits on what we can buy, and how many of us can be in a store at a time. How do we get the things we need while remaining safe?
Trident Seafoods was so inspired by the curbside pickup strategies of many local restaurants, they came up with their own. The turned their Pop Up Fish Shop seafood truck into a mobile, No Contact Drive-Thru seafood shopping experience. Now you can buy delicious, nutritious, and affordable seafood while social distancing. Just order up and pre-pay online, then drive up and pick up at the No Contact Drive-Thru.
The Pop Up Fish Shop comes to Bellingham every Thursday from noon to 5:00 p.m. Check their website for locations as the truck moves around each week—and then just look for the big red truck.
Trident Seafoods created The Pop Up Fish Shop as a complement to their food truck, The Fork & Fin. Since The Fork & Fin is currently restricted from serving food to the public, manager Lo Reichert and his team have been feeding frontline healthcare workers in appreciation of these heroes of the pandemic.
Make a great catch with Trident Seafoods
Seattle-based Trident Seafoods has been a trusted name in wild Alaska seafood since 1973. They're family owned and operated with facilities throughout Washington state, Alaska, and the world.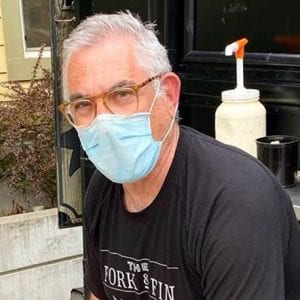 Their Bellingham facility is busy year-round as a frozen fish portioning and value-adding plant. During the summer and fall in the Puget Sound—also known as the Salmon season—the plant expands its operation to include primary processing of wild salmon harvested by a fleet of independent tribal and non-tribal vessels targeting sockeye, pink, and chum salmon.
Many of these fish are processed and sold fresh to local markets, while others are processed into a variety of frozen product forms. The plant employs approximately 140 full-time workers on its value-added lines, supplemented by an additional 100 seasonal employees during the "fresh" salmon season.
How about Wild Alaska Pollock for dinner?
We're all trying to think of something new for dinner these days. With restrictions in place, your dinner routine can become, well, routine. If you're looking to eat healthier and add more seafood to your diet, The Pop Up Fish Shop offers a perfect opportunity. It offers many products made with Wild Alaska Pollock. It's a mild whitefish that's a cousin to cod. Not only is it abundant, it's the most sustainable wild species on the planet.
Visit tridenteafoods.com for product information and recipe ideas. This week the truck will carry Wild Alaska Pollock skillet cuts. Here's an easy fish taco recipe using those skillet cuts: https://www.tridentseafoods.com/browse/recipes/wild-alaska-pollock-tacos/