Health is on everyone's mind these days, and Gary's Plumbing is here to help.
To make your home as healthy an environment as possible, they're rolling out Gary's Healthy Home Maintenance Program. The initiative—occurring during National Homeowners Month—covers several ways to improve the air and water quality in your house, using advanced technology and installed by their expert technicians.
"A lot of business owners and homeowners are thinking: 'How many healthy things can I do?'" says Mary Gibb of Gary's Plumbing. "We're here to help them brainstorm."
Indoor air can be about two to five times more polluted than the air outside, according to the Environmental Protection Agency. As people spend more time in their homes, it's a good idea to make sure that air is as clean as it can be.
Gary's has two offerings to help you achieve that. They offer installation of an in-home air scrubber, which is an air filtration system that they install to your existing HVAC system to improve the quality of your air. The filter uses the same technology used by NASA on the space station, and it kills 99 percent of viruses on hard surfaces.
Gary's Plumbing originally started installing this technology in customer's homes a few years ago during a particularly bad wildfire season. People were being negatively affected in their homes by the poor air quality, so they began installing the air scrubber technology to alleviate those issues.
"Everyone I dealt with was great! The person answering the phone was very helpful and the plumber was very knowledgeable and helped me determine the best repair for my situation. Good experience all the way around!" -Tami C 
Another important element of clean indoor air is your duct system. Your home's heating, ventilation and air conditioning system collects contaminants such as mold, fungi, bacteria and small particles of dust; a professional duct cleaning is the only way to flush all those contaminants from your home's airways.
Ensuring the water your family uses and drinks is an essential factor in maintaining their health. Gary's offers installation of water purification and filter systems as well as a special laundry system that more thoroughly cleans clothes. The Laundry Pro, as it's called, is a device that attaches to washing machines and uses ActivePure Technology to activate the oxygen in the water supply, lifting more dirt and grime off the clothes without needing detergent.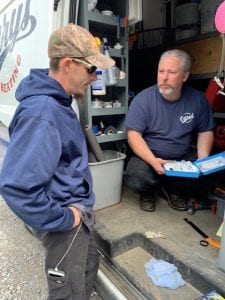 The list goes on.
Through their Healthy Home Maintenance Program, Gary's Plumbing offers installation of heat pumps, tankless hot water systems, touchless toilet flushers, touchless faucets and more. These services are all aimed at supporting the health of everyone in your home, helping to bolster their immune systems in these uncertain times.
Some of this technology, including the touchless systems, has been around for a while, but right now it's more crucial than ever to implement, Gibb says. People will start to see the value in having systems that are sometimes considered higher-end technology.
"They're going to start thinking: 'This isn't just a feature I like, this is a feature I want because I want to be healthy,'" says Gibb.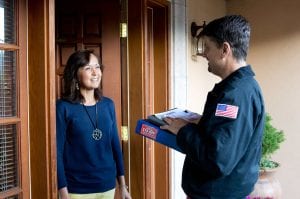 Gary's Plumbing is a family-owned and -operated business committed to providing you the best service through the best technicians in town.
Throughout these installations and services, Gary's Plumbing stands by a company-wide promise:
They do their best to make their customers comfortable.
They will arrive on time.
They are honest.
They respect your home; they will never leave a mess.
They don't charge extra for nights or weekends.
Within the company, they are committed to best practices that support the health and safety of both their employees and their customers.
"Our techs are out there to serve you, but they have families too and they, just like the public, have some health-compromised people at their homes, so they are very sensitive to keeping the public safe and also to be safe for themselves and their own families," Gibb says.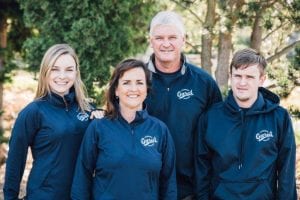 Gary's Plumbing is a member of a best practices organization that helps companies navigate the governor's guidelines surrounding the coronavirus pandemic. They have been keeping up to date with those best practices since the beginning, Gibb says, not just to be compliant, but because it's in their best interest as well.
"We can't exist if we don't practice the best safety we can," she says. "It's very crucial to us."
To learn about discounts on the healthy home offerings, to discuss their safety precautions in the face of the coronavirus pandemic or for any other questions, customers can reach out Gary's Plumbing. Many of the items Gary's is currently offering are in high demand, so call today for a healthy home service tailored just for you.
You can also find information on their coronavirus response at www.garys-plumbing.com; click the banner at the top of the screen.
Sponsored