Housing is a basic human right that too often goes unaddressed on both local and global levels. Whatcom County residents struggle to find affordable or quality homes, and climate change demands an immediate pivot towards renewable energy to build a more resilient world.
These are some of the concerns that Western Washington University's Advanced Energy Studies program sought to address. During his time as a student at WWU, Kellen Lynch participated in a class where the main emphasis was designing a net-zero energy building. Net-zero energy buildings "produce enough renewable energy to meet [their] own annual energy consumption requirements."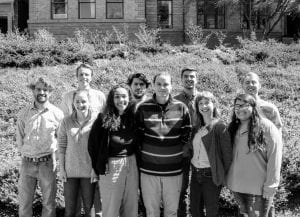 "It occurred to me that we were learning things in class that we would forget ten weeks later," Lynch says. "It seemed like a big waste, and it seemed like we could use those skills and transpose them to something students could potentially build." A tiny house seemed like a good fit—scalable and practical. "That was three years ago."
And that's when Project ZeNETH launched. It started in September 2017 and has become a student-led effort to build an off grid, net-zero energy tiny house. The effort got bigger wings during the Green Building Slam two years ago, when Lynch and his cohort presented their project. Patrick Martin, Dave Kangas, and their A-1 Builders team were in the audience—and interested in collaborating.
Martin and Kangas contacted Lynch and offered the services of A-1 Builders to help take the project the rest of the way. "We're very thankful we've taken the professional help," Lynch says.
It's been a mutually beneficial partnership. "As a company, we were about to start designing a very small passive house similar in technology to net zero," says Patrick Martin. "Being able to embrace a smaller, speculative project felt important. We donated our design time, and will be donating the construction of the project this summer."
"This thing is more technical than a traditional house," Martin continues. "And it is important to realize that the permitting path for these structures only exist for a manufacturer of factory assembled structures. There's not really a path for someone like you or us to do one our own, so we are having to go the path of a company that wants to build tiny houses in a factory setting…so you can imagine what this would be like for DYI group or family…which is why most of these structures are never permitted.
Documenting and hopefully creating this path is another aspect that drew Martin to support Project ZeNETH—"the opportunity to approach this project from an educational point of view, consolidate this learning, use it to train future employees and members of the worker-owned coop, make it free to the public, and open source the design was very attractive to us as a company."
It's not the first time they've been able to share their designs and vision, either. "We designed a bike repair station that was modified and built in several locations in the US."
"This company has always been at the forefront of being good stewards of the environment," Kangas adds. "We're facing challenges as a community, nation, and world. Being out at the front, learning and pioneering new things—it's a distinct advantage."
As long-term experts in the field of building science and architectural design, Martin and Kangas have seen firsthand the implications of current housing trends. "The model that we have for home ownership is not healthy or sustainable," says Martin.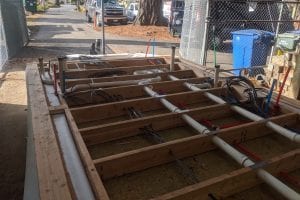 The impact of Project ZeNETH could be monumental. "We have a dire and immediate use for it," Lynch says. "First of all, in Bellingham, housing—especially good housing—is very hard to come by. Second of all, climate change. Roughly one quarter of all energy consumed in this country is by our homes and businesses. Net-zero energy buildings is a key path towards lowering our overall emissions to net-zero."
To put that in perspective, in his career and studies as an energy specialist, Lynch has stepped in one or two net-zero buildings in his life; most people have never stepped inside any. "The need to ramp up our built environment towards supplying the energy it consumes is critically important."
The finished tiny house will be installed at the south entrance of Western's campus: prominently located, with solar access to power it. "It's not only net-zero energy but also off-grid," Lynch explains. "They're two very ambitious design features we felt were necessary."
The structure will be used as a student space with live energy data monitoring for use in environmental and energy courses at WWU. The house will also be used as a food pantry, since Western is working to address the food insecurity issue among their students.
"It's not just a fancy piece of technology that's sitting on campus," Lynch says. "It has people walking in the door to use the facilities. It's totally functional."
The hope is that this design will set the stage for more socially responsible, high-quality, environmentally-friendly housing—both in Bellingham and beyond.
Sponsored