One of the many things on our minds these days is how the restaurants we love are coping with the Stay Home, Stay Safe restrictions. Eateries hold a unique space in our hearts, as they provide not just a place for food, but locations where we meet, build relationships and have a good time.

We recently sat down with Shannon and Christy Fox, owners of Evolve Chocolate + Cafe—socially distant and all wearing masks—for a frank conversation about how their business is faring now and how they see the future of their restaurant.
After the first week of shock, the partners of Evolve are full of optimism. "Thirty years in the food business has taught me that you can't stay with the status quo," says Christy. "You have to stay inventive, as a business and as a community."
Evolve Chocolate + Cafe opened in August 2018, inside Fairhaven'sVillage Books. The business thrived, creating a thoughtfully designed environment that serves deliciously prepared, locally sourced (whenever possible) foods on handmade pottery by Bellingham's own Jeremy Noet of Blue Water Pottery. A wall of fresh herbs punctuates the window-lined space, which offers lovely Bellingham Bay vistas. Evolve also sell local artisan products.
Thoughtful planning and careful execution of plans had been their hallmark when—bam!—their five-year plan was interrupted and replaced with a three-month, and then a two-week plan.
February 2020 had been their strongest month since opening, but by mid-March, with the COVID-19 pandemic growing, business plummeted. Not ones to bury their heads in the sand, Shannon and Christy met with their employees to address the situation; it was during that very meeting that regulations to shutter Washington restaurants were announced. The Foxes applied for and received some assistance from the PPP and have been able to re-hire six of their eight employees for their curbside-pickup business.
Evolve has long depended on local food suppliers, so the disruption to supply channels has not hit them as hard as it might have. "Our business was well placed for maintaining our food supply," Christy says. "We use the Puget Sound Food Hub; that means we have to adapt our menus to whatever farms are currently producing."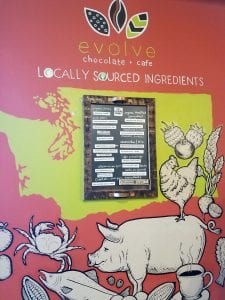 Within a couple of weeks after restrictions were in place, Evolve moved to a successful process of pre-ordering and pickup. Loyal customers have shown their support in numerous ways; some purchased gift cards, while others sent thank you cards with donation checks tucked inside. Both women admit what they miss most is their connection with customers and employees.
Their whimsy and playfulness shine through with such innovations as the Saturday night bingo game, no purchase necessary, played on a vintage bingo machine and telecast through their YouTube channel. "It's something even children can play and win, so it's a way of making people happy and that makes us happy," Shannon says.
Their thoughtfulness is revealed in subtle ways. They pay careful attention to employees, providing temperature checks, hand sanitizer and masks when they arrive for work. These women live and breathe their work—and it shows.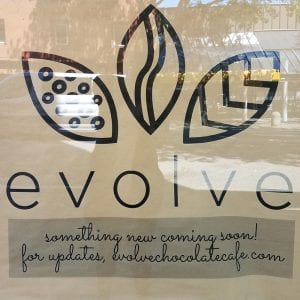 The Foxes will soon open an onsite barbeque on the patio behind Village Books. When Christy Fox speaks of the sights and sounds—and especially the aroma—of outdoor cooking, you can nearly taste the barbeque yourself. Offerings will include oysters, cioppino, smoked cauliflower, salmon, Mary's organic turkey legs and St. Louis-cut pork ribs. They're hoping for a Memorial Day Weekend rollout.
One difficult decision the couple has made is to close the upstairs dining area for the summer. The space will still offer packaged cold items, and all of the food from the barbeque will be takeout.
Packaging has also become a more prominent consideration when designing menu offerings. They worked through some limitations of the compostable packaging they favor and made adjustments to accommodate the various demands presented by hot foods.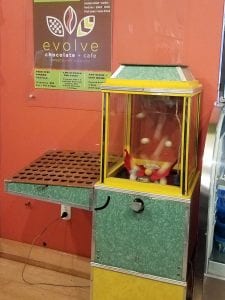 Amid all the current restrictions and anxieties, the Evolve duo is also expanding their business into downtown Bellingham at the Leopold Building, managed by Daylight Properties. Evolve Espresso + Provisions will soon occupy a space just off the lobby of the newly remodeled Hotel Leo at 1226 Cornwall.
The Foxes were quite aware of the trend toward premium grab-and-go food long before the virus changed the face of food service. They see providing delicious food, chocolates, pastries, bottles of wine and beer, newspapers, and handmade cigars from Jason Farr of San Juan Cigar Company at the Hotel Leo location as a new way of expressing something they love.
"We love great train stations and we want the new place to have a 1920's train station shop vibe," Shannon says. Exquisite planning has gone into every detail. The 200-square-foot space feels much larger due to its soaring ceiling and a lovely marble floor crews found under carpeting during the renovation. Locally built cabinets were being installed on the day we visited.
Christy and Shannon Fox can't predict the future, but you can bet they'll be planning, adapting and, yes, evolving to provide great food and great spaces for Bellingham, no matter what it holds.