It's not uncommon for many renters to move frequently, depending upon both life circumstances and their level of satisfaction with a rental space. Some renters of Daylight Properties-owned apartments, however, have settled into more long-term occupancy, remaining in their units for years or even decades.
Daylight has always valued its current tenants and helps those tenants who might want to transfer to different apartments at the end of their leases.
"We always try to accommodate the changing needs of our tenants and may help them find a new apartment with us," says Leasing Manager Jena Curry.
For many of Daylight's long-time renters, the decision to keep renting the same space comes from a mix of location, personal taste, and satisfaction with the landlord, Daylight Properties Management.
Arian Croft is among Daylight's longest-renting tenants. Since 2007, the 3-D artist and tabletop game designer has lived in the historic 1909-built Bellingham Hardware Building located at 215 West Holly Street.
At the time, Croft says he was looking to finally rent a place without roommates. When he found his apartment, he was taken with it.
"It's a really cool space," he says. "It's kind of unique: a spiral staircase and a loft. It's a good location, and I don't see myself leaving anytime soon."
From its historic quirks to its central location, Croft truly loves where he lives and works, especially since both locations happen to be in the same building; he rents a commercial office space just downstairs from his apartment. Croft worked from home prior to renting the office, but finds a separate work space allows him to be more focused and productive, all without leaving his building.
A location central to downtown is also what led Steven Arbuckle to his Daylight apartment in the adjacent McHugh Building. Arbuckle, who has worked a variety of local jobs including back-up bartender, furniture store employee, and freelance writer, was seeking a new rental in 2015 when he landed here.
His previous arrangement involved a private, out-of-town landlord slow to address maintenance issues, so he was thrilled to rent from a company like Daylight.
"They've been great," he says. "It's been easy to call the office with any concerns I have, and issues have always been resolved."
In addition to a trusting landlord, Arbuckle says he loves his apartment for its proximity to both music rehearsal and job locations, allowing him to either walk or bike to them all.
"I live and work and play downtown," he says. "This spot has really allowed me to have the lifestyle I want to have."
Although Daylight has an office any tenant can visit, the convenience of paying rent online is one thing Aireekah Laudert especially likes about renting from them. Like Arbuckle, this was her first time dealing with a property management company after years of private landlords. Despite being a larger company, she says it doesn't feel that way.
"I appreciate that the people I talk with are personal and don't treat me like just an apartment number," says Laudert, who has lived in the historic Daylight Building since 2015. Her spacious apartment—which features large windows and hardwood flooring—drew her in, and the location has remained a great fit for her lifestyle.
That lifestyle includes running "Glitt3r Lyfe," a professional party-planning company. Because many of Laudert's work locations are downtown, her centrally located apartment on North State Street makes a huge difference.
"The location is just the best," she says.
Daylight tenant Rebecca Hall, who has been in the building since 2011, agrees. Hall works in healthcare, and the Daylight Building is located near several nursing homes. She also likes her proximity to Interstate 5 and the ability to quickly hop on the highway to see friends and family. Her apartment is close to her favorite downtown eateries, and she can also take Tank, her emotional support animal, for quick walks.
As a tenant, Hall also tries to help Daylight directly. She keeps a watchful eye out for small things, like ensuring the building's dumpster is locked. By making sure the dumpster isn't too full, Hall ensures Daylight isn't charged additional money per pound of trash, which helps prevent higher rental fees.
Hall says that—thanks to various customer service jobs she's held through the years—she chooses businesses mainly by how they treat customers. In Daylight's case, their organization and customer service have been excellent, she says. Her building is clean, and when something breaks down, it's fixed quickly by maintenance.
Hall was initially drawn to renting from Daylight because of her fondness for small rooms—something she became accustomed to while growing up in foster care. She enjoys the old floors and brick walls of the 1904-built structure, watches sunrises through her windows and sunsets from the back of the building.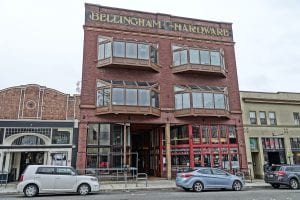 For Hall and other Daylight tenants, their apartments have truly become homes that help them best connect to both themselves and their communities. It's a big part of why, in all her years here, Hall says she's never seriously considered moving.
"When you have a good thing," she says, "you stick with it."
Tenants often come and go in great succession, which is why, for Daylight, having a few familiar and reliable faces around is a rare and special thing.
"We value our tenants, especially those who have been with us year after year and continue to enjoy our properties and renting from us," says Curry.
Sponsored