PeaceHealth, Whatcom Community College, Big Love Juice, Woods Coffee, Paine Field. What do all of these local and regional businesses and organizations have in common? All their signs are designed, fabricated, and installed by the team of passionate, experienced signmakers at Signs Plus.
And they're looking for one more person to join the 35-person crew that owner Jim Sutterfield describes as "a family." Signs Plus has been involved in incredible community projects and hopes to add a marketing and design associate to help share their work and story with Whatcom County and beyond.
After all, Signs Plus is one of the largest sign companies in the state of Washington. "People don't realize that Bellingham has this amazing resource," Sutterfield says. "Sometimes our team gets buried in the day-to-day operations and we need someone to help get the word out about a fun project we're working on, or help our design department innovate new products. We're also looking for somebody that's going to fit with our culture in the company. Even though there are a lot of people out there with skills, you have to have someone who can work with the team."
That team is an exceptionally talented, creative, and experienced crew of "folks that run large printers, folks in the design department, welders and metal fabricators, a paint department, and a full install crew that get in the trucks and spend days or weeks on the road installing all the signs," explains Sutterfield.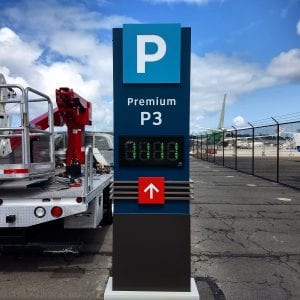 Signs Plus didn't start with such a big operation, however. It began in 1992 as a small commercial sign shop doing vehicle lettering, banners, and promotional-type small signs. But their commitment to excellence has brought them a long way. "We've grown over the years and picked up really good customers," Sutterfield says. "We've bought out companies as we've grown, and now we're a full service sign company. We do everything from manufacturing electric and LED signs to wayfinding signage. We do a lot of décor-type projects."
Signs Plus can take a customer's idea and see it through the entire process. "We do everything from concept design to permitting to fabricating to installing, and can do it all in-house," Sutterfield says. "Our company is unique. The name Signs Plus was a bit of an accident at the beginning, but has become pretty fitting to us as a company."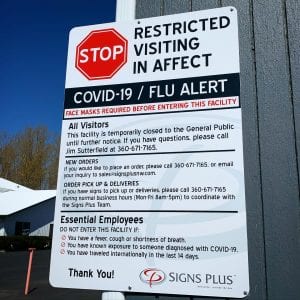 "People ask: What does the 'Plus' mean?" Sutterfield says. "It's the skills our craftsmen and designers have, the experience our managers have in manufacturing, and our problem-solving skills in response to challenges we've been faced with."
COVID-19 is one such challenge, of course, but Signs Plus has more than risen to the occasion, designing and installing signs, floor markers, germ guards, and hand sanitizing stations for PeaceHealth, WTA, and other essential workplaces.
If these sound like the kind of projects you think the world should know about, and you're passionate about quality, innovation, and a positive work environment, then consider applying for the marketing and design associate position with Signs Plus. They're looking for someone who speaks fluent WordPress, Illustrator, and CorelDraw, and someone who "dreams in brilliant PMS colors."
This associate will design, produce, and manage print and digital marketing materials for company campaigns, assist in the creation and management of social media, and work alongside the sales staff in the design process of custom electric and non-electric signage and way-finding systems. This cross-functional role requires someone adept at translating marketing strategy into a compelling brand and communication deliverables. Success requires a high energy, creative, innovative, and skilled listener with an exceptional ability to juggle deadlines and get things done.
It's an exciting time to be part of the Signs Plus team as they continue to offer their exceptional services and work to help other businesses and organizations adapt to the current public health crisis. To apply, send your resume to jim@signsplusnw.com or stop by their manufacturing facility to drop off your resume and fill out an application.
In the meantime, see how many Signs Plus signs you can spot around town! Hint: there are probably way too many to count.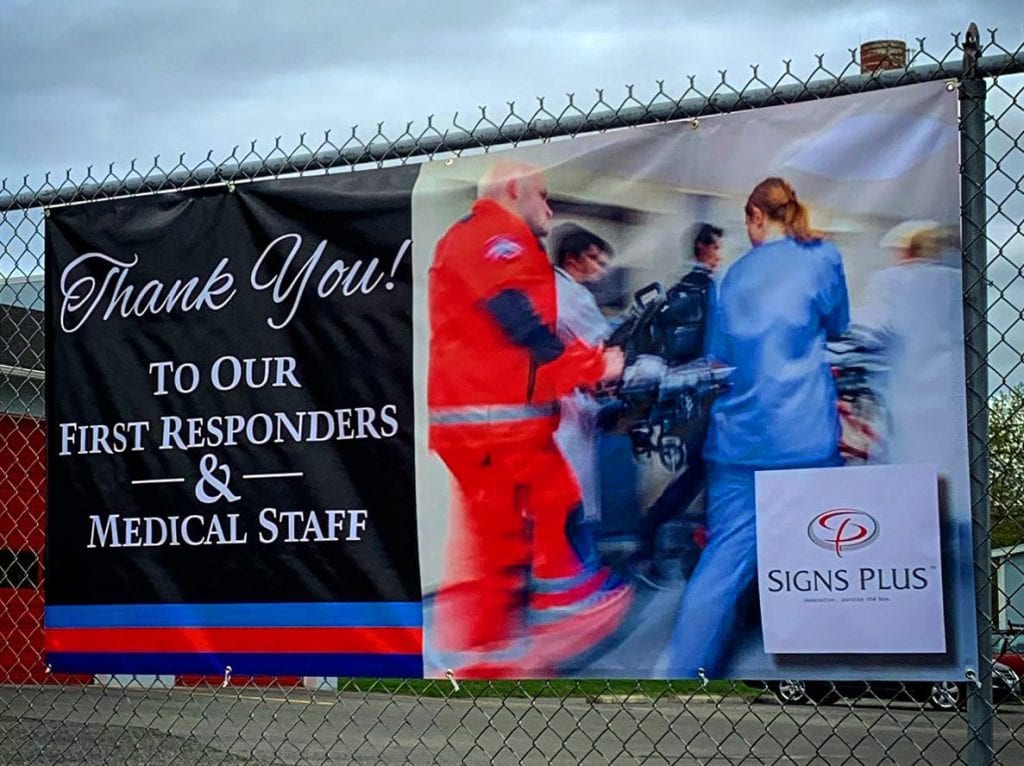 Sponsored