Eating chocolate can provide a happiness rush, but now giving it offers a super-sized dose of positivity, thanks to local chocolate company K'UL. Berry Grateful, a special bar dedicated to thanking essential workers on the front lines of the COVID-19 pandemic, is the combined (but safely-distanced) effort of K'UL, Mutiny Bay Blues (blueberries), and the Great Little Box Company (packaging). The goal? Give back, and allow others to join in.

Ariana Lee-Newman and Paul Newman, founders of K'UL, wanted a way to stay externally focused and share gratitude during a time where fear and self-preservation can easily rule the day.
"We could have just done something ourselves, but we wanted to allow others to participate," says Ariana. "The people we were talking to, they wanted to be able to give, too. So we thought: How big can we make this? How can we expand on everyone's desire to thank their postal carrier, or grocery store clerk, or bus driver all the way to the people working on the front lines of healthcare saving lives."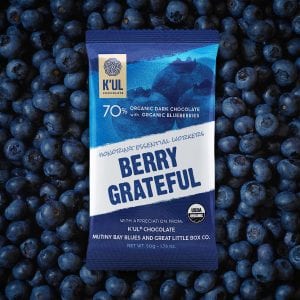 "How big" is nationwide. Two thousand bars will be donated to hospitals across the nation, chosen at random from public nominations to K'UL's Berry Grateful page. But from an inclusion standpoint, K'UL is also empowering others to join in the joyful distribution. Offering the bars at their own supply cost, K'UL will send 10 bars for $25, inclusive of shipping, for do-gooders to share with medical professionals, postal workers, sanitation engineers, grocery staff, or anyone else providing work for which we are all "Berry Grateful."
"We recognized that it is really easy succumb to feelings of fear and anxiety in a time like this," says Ariana. "We felt what we needed as a community and a world is people giving and sharing."
Giving and sharing isn't new to K'UL: The company is mission-driven and dedicated to a product that directly supports women growers—and through them their communities—with economic opportunities. Their efforts focus on driving awareness to the human cost of the chocolate industry and rewriting the way cacao is sourced to give growers a living wage for their efforts and materials.
So, when they offer a bar made of ethically sourced, direct-trade, hand-crafted, small-batch, bean-to-bar chocolate that uses only organic and Non-GMO ingredients—at cost—it not only has no financial benefit to K'UL, they are donating their time and thankfulness while still supporting their suppliers' livelihoods.
As far as Berry Grateful, in particular, they wanted a bar that was "good for people and good for peoples' spirits," Ariana says of the antioxidant-loaded dark chocolate-blueberry mix. "With Mutiny Bay and Great Little Box—we're so lucky to have good business relationships."
K'UL is in the process of making over 2,000 bars, with the commitment from these facilitating partners to support 5,000 right now if there's demand from charitable orders.
Both Paul and Ariana note how inspiring and resilient Bellingham, as a community, has been so far. They cite being inspired by several other local businesses who are doing charitable work and providing services in needed ways at a time they could be cutting costs and labor.
The story of K'UL's chocolate thank yous has been pitched to a major news service, but if they get the press, Ariana isn't looking to talk about her business; she's excited she might get the opportunity to use that platform to share the actions of others she's witnessing in our community as an example to inspire folks far and wide.
"Giving is better than compressing," says Paul. "When you throw a rock in the water it creates a ripple effect. All of these sometimes-small things we're seeing people do are generating more positive outcomes, you just never know what effect an action might have. Taking action is so much better than sitting in fear or worry over the unknown."