As businesses are forced to shutter their doors to help slow the spread of the coronavirus, those still open are getting creative. The offices of Signs Plus—Whatcom County sign makers for almost 30 years—are temporarily closed to the general public until the shelter in place order is lifted, but their fabrication and maintenance departments remain in operation to offer updated signage to essential businesses. They're also thinking outside the box, using their facilities to make COVID-19-specific products, in an attempt to meet the community's current needs.
"We're doing what we can for the essential businesses in town," says Sydney Sutterfield, project manager for Signs Plus.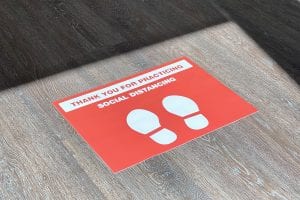 So far, Signs Plus has made new signs for several restaurants in town, detailing updated hours, as well as take-out and delivery services. They've also made signs for the Whatcom Transportation Authority, outlining changes to bus routes; signs for the Veteran's Administration of Seattle; and signs for PeaceHealth St. Joseph Medical Center, among others.
Several local grocery stores and pharmacies are long-time customers of Signs Plus. To accommodate for the changes brought on by the coronavirus outbreak, Signs Plus has been producing floor graphics that are temporarily applied to the store floors to help guide people through maintaining the recommended six-foot distance, as well as signs showing updated store hours and instructions. They are also using their facility to produce the plastic cough guards many stores are now using to protect their cashiers.
"A lot of the products we manufacture every day—because we use a lot of acrylics in fabricating signs—we have all the equipment, so it's easy for us to transition from making an acrylic sign to making an acrylic cough guard," says Jim Sutterfield, the president of Signs Plus.
PeaceHealth Medical Center is another long-time customer of Signs Plus, and they, too, have a creative project in the works. To manage any potential influx of patients affected by the coronavirus, PeaceHealth is getting ahead of the curve and planning for temporary privacy barriers for the patients. To help meet that need, Signs Plus is working with them and has designed a portable wall system that can quickly be assembled indoors to meet the needs. A portion of the Signs Plus fabrication department has begun fabricating the first set of barriers this week.
The materials Signs Plus uses for their signs have the required fire and sanitary rating that allow them to double as these temporary barriers in a hospital setting.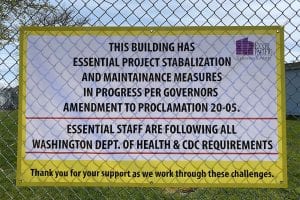 "We were brainstorming what we could do to be helpful and supportive of our community and our hospital," says Sydney Sutterfield. After learning about the safety ratings on their materials, she reached out to PeaceHealth about the idea to use their materials for the barriers.
To keep their employees safe, all administrative Signs Plus employees, including project managers, estimators, and designers, currently work remotely. In the factory itself, people are able to maintain between 30 and 50 feet between one another while they craft signs.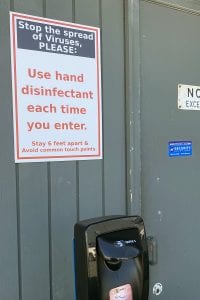 Through all these changes, Signs Plus is maintaining their commitment to the community. They are focused on being able to keep paying their 35 employees as well as doing what they can to look out for other locally owned businesses, helping as they can through in-kind donations and offering signs and social media connections to let people know who is still open and for what services.
"We're doing what we can to support our community—our employees and their families—and the community around us," says Sydney Sutterfield.
Signs Plus can be reached via email at sales@signsplusnw.com, or by phone at 360-671-7165 for any inquiries.
Sponsored