Submitted by: Unity Care NW
Throughout the COVID-19 pandemic, those on the front lines of the crisis have struggled with insufficient supplies of Personal Protective Equipment (PPE). Necessity, however, is the mother of invention, and we have been tremendously grateful to those community members who have helped out by sewing masks and producing other PPE.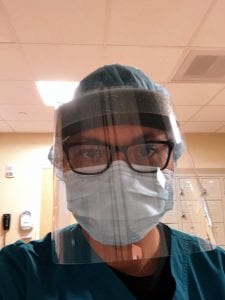 Last week, Unity Care NW staff entered the manufacturing business, using ingenuity and resourcefulness to produce face shields for our staff. Our Facilities Manager, Steen BrochnerNielsen, found a "How-To" video to get us started. Then the hunt for materials was on. We didn't have the clear plastic binder covers recommended in the video, but Steen came up with another idea:
"Some time ago we purchased some poster frames that were so cheap that gravity pulled them apart if they were hung on the wall. The other day, I discovered that the plastic lens (the frame glass) was made from a thin sheet of clear plastic. My mind immediately repurposed the plastic lenses for face shields. All we needed to get was the foam strips and elastic bands. Within a very short time, we had three Dental Assistants busy making face shields. We have cheap poster frames enough to make 50 shields."
Donations of materials are welcome to help us produce the 50 face shields. Specifically, we need additional foam strips and 1" elastic band. Anyone wishing to donate such items, or additional clear plastic sheets, can contact Lynda.Field@ucnw.org for more information and instructions regarding drop-off.
We encourage those with access to PPE supplies or wishing to make other donations to consult www.whatcomcovid.com and to continue to contact Whatcom Unified Command at WUC_Donations@co.whatcom.wa.us for information about PPE needs and donation processes.
Thank you, Whatcom County, for helping us get through this challenging time!
About Unity Care NW
The mission of Unity Care NW (UCNW) is to increase the years of healthy life in the people and communities we serve. UCNW is a federally-qualified health center with sites in Bellingham and Ferndale. Established in 1982, the non-profit organization provides medical, dental, behavioral health, and pharmacy services to over 22,000 Whatcom County residents who consider Unity Care NW their medical home. Services are available for all people regardless of their ability to pay.
Featured photo courtesy Magic in Nursing Team