In a time where the only thing that's certain is uncertainty, Gary's Plumbing & Heating is there for its customers. The company, which works on both residential and commercial projects—has always prided itself on being a trustworthy, steady source for all plumbing and heating needs. That won't change during the COVID-19 pandemic.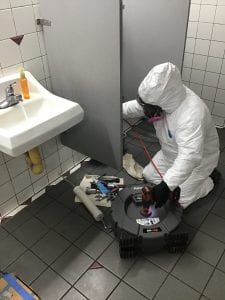 We're all striving to follow necessary social distancing measures, and Gary's is no different, taking careful steps to ensure the health and safety of both your family and theirs. Serious about implementing an extensive COVID-19 response policy, they've put in place plenty of temporary risk-management procedures.
Gary's is also performing additional sanitization and cleaning in its office, warehouses, fleet vehicles and work locations. Before each job, Gary's technicians sanitize their vehicles and tools, clean work areas when they arrive, and again before they leave. Gloves and masks are also worn, based upon the wishes of both customer and technician.

Every Gary's team member understand the importance of these steps, because this is their community, too, and they want the best for all who live here.
"Just like many people, some of our technicians have family members who are health-compromised," says Mary Gibb, co-owner of Gary's. "So it's really, really critical that we keep everyone safe."
Gary's employee with COVID-19 symptoms will not work while symptomatic, and won't return to work until medically cleared. Conversely, with clients, Gary's encourages timely and thorough communication prior to technicians arriving for a job; if you or someone in your family is or has recently shown COVID-19 symptoms, you should immediately reschedule. The same is suggested for anyone considered high-risk for severe complications from coronavirus. Every attempt will be made to appropriately reschedule.
With that said, Gary's is still committed to handling your plumbing and heating needs, especially when they're urgent. Hot water tanks won't wait for the relaxing of social distancing guidelines before failing, nor will drips, leaks, and heating/cooling issues.
"We're at the ready for our customers, because we know that plumbing emergencies are still going to happen," says Gibb. "If your toilet is running, you're wasting water."
With every job completed for its valued customers, Gary's abides by the "Gary's Promise."
We'll always do our best to make you comfortable. We'll arrive on-time and always be honest with you. We'll respect your home, never leaving a mess. And we won't charge extra for work done on nights or weekends.
Gary's tackles all manner of both residential and commercial plumbing work, from toilet, sink, shower, or water pipe repair to drain line cleaning, garbage disposal and sewer service,. They also handle repair and installation of furnaces, boilers, and gas lines, among other heating services.
For those concerned about indoor air quality, especially at a time like this, Gary's offers exceptional air quality devices. All work features the option of protection plans.
Gary's cares about the community, and that includes more than just its customers and employees. They proudly support a variety of local non-profit organizations, including free plumbing services for the Lighthouse Mission. They also donate to community non-profits supporting women, children, and military veterans. One favorite is Brigadoon Service Dogs, which provides service dogs to military veterans in need at no charge to them.
At a time when many are struggling and uncertain of their futures, Gary's encourages donations to community organizations like these, if folks are able to give "We're all going to have to pitch in together to help each other through this difficult time," says Gibb.
Regardless of what happens next, Gary's Plumbing & Heating remains here to help. You can count on it.
Sponsored