Submitted by: Barkley Village
What a challenging time we are navigating. The village is relatively quiet with just a few essential people and businesses open. Mr. Rogers tells us, in times like these, to look for the helpers. We have seen so many helpers, so many acts of generosity and kindness. It is these stories that give us hope and a sense of continued community… even six feet apart. We have gathered a few of those stories from around the village. Read on for your daily dose of hope and community. Starting with our very own Vitality Bowls spreading cheer and nourishment for those on the front lines…
Vitality Bowls Feeds Front Liners, Spreading Hope and Nourishment One Smoothie at a Time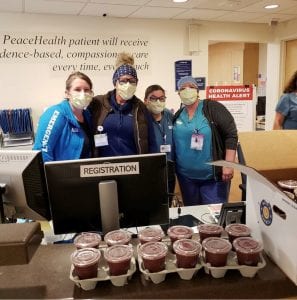 There are so many folks on the front lines right now, doctors, nurses, grocery store clerks, first responders. They are working to keep us safe and healthy. Vitality Bowlshas spent the better part of two weeks supporting them by keeping them fed and healthy in return. For every smoothie purchased or donated Vitality Bowls has matched it. They have delivered hundreds of smoothies to night and day shift ER staff at St. Joe's, Bellingham Police Department, Haggen Grocery employees, the Lighthouse Mission staff, the fire department, and more. If you would like to donate a smoothie or feel a hankering for one yourself, call in your order and swing by for curbside pick up. Turns out we don't have to look far when we are looking for the helpers.
Staying Home, Staying Healthy
Did you know that exercising and staying active helps with overall mind and body health. Who knew? We ALL knew. However, right now more than ever, as we navigate social distancing and staying close to home, it is important to remain active. Thankfully there are local studios and gyms like Barre3 and Anytime Fitness that are offering online options for fun and effective ways to exercise at home. Follow these links to get get signed up for an exercise program that works for you… Barre3 & Anytime Fitness.
Show Your Roots
We have so many amazing small businesses in our neighborhood and there are still many ways we can support those businesses from home. Our very own Britt Hooser, owner of Salon Aloha, has encouraged her clients, and anyone who goes to their local salon for hair color, to join the #showyourroots campaign. Don't dye your own hair. Wait until we can make appointments again and support a local salon. This is just one fun way to help a local business. Purchasing gifts cards or online shopping is another great way to support your favorite local shops. Nina's Nails, Hamann's Gallery & Gifts, Statement Apparel, and Olio Flowers are local Barkley Village shops with great online and gift card options. Click any of the businesses above to be redirected to their sites.
Helping Senior Citizens and Vulnerable Neighbors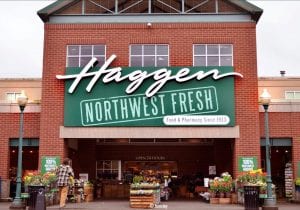 At Haggen, they know that some of our most vulnerable neighbors are senior citizens and other at risk populations, such as pregnant women or those with compromised immune systems, who have been advised to avoid leaving home as much as possible. To help everyone stay safe and healthy, Haggen has reserved every Tuesday and Thursday from 7am to 9am for those vulnerable shoppers who must leave home to obtain groceries.
Online Access to Your Favorite Books through the Library
Did you know Bellingham Public Library offers downloadable eBooks and eAudiobooks to card holders through Washington Anytime Library AND the Library also offers streaming films and documentaries to card holders through Kanopy. Your favorite books and movies are just a quick download away. Have questions or need recommendations? The Library Call Center is open every day from 10am to 5pm. You can call 360-778-7323 or 360-354-4883. No library card? Click here to apply for a card online. Click here to download your favorite books and here for movies. Enjoy!
Feeding the Body and the Soul
Anyone ready for a break from all the cooking?!? Lucky for us, many of the restaurants in our community are working hard to keep their doors open for us. We have several right here in the village offering delivery and curbside pickup.
Luna's Bistro is offering contact free curbside pickup. Just call when you are close and they will place your delicious order under the curbside tent for your contact free convenience.
Both Vitality Bowls and Mod Pizza are also offering curbside pickup if you are feeling an itch for smoothies or a pizza night. Feel like Thai? On Rice is open for take out orders. Need a caffeine fix? The drive through is open at Woods Coffee.
Finally, Jalapenos is offering pick up AND delivery and that goes for their Big Mama Margaritas too! Each of these places is available for delivery through Viking Delivery or Uber Eats as well. So take your pick and order some fantastic fare from one of these great village eateries (click any of the restaurants above to be redirected to their site).