In an industry where reputation rests on the success of every project, A-1 Builders and Adaptations Design Studio brings high standards to its work as a local home repairer, remodeler and designer. But there's another aspect to A-1 Builder's work that's just as important as the physical labor—the relationships created along the way.
From clients to competitors and co-workers to subcontractors, A-1 Builders has made long-lasting, trusting relationships throughout the local community. Recently, several A-1 team members sat down with WhatcomTalk to discuss how relationships contribute to the success of their company and those around them.
Built on Trust
A-1 Builder's Tyson geBauer is familiar with needing good people skills. As a project manager, he spends lots of time coordinating and cultivating relationships not only with clients, but with members of his build teams. Being the world's best builder, he says, means little if you don't have personal skills to match.
"When you go into someone's home, you're with these people for an average of about three months," he says. "There's a lot of day-to-day interaction. You might perfectly execute the hard skills that it takes, but if you don't work on that relationship during the course of the project, what they'll remember at the end is the relationship. The relationship is over 50 percent of what the job is."
A-1 Builders member-owner Shawn Serdahl echoes those sentiments. Over the years, his most memorable projects were ones in which solid, long-lasting client relationships were formed. This is especially important in an industry where many clients start projects predisposed to mistrusting building contractors, perhaps having been previously ripped off. A-1 Builders prides itself on transparency, Serdahl says, ensuring clients they're not being taken advantage of.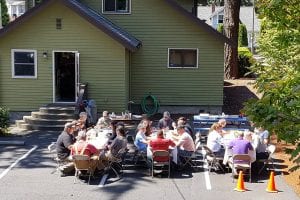 Maggie Bates, another A-1 Builders member-owner, says a client's trust is often gained when things don't go as planned. Finding solutions to problems by properly managing conflict and adversity, Serdahl adds, is essential.
"If you're really good at conflict management, it maintains healthy relationships," he says. "You've got to manage conflict, because it's always going to be there."
A-1 project managers pride themselves on being solution-oriented, as opposed to getting upset or assigning blame, which is usually counterproductive.
"Once you resolve moments of conflict, you build the foundations of trust," geBauer says. "If you can deal with conflict earlier in the project, and help the client through that transition period, issues with the rest of the project are less significant. Because they have trust in your ability to stay cool, stay focused; they know they're going to be listened to, and they can bring their concerns to you sooner rather than later."
"Coopetition"
A-1 Builders has properly nurtured not only good relationships among co-workers, but also among former employees and even competitors in their industry. Serdahl says they like to refer to this as "coopetition," or cooperative competition.
geBauer, in fact, worked at Chuckanut Builders before applying for a project manager position at A-1 Builders. A-1 Builders also sometimes relies on the skills of subcontractor former employees, like the project manager for a subcontractor who left to form his own plumbing company. This has allowed us to continue a 13-year relationship with a trusted plumbing contractor for A-1 Builders, Serdahl says.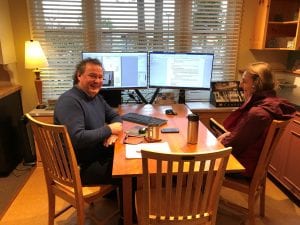 And those subcontractors, Serdahl adds, are just as important as any other relationships they build during projects.
"They make or break our projects," he says. A-1 Builders regards their subcontractors—some of whom have worked with the company for decades—as an extension of their team. They treat them with respect, fairness and integrity, and over time, become familiar with the quality of their work.
geBauer is quick to agree.
"I'm not the one wiring or plumbing the house; they do the lion's share of the work for us," he says. "It all depends on my ability to communicate with them and work through problems. Our subcontractors are everything."
Having cohesion between subcontractors, project managers and designers, Bates says, can make a world of difference on a project.
A-1 Builders also seeks to build a relationship with the source of their supplies and the ground they build on.
"As builders, we impact the planet as much as any industry," Serdahl says. "We pillage the earth so that we can build stuff. But we can do it in a way that is actually beneficial to the earth. We can build buildings that will help our planet."
In all that A-1 Builders does, Serdahl says they never stop trying to make real connections with those in their community. Sometimes they might fail, but they'll never, ever give up.
"We want to build a relationship with you," he says. "We want to build that trust with you. It's really important to us."
Sponsored