Whether people find their way to the city of Subdued Excitement as a student, for a new job, or simply as a change of pace, people arrive from all around and come as they are, says AJ Barse, co-host of The Bellingham Podcast. The podcast is a place where two "Bellinghamsters" talk about life in Bellingham, as their tagline succinctly states: "PNW life and views from the city by the Salish Sea."
No matter where their listeners are from or currently live, hosts Barse and Chris Powell hope that listeners leave each episode with a takeaway; it can be as simple as a laugh at their engaging back-and-forth humor, hearing a fresh perspective from a person behind an elected position, or even learning something new about technology, minimalism, or watches—these are just a few of the hosts' individual passions.
Since Barse and Powell aren't bound by advertising funding, they're free to engage local—and even some international—listeners, with topics that are relevant to their lives, and the lives of those around them.
"There are a lot of people that live in this area. I want a chance to capture some of their perspectives," says Powell, a professional technologist. He and Barse strive to spread positivity and perspective, 30 minutes at a time, every Saturday at 3:00 p.m. on KMRE Radio 102.3 and on podcasting apps.
The podcast began as a conversation between the two Western Washington University colleagues (Barse is a professional photographer and instructional technologist), about how the podcasting scene was essentially an echo chamber of similar information.
Barse's background in podcasting and radio from his time in a communications role with the Lummi Nation sparked them into action. Barse warned his frien: "Be careful; in a past life I used to do a podcast and if you say that loud enough, I'll put a mic in front of you." Not long after, they recorded their first podcast in Powell's living room with a microphone and an iPhone.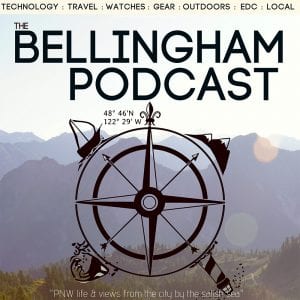 Four years and 145 episodes later, they have no plans to stop any time soon.
Powell is excited about the upcoming 150th episode, and would love to get to 200.
"If it's meant to be, it'll happen," he says. For now, Barse and Powell are having plenty of fun, and that's been a big part of the mission all along.
The original show title was "Bellingham Podcast Media Tech," or BPM, for short. The idea was to discuss technology, in which both hosts have backgrounds and current influence, with hopes of breaking into the echo chamber that they saw existing within the technology world and podcasts. The show pivoted a few times as they decided to expand their sphere of focus beyond just one topic.
Barse says they found inspiration from circus-style variety shows, and decided to frame the Bellingham Podcast as an "atypical variety show with all the stuff that makes us, us." They asked themselves what topics were most important to them, which then became the themes of exploration and points of conversation for the show.
Barse is a watch aficionado and Powell is a minimalist, which inspire two frequent key topics of conversation on the podcast. The #Watchfam community, a global community of people with an interest and passion for everything watches, has taken to the Bellingham Podcast, which has drawn listeners from as far as Sri Lanka, the United Kingdom, and Japan.
Important aspects and values of the Bellingham community are reflected in the podcast episodes and topics, as well. In January, they did a two-part mini-series on coffee, which of course fuels Bellingham and local industries. Non-profits are also a big staple in Bellingham, and Powell especially enjoys and is proud of the visits he's had with non-profit and community leaders in the podcast's feature, "Community Connect Conversations."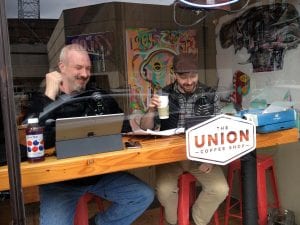 "I get a chance to ask them about their work and who they are as a person," Powell says. Beyond facts about their business or nonprofit, Powell likes to ask what drives these individuals—details that might not be accessed from their website or a Google search. "They just really open up and it's beautiful."
Powell has interviewed community members across non-profits like the Lighthouse Mission and SPARK Museum of Electrical Invention, to business leaders such as a CEO of a local banking organization, to government leaders like the former Mayor of Bellingham.
"There are people in Bellingham that you won't see in the headlines, but they're doing great work. We want our voice to publicize that," says Powell
As far as the future of the podcast, the hosts are open to whatever unfolds.
"I often have said, 'Here's to a good time for as long as it lasts,'" Powell says. "AJ and I have had a really good time. I want to continue the AJ and Chris show, our viewpoints for the Bellingham city, how it's growing—and how we're growing with it."