The high school girls' basketball programs at Lynden and Lynden Christian both closed out their stellar seasons by hoisting state championship trophies at the Yakima SunDome.

The Lions took home the title at the Class 2A state tournament, while Lynden Christian triumphed in the 1A tourney, adding further support to the claim that the state's best basketball is taking place in the town of Lynden.
Lynden earned state title No. 3 overall with a convincing 60-38 victory over West Valley of Spokane in the championship game. Keylie Hershey scored 22 points, Liv Tjoelker added 15 and Ruby VanderHaak chipped in 12 to help the Lions win their second title over the last four seasons.
Lynden led 20-15 at the half in the championship game before posting 20-point frames in both the third and fourth quarter to close out the year on an 11-game winning streak.
The Lions, who also won state titles in 2009 and 2017, advanced to the championship finals with a 53-28 victory over No. 5 Burlington-Edison (21-4) in the semifinals with junior Faith Baar scoring 13 points and grabbing 12 rebounds and VanderHaak, one of six seniors on the roster, adding 11 points in the win.
Lynden opened the 2A state tournament by defeating No. 2 Ellensburg (24-3) in the quarterfinals, 62-44. VanderHaak scored a game-high 18 points, while fellow seniors Tjoelker and Hershey scored 14 and 12 points, respectively.
VanderHaak was named the tournament's most valuable player. Tjoelker and Hershey were second-team all-tournament picks. All three players leave the program as two-time state champions as they were also members of the Lions' 2017 state title squad as freshmen.
While the Lions cruised to a 2A state championship by defeating all three of their opponents by at least 18 points, Lynden Christian, which entered state as the No. 2 seeded team, rallied from an eight-point fourth quarter deficit to upset top-ranked and previously undefeated Cashmere, 58-55, in the 1A state title game.
Sophomore guard Libby Stump paced the Lyncs offensively with 12 points, while seniors Emily Mellema and Riley Dykstra each scored 10 points.
Lynden Christian was simply outstanding on the defensive end of the court during the final 8 minutes of play, holding Cashmere's high-scoring offense to just four points in the frame. The Bulldogs' All-American guard Hailey Van Lith, a five-star recruit who will play at the University of Louisville next year, finished with 27 points, but was held scoreless in the fourth.
Trailing 53-45 early in the fourth quarter, Lynden Christian went on a game-deciding 13-0 run, capped by a Stump basket with a minute to play, to post a 58-53 lead. Cashmere was unable to find the equalizer.
It marks the 13th state title in program history and the third under coach Brady Bomber, who also guided the Lyncs to state championships in 2016 and 2018.
Lynden Christian also defeated Cashmere (50-48) to claim the state title two years ago. The Lyncs finished second last year, losing to La Salle (56-49) in the finals.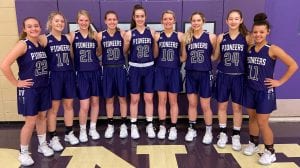 Lynden Christian secured its third consecutive championship game appearance after beating No. 4 Freeman, 45-25, in the semifinals. Dykstra led a well-balanced Lyncs' offense with 13 points. Lynden Christian also received nine points from Mellema and eight from Stump.
The Lyncs, who have gone a combined 13-2 over their last 15 state tournament games, also defeated No. 9 Zillah, 63-41, in the quarterfinals, getting 15 points from Mellema, 10 from Dykstra and nine from junior forward Lexi Hernandez.
Dykstra, who will play alongside older sister, Avery, at Western Washington University next season, was named to the all-tournament first team, while fellow senior Mellema was a second-team selection.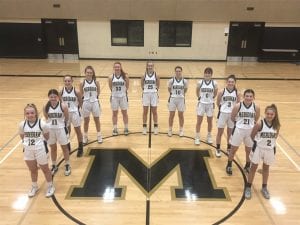 Lynden Christian, which brought home a state trophy for a 16th consecutive season, finished the year 27-1 with their only setback coming in a December loss to 4A state runner-up Woodinville. Lynden posted a record of 26-1 with its only defeat coming in a 37-34 loss to the Lyncs on January 30 in a match-up of eventual state champions.
Meridian and Nooksack Valley both saw their seasons come to an end following defeats in opening-round loser-out games at the 1A state tournament.
The No. 14 Trojans (16-14) lost to No. 7 Annie Wright, 72-46. Skyleigh James scored 10 points for Meridian, while teammate Madeline Bowler scored nine in the loss.
Nooksack Valley, who was seeded eighth in the tournament, lost to Zillah, 57-54. Tehya Moore scored 20 points, Hallie Kamphouse added 12 and Kora Larsen, the only senior on the team, put up 10 points for the Pioneers (20-8).