Think about your daily habits. Is there anything you've consciously chosen to do each and every day, making time for it no matter what?
For Bellingham resident Meghan Yates, that daily habit has been painting. For every one of the last nearly 1,600 days, the 37-year-old has crafted a work of art on a 6-by-8-inch piece of mixed media paper. Most pieces are made with fluid acrylics, while others utilize collage, drawing, or watercolors.
At the entrance to her small art studio above Pickford Film Center, the walls are covered with the results of following through on this unbreakable practice: dozens of paintings and drawings—many of which are portraits of random faces—stare back at visitors. Hundreds more sit organized in baskets.
"They're not all good," Yates says. "But it's not really about them being good or beautiful; it's about practice. Being able to see myself through years of practice, and being willing to mess around and experiment and fail, I just feel really resilient and capable."
Seeing Within
Yates grew up in Maine, and from a young age showed an innate desire to creatively express herself.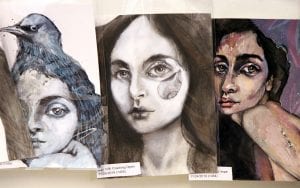 Around age 4, she began drawing tall, upright-standing bear people constructed of wavy lines, using whatever materials she could find. It was, she says, her first committed project. As she grew up, Yates became interested in music, and around 2002 began doing solo singing performances. She progressed from acapella singing to self-taught guitar accompaniment, performing consistently for about seven years.
In 2009, she met her now ex-husband and started a band called Meghan Yates and the Reverie Machine. The group, which featured several auxiliary members in addition to Yates and her husband, recorded three albums and performed for nine years before splitting in 2018. Yates sung and played guitar, something she continues doing to this day.
"At the heart of why I make music is the urgency and need to create," she says.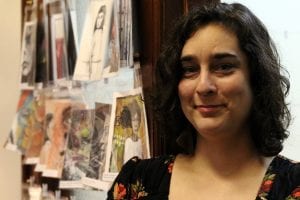 After years of moving around Maine, she and her husband moved to Whatcom County in November 2014, following years of friend-and-musicianship with Bellingham's Robert Sarazin Blake, a singer-songwriter and organizer of the annual Subdued Stringband Jamboree. Last year, Yates released her first solo album, and this year began a new band, Meg Yates & the Kindred, with current partner Charley McCoy.
Her time with a daily art practice goes back just as far as her singing career. At age 17, Yates became fascinated with monasticism, not from a religious perspective, but for philosophical application. Yates began experimenting with the principle of stability, she says, trying to figure out how to externally convey her inner life and feelings.
"I was pretty traumatized in my childhood," she says. "I felt confident in some areas but really inhibited in some other areas of life. So I made a commitment to myself, as a 17-year-old, to have a daily, set practice and to experiment with that."
Day-By-Day
Her daily habit took several forms—including writing pantoum poems—before arriving at painting in December 2015. One day, Yates saw a British woman creating a series of 30 portraits in 30 days. Inspired, she undertook the same project, and realized painting was the ideal medium for her daily practice.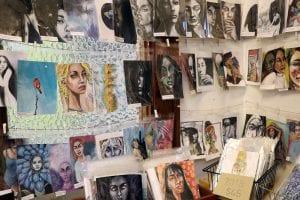 "It was the right sort of commitment," she says. "The only commitment that I made was to paint on a piece of paper. It wasn't about a time of day, or content, or a length of time that I put towards this."
Partway through 2016, Yates realized the habit could be extended indefinitely, and nearly four years later it's still going. The content of her paintings include animals, landscapes and faces, though Yates says she's willing to experiment with any subject. And while many of the faces she paints vaguely resemble her, she says that's strictly coincidental.
Still, like any artist, Yates' work is reflecting her innermost self. Daily painting has allowed her to gain better understanding of who she is, and has given her confidence in following through on commitments. It's also put her at ease with painting itself, helping her leave behind previous perfectionist tendencies.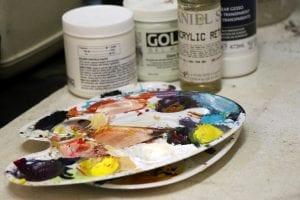 It's even helped her health: Yates has a nervous disorder similar to epilepsy. Episodes of the condition can leave her feeling physically terrible and functionally impaired, but since beginning her painting practice, she says she has episodes less often.
"It's really soothing to me to have that time for painting," she says. "People talk about self-care, and it's often fluffy stuff, especially for women. For me, this is a spiritual practice, and it's also nervous system-regulating to me."
Her habit also sticks with her when she travels. If she doesn't check luggage, Yates says, her tools are limited to 3-ounce tubes of smaller, cheaper paints or drawing materials. Finding time to paint on the road can be a challenge, but those she stays with usually have no problem giving her alone time for art.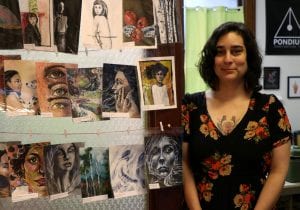 Each daily painting takes Yates anywhere from 45 minutes to four hours to finish, although she says her current average is about 75 minutes. Most paintings are created at home, leaving her studio for larger art pieces and work as a spiritual minister and art instructor. Each day, her finished paintings are shared to her followers on Facebook and Instagram, where she also sells them.
For anyone considering a daily artistic practice of their own, regardless of medium, Yates' advice is concretely concise. Firstly, find a creative 'studio' space you can visit daily, even if you wind up doing nothing. Secondly, keep it simple:
"Find the simplest commitment you can make," she says. "Allow the process to teach you what's up, rather than what you want it to want to be."