It's estimated that as many as six million Americans have atrial fibrillation (AFib)—the most commonly diagnosed heart arrhythmia in the United States.
Episodes of this condition, which consists of irregular rhythm with slow or rapid heart rate, can last from minutes to years. AFib can be treated with several kinds of medications and corrective procedures, and one in particular is showing great promise.
Doctor John MacGregor, a cardiac electrophysiologist (heart rhythm specialist) at PeaceHealth St. Joseph Medical Center in Bellingham, is one of several local cardiac experts who conduct what's known as the "convergent procedure." The two-part surgery treats AFib from both outside and inside the heart, preventing the abnormal electrical signals that cause the condition.
Several dozen procedures have been done in Bellingham over the last two years, MacGregor says. In fact, PeaceHealth St. Joseph Medical Center was an early adopter of the surgery, and was among the first programs in Washington state to offer it. It also has the expertise of multiple surgeons, among them Dr. Bob Moraca, who has successfully completed hundreds of these surgeries during his career.
Bad Beats
AFib's impact on those who have it is wide-ranging.
Some people are asymptomatic, finding out they have the condition only after it shows up on an EKG during an annual physical, MacGregor says. For those who are symptomatic, however, AFib can be miserable and frightening. Symptoms include heart palpitations or a fluttering in the chest, as well as shortness of breath, chest pain, and feeling dizzy or lightheaded.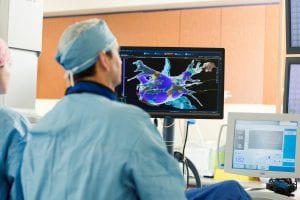 "For some people, when AFib hits, they call 911," MacGregor says. "It's so dramatic that they think they must be dying. It's striking how variable it can be."
Those with AFib are typically separated into three categories. Anyone with episodes lasting from minutes to several days is said to have paroxysmal atrial fibrillation. Those with arrhythmias lasting for weeks or months are said to have persistent AFib. When AFib episodes are constant for more than an entire year, patients are said to suffer from long-standing persistent AFib.
Anyone who knows they have AFib should talk to their cardiologist, MacGregor says. If they don't yet have a cardiologist, they should ask their primary care physician to find them one; an initial evaluation can help determine whether any other issues are going on with their heart.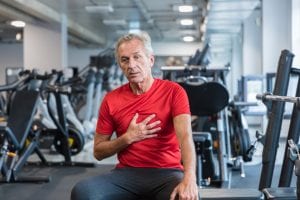 Left untreated, long-term atrial fibrillation can lead to significant cardiovascular complications, like stroke or weakening of the heart muscle, also known as cardiomyopathy.
"If your heart's racing 24 hours a day, it's like you're running a race all the time," MacGregor says. "It can just start to wear out, and basically you can go into heart failure from that."
Surgical Improvements
In the 1970s and '80s, there was only one surgical way to deal with AFib, and it wasn't ideal.
If a patient with AFib had open-heart surgery for any reason, a surgeon could also conduct what's known as a "cut-and-sew maze" procedure, where the affected atrium (upper chamber) of the heart receives several incisions that are then sewn shut. This produces lines of scar tissue that block the abnormal electric signals responsible for causing AFib. Over time, this surgery evolved, and a version of it is still conducted today. It's considered very effective long-term, MacGregor adds.
Into the 1990s, the field of cardiac electrophysiology evolved with improvement in the tools and understanding of the mechanisms of AFib. To better understand why it happens, tiny catheters were developed for insertion into a patient's heart from tubes placed in veins, usually in the patient's groin. This led to the finding that, for most people, AFib starts in particular spots within their left atrium.
"There are these little veins bringing blood back into your heart from your lungs that connect to the back of the left atrium," MacGregor says. "Basically, you've got vein connecting to muscle, and there's some overlap of vein and muscle, and there can be some tissue just inside the vein that can become electrically active. If it starts firing really rapidly, then a person can go into AFib."
An ablation procedure, which treats tissue from inside the heart with catheter insertion through the groin, is now very common, MacGregor says. Tissue is scarred most commonly using either cauterizing catheters or a balloon that fills with liquid nitrogen to freeze the tissue. For most AFib patients, these procedures are enough to prevent AFib from coming back.
But for those with advanced and more longstanding AFib, more treatment of the atrium is often needed to stop the irregular rhythms, which can actually enlarge the atrium over time. Traditionally, this meant an open-heart surgery; but that approach is a lot for a patient to face, and recovery can be challenging after traditional Afib surgery. This is where the convergent procedure comes in. To begin, a surgeon makes a tiny incision just below a patient's sternum. From there, tissue below the skin is also cut, allowing a surgeon to reach the sac around the heart called the pericardium. A special tool is then inserted inside that sac behind the heart, cauterizing as much tissue as possible on the left atrium's back wall.
After about 90 minutes, the patient is transferred to MacGregor, who treats tissue from inside the heart through a catheter procedure that takes about two hours. After the surgery, patients typically spend two days in the hospital before going home. A check-up will typically follow within a week to ensure proper healing.
"The beauty of this is that they're getting a really comprehensive ablation," says MacGregor. "It's a lot more than I can do, just with the tools that I have on the inside of their heart, without having to put them through open-heart surgery."
Later this year, MacGregor says the convergent procedure in Bellingham will become even more seamless, when a hybrid operating room at PeaceHealth St. Joseph's allows the entire procedure to occur without moving the patient. Currently, due to equipment size and location, patients must be transferred from one room to another before MacGregor does his part. One-year success rates for the procedure are as high as 85 percent for those with long-standing AFib—better than rates for just the catheter ablation procedure alone.
If AFib is adversely affecting your life, talk to your cardiologist about options including convergent procedure; it may help your heart—and you—maintain a steady rhythm.
Sponsored