Going to an auto shop can be a little like going to the dentist, says Northwest Rally Sports owner Adam Gormley.
You're not stoked about it, but you know you need to go. You also know you're going to have to spend some money, but in the end, you'll hopefully be better off for going. For every customer who walks through his door, Gormley is committed to giving them the best possible maintenance experience.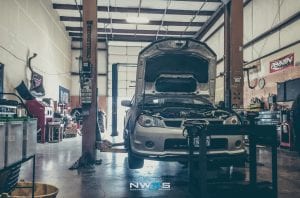 Northwest Rally Sports specializes in Subarus—never in short supply around Western Washington—but can also do routine maintenance on everything from high-performance exotics to grocery getters of various makes and models.
The shop's name and origins hail from a background in rally car racing, where precision mechanics are required for both safety and success. Northwest Rally Sports operates with the same mentality, Gormley says, and every car gets the same respect—whether it's well used or brand new.
"I want people to know we're going to take care of them," he says. "I want to be able to see them in Haggen the next week and have them smile at me, not turn and walk the other way."
Up to Speed
Gormley is Western Washington born and raised. With the exception of some time in Wyoming for automotive training, he's lived here his entire life.
His first car, just after turning 16, was a 1987 Subaru GL station wagon. Gormley learned to work on the car and keep it running smoothly, allowing him to enjoy teenage years filled with constant weekend snowboarding trips to Stevens Pass with friends.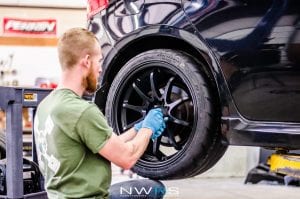 After high school, Gormley's interest in cars became his career. He completed WyoTech's automotive technology program in 2001. A few years later, he completed Bellingham Technical College's two-year welding program before attending Shoreline Community College to study mechanical engineering. This, in addition to gaining experience as a professional technician working for franchises like Toyota, Volvo, Volkswagen, and Subaru.
By the early 2000s, Gormley found himself working for several independent speed shops in the Seattle area, wrenching on Lamborghinis, Ferraris and Alfa Romeos. Around this time, he also became involved in rally racing as a crew member for professional rally driver Subie Gal. She and her husband both race Rally Cars and are based out of Kirkland, Washington.
Eventually, Gormley met his wife—a local girl, originally from Canada—and moved to Bellingham in 2008. His business, Northwest Rally Sports, evolved from a 700-square-foot pole building to what's now a large commercial shop in an easy-to-miss corner of Bellingham's Irongate neighborhood.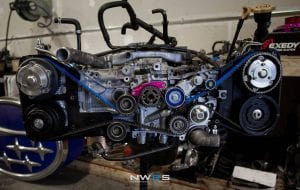 After working solo for three years, Gormley now has a small team of expert employees. He holds them to a high standard: the shop is meticulously organized and clean, so much so that jokes have been made about guiltlessly eating food that's accidentally fallen onto the floor.
"I'm a stickler for details," he says. "When we balance tires, we triple-zero check them, meaning we make sure we get a zero reading three times through the balancing process, ensuring that you won't have a vibration going down the road. I've worked in tire shops and other dealerships, and nobody else does that. The only places that did do that were the race shops I used to work at."
Full Service Set-Up
From brake replacements and head gaskets to factory-scheduled maintenance and oil changes, Northwest Rally Sports can do it all.
When the shop isn't conducting passenger car maintenance, they're building race cars—often with custom-made parts—and punishing them; learning which parts fail and which do not. That knowledge is then applied to daily drivers, with a goal of extending the lifespan of those vehicles. The shop is capable of fabricating certain parts in-house, and Gormley's mechanical engineering background allows him to design custom components that are sent to local companies who laser or router-cut them into shape.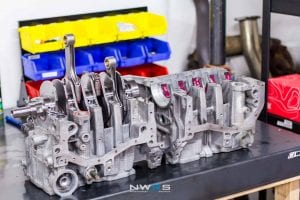 Northwest Rally Sports also has an in-house alignment machine. It was purchased mainly for race set-ups, but also efficiently checks street car alignments following steering component replacements. Many shops outsource this kind of thing, Gormley says, but having a machine in-shop allows alignments to be done immediately, and done right the first time.
And for Subaru owners, there's probably no better place in town to take your vehicle.
"Subarus are uniquely engineered vehicles," Gormley says. "It's vitally important to work with someone who knows the nuances of the engineering and the manufacturing. We know specifically which motors need the head gaskets, which updated parts to get for those cars, and which ones don't always necessarily need a head gasket.
Several clients have come in with expensive quotes from other shops which had suggested head gasket replacements. Northwest Rally Sports was able to determine that wasn't necessary, saving those clients thousands of dollars. "We're not here to sell you work that you don't need," says Gormley. "It's is our mission to perform the best work that we can at the best value to you."
Even if you don't drive a Subaru, Northwest Rally Sports is always happy to take a look at your vehicle. All of their maintenance work comes with a 1-year, 12,000-mile warranty, and head gasket work features a 3-year, 36,000-mile warranty. "We do our best to keep overhead low," Gormley says. "This allows us to try and offer the best pricing possible to all of our clients. If a client brings in an estimate from another shop, we will make every effort to beat it."
Perhaps the only drawback to Northwest Rally Sports is its location, which some people have mentioned is a bit confusing to get to. Once you do visit, however, there's a good chance you won't ever have trouble finding it again (hint: it's behind Les Schwab on Jills Court off of Hammer Drive).
So the next time you're in need of fair-priced, quality automotive work, consider Northwest Rally Sports. It might be a hard shop to find, but it's definitely a shop worth finding.
Sponsored