"It's a quiet day here, not a lot going on," says Director Cathi LeCocq as she leads me through Lynden Community Senior Center's main room. Not a lot going on? In one corner, partitioned to form a coffee shop area, four women play a lively card game. On a piano near the stage, someone plays "When the Saints Go Marching In," while more people line up at the window by the kitchen for a lunch of Swedish meatballs. Two men play an improvised game with billiard balls in a wooden track at the back of the room. A faint rhythmic metallic clank comes from the weight room. And this is a day when the Lynden Community Senior Center is not hopping.
What the Center is All About
The Senior Center offers a wide variety of activities and services to people of all physical abilities and income levels. The Center's mission, according to LeCocq, is to keep seniors active in the community and living independently for as long as possible before needing higher care. This is accomplished through three main pathways: nutrition, physical activity and social interaction.
Nutrition
Lunch is served five days a week at the Center, at the low cost of $6 for all ages. Breakfast is also available on Wednesdays. The meals are balanced and big. LeCocq makes a habit of eating in the dining room with members, to chat with them and get feedback on how things are going at the Center.
The group meals are a great option for people who have difficulty cooking or don't like to cook. Even if they have no trouble fending for themselves, "People who live alone just want to get out of the house and eat with other people sometimes," LeCocq says. Home meal delivery is available for those who need it, at the same price as eating in.
Physical Activity
Staying active is vital to maintaining strength and independence. The Senior Center offers a range of activities for all abilities. It can be as light as standing at a game table and rolling balls back and forth, or as vigorous as dancing. In the middle, they have Tai Chi and Qi Gong classes, bocce ball, a pool room, aerobics, Wii bowling, and many other scheduled activities.
The Center has a fitness room with weights and machines commonly used in physical therapy clinics, so members can build on improvements made in therapy. An eight-week training course to learn to use the equipment and develop effective strength training technique is a requirement for using the gym, but once completed, members can work out on their own for just $1 per use. Health services such as blood pressure checks and foot care are provided on a regular schedule by visiting nurses.
Social Interaction
Social ties keep seniors active in their communities, and brings a strengthened sense of purpose to their lives. Members can socialize in the coffee area, dining room, game spaces, and pool hall. Classes are offered in a variety of subjects based on the interests of members and the availability of instructors. Current classes include ukulele and several exercise and dance classes. Groups meet for games, knitting, Bible study, hymn singing, weight loss, and more.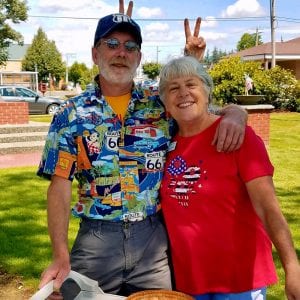 The newsletter highlights various special events and fundraisers the Center puts on, including a community-wide indoor garage sale in April, monthly pancake breakfasts and evening social dances. Some local tour companies even offer discounts to center members on travel opportunities and these may be featured in the newsletter, as well.
LeCocq likes to highlight member photos, poetry and artwork in the newsletter, and keeps members connected with news of significant life events and birthdays. The lunch menu can be pulled out to post at home—many members have friends in other towns and belong to several Senior Centers in the county, choosing which one to visit based on what's for lunch that day.
With all the scheduled activities, LeCocq says, "We're still mainly a drop-in center. Members come in to see what's going on, and often just hang out with friends." Senior life has changed a lot in recent decades, and LeCocq says the Center is changing with the times. While they once kept strict daytime hours, they're offering more evening and weekend programs, because "seniors aren't always available during the day anymore. They may be caring for grandchildren, or working themselves."
The Center has a lean staff and runs on a lot of volunteer labor. When board member Jan Holtrop is asked why she joined the Center's Board of Directors, she laughs and says, "I'm still not sure, it just kind of happened."
The place has a culture all its own; she wishes more people would come in and take a look. There's a misconception that senior centers are for when life is slowing down, and nothing could be further from the truth. "I've had people tell me they're not old enough to start coming," Holtrop says. "I had someone say that last week who was 84!" Joining the Center is a great way to stay in the game and keep living at a lively pace.
There's no minimum age for joining the Lynden Community Senior Center, and friends and relatives of all ages are welcome to join members for meals. Stop in and take a look.