Advances in the aesthetics and wellness field in recent years have resulted in new technology that make people say "wow." And RejuvenationMD® – Aesthetic Skin Treatment and Wellness Center, loves bringing that "wow" factor to its patients.
One such technology is CoolSculpting®, a nonsurgical, noninvasive treatment that destroys fat by freezing it.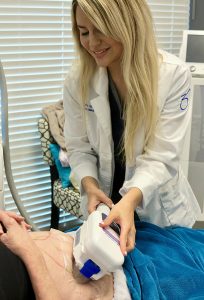 "This is the only treatment of its kind that freezes fat using cryotechnology," says Dr. Tianna Tsitsis, aka Dr. T, from RejuvenationMD in Bellingham's Barkley district. Other fat-reducing treatments rely on heat or ultrasound, but nothing has proven to be as effective as freezing.
Here's how it works: CoolSculpting targets the fat cells that sit right below the skin, and the cold crystallizes the fat cells, which die and are absorbed over time into the bloodstream where macrophages, the body's "trash collectors," gobble them up. The body's natural processes then eliminate the dead fat cells.
"It doesn't work on all fat," Dr. T cautions. Hard, dense fat isn't receptive to this treatment, but the kind that is easily squeezable is a good candidate.
"We like to say, squeezable fat is freezable fat," she says.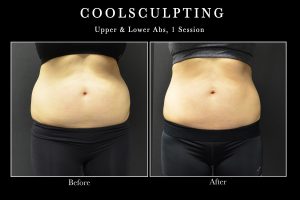 Fat on the outer and inner thighs, abdomen, flanks, upper arms, back/bra line and under the chin are all prime targets for CoolSculpting. Both men and women can benefit from this treatment.
Since fat freezes at a higher temperature than our skin, there's no damage to the skin from the procedure. Some people may experience some redness similar to a windburn, but that will dissipate in a day or two.
Because the body's natural processes take time to flush out the frozen fat cells, it can take up to three months to see full results from the procedure, but some people may begin to see results in as little as three weeks. Dr. T suggests people start planning their CoolSculpting treatments now to be ready for summer vacations, weddings and other special events.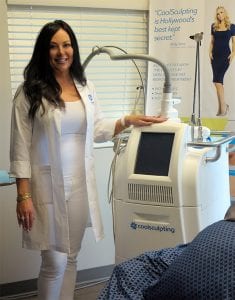 Depending on the areas being treated, one to three sessions typically are needed to achieve results. Patients get a personalized treatment plan, so they will know exactly what to expect.
At the time of the treatment, the CoolSculpting device is applied to the area being targeted, and patients will likely feel a tingling sensation at first, but that's about it. Some people are so relaxed during the treatment that they nap. Treatment time can be as little as 30 minutes, so it might only be a cat nap.
After the treatment is complete, the provider uses another technology called Z Wave to break apart the frozen fat cells and hasten the elimination process.
Not all clinics that offer CoolSculpting take this extra step, Dr. T says. But in her experience, the Z Wave—which uses radial shockwaves to treat cellulite and firm and tone the skin—offers a more consistent result than simply massaging the treated area to break up the crystalized fat cells.
CoolSculpting is clinically proven, safe and effective, and is offered at medispas around the country, but RejuvenationMD stands apart from the others.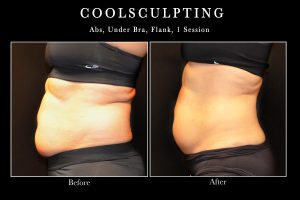 "The procedure is widely accepted all over the U.S., but what's different about RejuvenationMD is that we always have a physician on site," says Dr. T.
RejuvenationMD boasts two of the top CoolSculpting experts in the United States. That's because Dr. T is invested in continuing education for her entire team; Master Estheticians, nurses and physicians receive continuing education on a regular basis.
And their expertise shows: RejuvenationMD is the No. 1 CoolSculpting provider in the North Sound area, performing more treatments than any other practice.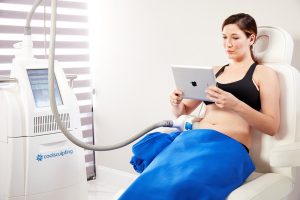 An excellent complement to CoolSculpting is CoolTone™, which uses magnetic muscle stimulation to strengthen, firm and tone the abdomen, buttocks and thighs. CoolTone gives your muscles an unparalleled workout that cannot be achieved through exercise alone, which is why patients may see results in as little as 4 treatments. Together CoolSculpting and CoolTone are the ultimate in body contouring treatments.
For women curious about CoolSculpting and CoolTone, RejuvenationMD will host a Girls Night Out on Thursday, March 26, from 5:00 pm. to 7:00 p.m., at its Burlington location. Those who attend will receive special pricing on CoolTone and CoolSculpting, as well as a chance to win raffle prizes. RejuvenationMD's Burlington office is located at 325 E. George Hopper Rd., Suite 101.