As warmer weather approaches, gardeners across Whatcom County are prepping to plant their spring beds. While some may be more experienced in the dirt than others, there's always something new to learn. Sarah Pabody, co-founder of Triple Wren Farms in Ferndale, shares some of her tips for flower gardening in our special little corner of the country.
Starting with a flower bed, there are two types of plants to consider: annuals and perennials. It's important to know the difference between them before you shop for seeds.
Annual plants have a life cycle of exactly one year. They grow from the planted and tended seed, sprout, bloom, produce their own seeds, and then die at the end of the growing season. All annuals need to be replanted each year if you want them to return. While they only live for a year, their blooms last the majority of that time, from spring often until late fall when the first frost comes. Examples of annuals are zinnias, marigolds, and petunias.
Perennial plants are sometimes more woody than flowers, like trees and bushes. In a garden, these plants offer texture, height and variety to a bed that might otherwise be just flowers. A perennial plant will live for more than two years, often as many as three to five. While trees and bushes don't have a "bloom," perennial flowers do, but their blooms don't last as long as annuals; they flower for only a couple of weeks each year. Examples of perennial flowers are tulips, lilies, and asters.
Once you have a list of exactly what you want to plant, you can get started on the dirt. "A lot of places in Whatcom County are blessed with a special sandy soil," Pabody says. "It's great for things that don't like being water-logged." If you've got something that might want more water, balance out the sandy soil with rich, store-bought soil. Knowing where to plant is imperative. In addition to soil quality, sunlight is also a factor. "Most plants need full sunlight, which means about six to eight hours of sunlight per day," Pabody says.
Now you've got your plants, your dirt, and your location—you're ready to plant. If you want to plant seeds directly into your garden, consider waiting until April. "Generally, the rule of thumb is that April 15 is a safe date to plant outdoors," says Pabody.
If you want to plant something that's already rooting and sprouting, an option is to plant the seeds or bulbs in pots indoors, kept on a sunny windowsill. Once freezing temperatures have passed, replant them in the dirt outside. "Perennials will handle frost better than annuals, so you could plant those earlier," says Pabody. "You can ask your neighbor who might be a more experienced gardener when they plant their gardens; they'll know better the temperatures and sun movements of your neighborhood."
When designing your garden, create a mix of annuals and perennials. "Put in smaller perennials that are cheaper," says Pabody, "and mix in annuals that will give you color the first year while the others grow root systems for the following year." You won't have to worry about redesigning and replanting (and re-purchasing) an entire garden year after year.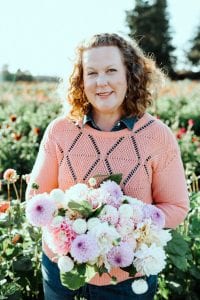 Another tip Pabody swears by: pinching. "I do it in my own garden, not just on the farm." Pinching refers to snipping off the top of a flower stem. Doing so will result in flowers that are not only of the perfect height (Pabody recommends pinching when stalks are around 12 inches), but will also create a greater yield in the number of blooms.
A "soft pinch" means removing just the growing tip and less than an inch of stem. A "hard pinch" removes leaves and a couple more inches of stem. Pinching can delay the bloom by a week or two, but the difference in the number of blooms is worth it. You can also only pinch a few stems, allowing the unpinched stems to bloom on time, saving the pinched for later in the season. Be careful, though, and do your research, because some varieties of flowers should not be pinched.
Triple Wren Farms is known for their full, beautiful "dinner plate" Dahlias, named for their massive size. Pabody is no stranger to flower farming after so many successful years in the practice, originating in Florida as a hobby before the family's move to Washington in 2009. When Pabody's husband's contract job ended, the family juggled whether to stay here or relocate again. "We babysat a friend's farm, which inspired us to start our own in 2012, and then we saw potential for growing in the wholesale market," Pabody says. "In 2013 we started doing this full time, and as of 2016 we purchased our now 22-acre farm."
Follow Triple Wren Farms' story and find fun events on their website or Instagram page.
Featured photo by Elena Slesarchuk, PEARL Photography by Elena