Bellingham may not compare to Mexico or Europe when it comes to spring break destinations—but it has a lot more to offer than just the rain. With activities for the outdoor adventurers and the indoor cozy-enthusiasts, whether you're planning a stay-cation or venturing out into our little city on the bay, Bellingham won't disappoint.

Get outdoors
There are ample opportunities to explore our various types of terrain here in the 'Ham with hikes for every experience level. For the well-hiked, check out Fragrance Lake Trail. Featuring an elevation gain of about 1,100 feet, this 4.5-mile loop features stunning views of the mountains and the bay.
If you're looking for something a bit easier (or less time-consuming), head to Whatcom Falls Park, where you'll find the Whatcom Creek Trail Loop. It's still a 4-mile loop, but with only about 300 feet in elevation, the whole family will be able to enjoy the walk and views of Whatcom Falls.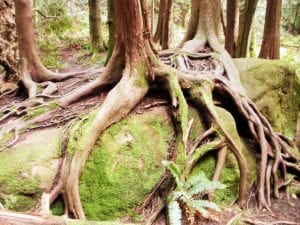 For more information and variety regarding trails and types in the area, check out AllTrails.com, where other hikers post ratings and reviews.
Here on the Washington coastline, we might not have the beaches you'll find in Hawaii or California, but ours offer something different. If you make the easy trek down to Teddy Bear Cove, you'll discover a somewhat traditional beach area surrounded by steep rocky hills. You'll also find tide pools to peruse, but remember—don't touch! At low tide, the Birch Bay allows for some strolls along the beach, out further than you'd think. You might catch sight of some clams or crabs scampering along the sand, as well. A well-kept secret: the tide pools at Wildcat Cove in Larrabee State Park are unrivaled.
If you're just looking to spend some leisure time outdoors, Bellingham has 46 public parks to choose from. A favorite among locals is Boulevard Park, which stretches from South State Street all the way to Fairhaven via a long dock constructed over the water. In addition to the dock, there's a Woods Coffee from which to grab your hot—or cold—drink of choice before your stroll. If you're looking for something a bit more zen, check out Big Rock Garden Park, a quiet, shaded 2.5 acres of green space full of sculptures. It's the perfect place to enjoy the quiet of nature.
Get active
There are a lot of ways to keep active outdoors in Bellingham, but if it's a cold, rainy day, you might favor something inside. Vital Climbing Gym, located on State Street downtown, provides an indoor active challenge. A single day pass is only $17, or if you're really in the bouldering spirit, consider a five-day punch card for $69. Rock climbing and bouldering is a great way to challenge yourself and stay active when getting outside might not be an option.
Mount Baker Ski Area is, of course, where all the locals hit the slopes. April 19 is closing day on the hill, open just long enough for the spring breakers to enjoy a bit more fresh powder. In fact, April 6 to 10 is Family Week, making it easy for the whole family to enjoy a day of skiing. Whether you're a veteran skier or don't yet know how to strap your boots down, there's a trail for everyone to feel comfortable on.
If you're more the bike type, check out the Interurban Trail, which connects the Fairhaven district with Larrabee State Park. Labeled as an "easy" journey, the trip is about six miles each way. It's ideal for bikers, but also a favorite among walkers, runners, and even horseback riders. The trail was the original path of the electric railway, which ended in 1928. You can also take the kids down to the waterfront pump track.
If the kind of biking you're interested in is a little more intense, Galbraith Mountain offers mountain biking trails for all levels of expertise. There's over 65 miles of track for bikers to choose from, all of which are located on about 3,000 acres of mountain that overlook the water and the city.
Get artistic
Everyone in town has at least heard of CreativiTea, a local pottery painting and glass art studio. Here, pick your favorite piece from the shelves, grab some paints and get to work creating your own artwork. Simply leave it at the pay station and pick it up a few days later after it's fired in the kiln. For older students and adults, consider Uptown Art on Harris Avenue in Fairhaven. Painting classes are scheduled monthly, so check out the website to see what painting is coming up next. Whether it's a date night or a night out with the girls, these paint-and-drink classes are sure to please.
It's never too early to introduce your kids to cooking and creating good food. Tiny Onion Cooking School hosts classes for kids as young as three, intended to introduce tots to "explore flavor, color, texture, and make a mess!" Founder Annalee Dunn created the program with the intention of expanding kids' horizons in the kitchen and teaching them that healthy, locally-sourced food isn't yucky. For adults, Ciao Thyme in downtown Bellingham offers a weekly schedule of fun classes, like Monday Night Pizza, and special events, like Couples Classes.
Featured photo by Marty the Adventurer