A kraken may not be the first thing that comes to most people's minds when they think of Science, Technology, Engineering and Mathematics (STEM) education. But a local high school robotics team, the Seamonsters, is here to change that perception.
In the fall of 2008, a small group of friends who shared a common interest in STEM banded together and formed the Sehome Seamonsters. They compete each year under FIRST Robotics, a world-wide organization dedicated to the inspiration and recognition of science and technology.
"Over the past couple years, the team has worked hard to broaden its reach and include students from all high schools in the district," says Bellingham High School teacher and team advisor Heather Steele. Compared to only eight team members and one mentor in its inaugural year, the 2020 team has over 40 members supported by 8 local industry professionals and a handful of volunteers. Each year, the Seamonsters plan, build, test and compete in local and regional competitions, all while fostering and inspiring STEM education along the way.
You would be hard pressed to find a more exciting place than a robotics team meeting during build season. Starting the first Saturday in January with the world-wide kick-off, teams scramble to decode complex rules, strategize ways to maximize points, and design, build, and program a robot to perform a prescribed set of tasks.
The team runs like a company, with different departments pertaining to a variety of disciplines including programming, electronics, computer-assisted design, fabrication, business, media and marketing. Like the mechanisms of their robots, every Seamonster works together to create an efficient and effective team.
"FIRST is the no-limits STEM program for high school. What's not to love?" says lead programming mentor, Ryan Shupe. "There's truly no limit to the creativity and the drive of these students. They're not just engineers: they're leaders, team players and innovators." For the Seamonsters, it's about both the journey and the destination.
"If building is what you join for, competition is what you stay for," says student and fourth year team member Max Gusukuma. FIRST competitions are unlike any other. Imagine a high school gym with packed bleachers, blaring music, life-size mascots and lots of dancing, not to mention six washing machine-sized robots competing on a playing field the size of a basketball court.
Spanning three days, up to 36 high school teams convene to test their skills. Students work with and compete against each other to showcase their engineering accomplishments—a truly exhilarating experience for all involved. From early January through spring break, robotics is a whirlwind of excitement and innovation. Yet once the storm dies down and competition ends, the Seamonsters are still swimming!
Active year-long, a robotics team is much more than just building a robot. Effective FIRST teams must become a center of STEM in their community.
"The biggest myth we want to dispel about the team is that it's just about the robot," Steele says. "The team is also about volunteering and community."
Outside of build season, the Seamonsters focus on outreach and promoting STEM throughout Bellingham. They run robotics teams at the local middle schools, called VEX IQ, teaching valuable engineering skills that provide pathways to advanced high school courses.
Last year, the team also formed a district-wide Unified Robotics team. A subset of Special Olympics, Unified pairs students with and without intellectual disabilities to build and compete with a Lego Mindstorms robot.
During the summer, you'll find the Seamonsters active in the community, volunteering at Western Washington University (WWU) summer camps as mentors in a variety of STEM-related middle school programs or providing volunteer support for local events such as Ragnar Northwest Passage. The Seamonsters also showcase their efforts and love of everything STEM at information fairs such as Linuxfest Northwest and WWU's Girls in Engineering, Math & Science.
This year, on March 21 and 22, the Seamonsters and Bellingham High School will host a FIRST Robotics competition with 36 high school teams attending. The event is free and open to the public; everyone is invited to attend and join in on the fun. "The Seamonsters hope this will become a community event that will expand interest in STEM-related education," Steele says.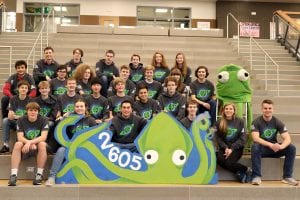 Learn more about the Seamonsters on their website www.seamonsters2605.org. To volunteer or provide valuable financial support, reach out to frc2605@gmail.com.
In the coming years, the Seamonsters aspire to bring STEM education opportunities to every school in the district. They'll continue to teach students about engineering, leadership and teamwork, and prepare students for the jobs of the future. From deep sea to wherever the competition may take them, the Seamonsters are ready to weather any storm they face. Let's get kraken!