Submitted by: Barron Heating
Imagine the chill of the Rocky Mountain air in your bedroom in the middle of summer. Or picture the warmth of the California sun in the darkest days of winter. HVAC technology is a game changing amenity today that can achieve just that—it can completely transform your home, keeping you comfortable no matter what the elements throw at our indoor air and air quality. But even with the advances of the last decade, HVAC technology is far from done evolving.
Take Heat Pumps for example. Modern Heat Pump systems are increasingly smart, implementing heating or cooling in accordance to your desired set temperature and maintaining it throughout the seasons. However, some of the earliest Heat Pump models in this wave of new technology, the "traditional" non-inverter systems, automatically power off when the set temperature is reached, causing the temperature to once again rise or fall. This change typically prompts the system to fire up again and again, running in short, inefficient cycles. So while it was a significant advance over the furnaces of yesteryear, a lot of efficiency gain was left on the table.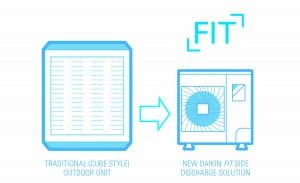 Cue the Daikin Fit system, a sleek, high-efficiency advancement in heat pump technology that has the Home Performance Experts at Barron Heating "Pumped." The Fit utilizes an inverter system which runs continuously, but adjusts the speed of the compressor to meet your comfort demands. Because the Fit maintains temperature consistently, your home will no longer feel too hot or too cold. And by continuously running at low, energy-conserving levels, the air is consistently filtered. This controls humidity, as the air is constantly passing through the coil and removing moisture, keeping you and your home from feeling muggy.
"Shhh…." It's quiet! Noise is a big deal when talking HVAC. Quieter systems allow you to enjoy summer nights listening to the crickets outside instead of a noisy outdoor unit, or to not have to turn up the volume on your television every time the air kicks on. These undesirable operational sounds often accompany traditional non-inverter systems, especially for start-up, and can become a real nuisance in your backyard or when the system is near a window. Due to its variable speed inverter compressor, the noise from a Daikin Fit system is almost imperceptible, achieving operating levels as low as 55 DBA—a level just above the hum of the refrigerator.
Your ability to be comfortable shouldn't be defined by your space limitations. Although traditional "cube style" systems have been providing comfort for years, they can be cumbersome for certain locations. The compact size of the Daikin Fit system, along with a space-saving side discharge cabinet makes for the perfect compact solution. Ideal for homes with limited installation space, the Fit outdoor unit can be ground or wall-mounted to free up valuable space where it matters most. And with a slim profile, it's a match for zero lot line homes, patios, terraces, roofs, and multi-story locations that would typically require a crane to install.
Compressors are the heart of your heating and cooling systems. And as the single most energy consuming part of a system, not all are created equal. Traditional systems use single-speed or dual-speed compressors, while the Daikin Fit system is equipped with revolutionary Daikin inverter (variable-speed) technology. Like a car operating on cruise control, an inverter carefully controls the heating and cooling power generated by the unit. This minimizes temperature fluctuations, reaches the temperature set point faster after an extended period of interrupted use, and provides continuous heating and cooling comfort. Inverter systems can save up to 30% energy compared to non-inverters. And saving energy means saving you money.
Your home is unique, just like you and your comfort needs. Whether it's big or small, your home is your sanctuary. It's where you work, where you play, where you sleep, and where you truly live. That's why at Barron Heating & Air Conditioning, we're partnering with Daikin to make your inside air as comfortable as it can be. With Daikin Fit technology, we can help you achieve better comfort, control and efficiency. And with incentives and flexible payment options, you won't have to compromise. Call Barron today and let one of our Home Performance Experts show you how the Fit can transform your home.