If you were making a recipe, and the ingredients were the following things in equal parts: unhurried strolls, fanciful wonders, sated culinary curiosities, joyous feasts, special bonds, and uplifting inspiration, then your resulting creation would be Fairhaven.
But, of course, districts and communities as magical as Fairhaven aren't cooked up to order. They simmer and stew over time. Someone has to watch the stove, include a variety of chefs, and give them access to both one another and a successful recipe book. That helpful stewardship in Fairhaven is provided by the Historic Fairhaven Association, a nonprofit organization focused on building community—in more ways than one.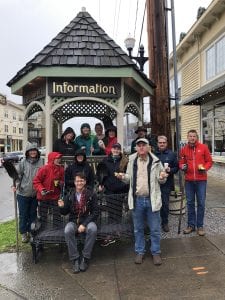 "In the same way that compassion is the desire to relieve suffering, what we [the Historic Fairhaven Association] want is to relieve isolation," says Ria VanWeerdhuizen, President of the HFA.
This may sound a long way from its mission to "promote Fairhaven as a community while preserving its historical character," but HFA Executive Director Scott Ward fully agrees with VanWeerdhuizen. "Beyond what the mission statement says, we are focused on informing and building community," says Ward.
One of those communities is the members themselves. Part of the isolation relief happens in the form of monthly meetings that get 25-35 attendees each time. "Without that connection of the meetings, it's so easy to get caught up in your own little world," says VanWeerdhuizen. "I started at Peoples Bank in 2006, and my introduction to the HFA is that we [Peoples Bank] have always been involved—part of the culture of Fairhaven is just that you are involved."
Ward also emphasizes the importance of those meetings, and while they provide benefits to the attendees he also stresses that there is an intangible value to the neighborhood when people are connected and inspired. "The HFA sounds like a business organization or merchant group—but it's actually a community membership organization in a truer sense." Community members at large, nonprofits, and residential occupants of Fairhaven are also important additions to this group. Joining the HFA has many benefits and provides not only value in promotion of the district but also in beautification and cultivating wonderful events.
"All of our events are free," says Ward. "Everything—from carriage rides to the Fairhaven Festival."
Events support another community—attendees to Fairhaven—which range from local regulars to international tourists. Historic Fairhaven Festival gives the visitors already on hand for the Ski to Sea competition a giant street party to celebrate their experience, joined by many non-athletic friends looking for a way to catch some excitement through food and crafts. Over 30,000 people attend. Dirty Dan Day is another big street affair, with unique and colorful contests such as an uphill piano race and a fish toss. There are monthly art walks, a summer outdoor cinema series, and wonderful holiday events. The 2020 Fairhaven Map & Guide has a full listing of happenings.
A third community sustained by the HFA is comprised of people who can't be conjured through meetings or events—the pioneers, artists, and craftspeople from the 1800's or 1960's whose unique efforts guide today's quaint experience. "We're preserving the historic 'character,' not doing historic preservation," says Ward. "There are guidelines for restoration already in place by the City of Bellingham. What we're focused on is helping businesses in Fairhaven to maintain the historic sense, to make an intimate, personal experience for each patron. This keeps it feeling small and local. A big, national company coming in without a unique offering would change the nature of the community. The history is the creative spirit."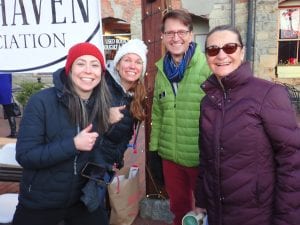 "It is like the spirit of the Village Green," says VanWeerdhuizen. "It feels like the Village Green has always been there. But that was a vision within the last 20 years of someone who just really felt we needed a shared community space and did all sorts of outreach and fundraising to make it happen. Now it is such a great resource for the movies, events—all sorts of things."
The 21st century, despite maintaining the historic charm, has seen the area's most dramatic building boom since the 1800's, and has added many more residents within the commercial area. "Fairhaven is defined as a historic district, an urban village, and a district. Three different outlines. What we're trying to do is get folks to see that Fairhaven is the commercial district for all of the South neighborhoods," says Ward. "More and more people are living in the heart of Fairhaven. Now we feel like we need to engage that part of the population—our challenge is how do we reach these residents."
VanWeerdhuizen has an idea. "As a resident, you can come out and join in what's happening. Get on one of the volunteer committees, join in the messy part of life that makes things happen." She touts what a great group of people there are to engage with right now, "There are a lot of good individuals that have come together at a key time."
Ward also says he is impressed with the volunteer committees. "The journey is as valuable as the destination. The planning process needs to be as good of a process as the actual event. We're seeing that happen."
If connection is their goal, VanWeerdhuizen, Ward, and the rest of the HFA Board of Directors are on a roll. As far as membership goes, they started last year with 78 members and ended with 117. Ward smiles, "There is a lot of power in intention."
Attend, volunteer, or join by visiting Fairhaven.com and clicking on the HFA tab.
Sponsored