Valentine's Day is fast approaching, and it never hurts to plan ahead. Whether you're on the hunt for flowers, sweets, or dinner reservations, this guide has you covered for all things Whatcom County Valentine's Day.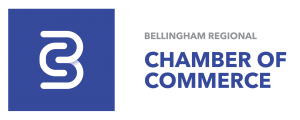 Flowers
Did you know the flower industry has a huge impact on the environment? In the winter, it's not warm enough in the United States to grow the ever-popular red roses—and even if it were warm enough, our domestic growers can't keep up with the demands of the holiday. Instead, flowers are typically grown in South America and shipped to the U.S. via plane.
Usually, flowers grown internationally are loaded onto passenger planes that would be making the trip anyway, but the demand in February is so high that special flights have to be made. The International Council on Clean Transportation did the math, which showed that in the three weeks leading up to Valentine's Day, flower delivery flights alone burn 114 million liters of jet fuel. Sorry, Earth.
If you or your sweetie are passionate about the environment, consider picking up a bouquet from somewhere local and sustainable. There are plenty of local flower farms that grow their blossoms right here in Washington—no flights necessary. You might not get your traditional red rose, or you might drop a couple extra dollars, but you'd be doing your part for the planet. What's more romantic than that?
The "Slow Flowers movement" encourages folks to buy from these farms to reduce carbon footprints and environmental impacts. Search the Slow Flowers website for farms that grow and distribute their own blooms.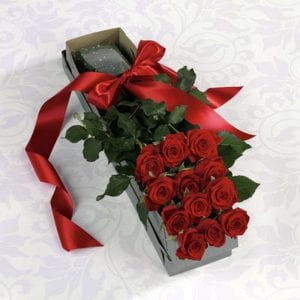 A Lot of Flowers in Fairhaven is dedicated to selling Northwest-grown plants and fair trade items. A Lot of Flowers has been a local, small business in Bellingham for 35 years, with a good mix of plants, garden items, and floral arrangements. While you may not find a dozen long-stems, you can rest assured that you're supporting the local economy, doing your part for the planet, and still getting your sweetie something special.
Belle Flora, located on Yew Street, specializes in designer bouquets. Check out their website to find something you like or, if you consider yourself an arrangement novice, choose the "Designer's Choice" option, and a special bouquet will be created for you. Order as soon as you can to make sure you can get delivery on time for the big day.
Sweets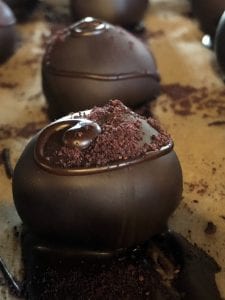 Everyone knows that chocolate is for lovers. There are so many delicious options to pick up a box of sweets for your sweetie, like Forte Chocolates in Bellis Fair Mall. Their website lists the seeming endless awards they've won, both national and international. Pick up a box, sample a few for yourself, or sign up for a class together, like truffle making or "chocolate tasting around the world." After all, time spent together is the best gift to give.
Evolve Chocolate & Café in Fairhaven also boasts a long list of delectable options. Bring your lover in for a cup of chocolatey goodness, like the Chocolate Latte or Sipping Chocolate. You can also order house-made truffles from the case and nibble as you look down over Fairhaven's Village Green or a sunset over the bay. If you've already got plans for the evening, Evolve also sells truffles by the box, to go.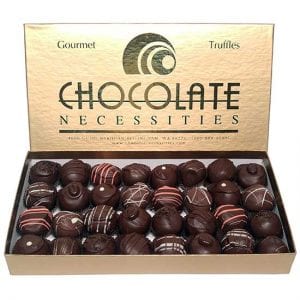 If your Valentine's Day plans find you downtown, stop in to Chocolate Necessities and enjoy world-class gelato and fine quality chocolates. If you're looking to order a box, Chocolate Necessities just introduced a new size, so you can choose from an 8-piece box, 16 pieces, 32 pieces, or a grand 64 pieces.
If chocolate isn't your jam, there are plenty of other sweet options around town to try. Antler Baking Company is hosting a Valentine's Day pop-up market on the 13th, with vendors selling gifts and flowers with treats available from Antler. If you're looking for something exclusive, Antler has a special Valentine's dessert, featuring dark chocolate or vanilla cake filled with strawberry dry rosé puree and vanilla buttercream. Pre-orders are open now for pick-up on the 14th.
Pure Bliss Desserts is always a crowd-pleaser, and always serves up something special for the holidays. Pick up some heart-shaped shortbread cookies, frosted pink. Pure Bliss is also doing a special collaboration with Forage Floral Studio: pre-order a bouquet (small, medium, or large) for pick-up on Valentine's Day. There will also be handful available for grab-and-go on the day of, for those last-minute thinkers.
Restaurants
The Lighthouse Bar & Grill, located on the first floor of the Hotel Bellwether, has a special menu running all February long. Titled, "February for Lovers," the edited menu includes expanded steak and lobster items. You can make reservations ahead of time using OpenTable either on the website or through the app.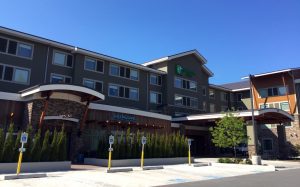 Within the Holiday Inn & Suites at the Bellingham Airport you'll find northwater, an upscale dining experience with a fantastic bar. They create an exclusive menu for the special day, which includes duck confit, lobster, and a special steak. This menu will be available in addition to the regular menu. The restaurant asks that you call ahead to make reservations at 360.398.6191.
Bellingham Cider Company is offering a special menu on top of the everyday offerings in their restaurant for Valentine's Day. In addition to the menu of locally-sourced food, BCC will also have Flower Power Cider back on tap and a specialty craft cocktail. You can make reservations for the big night on the website or by emailing drink@bellinghamcider.com.