Bellingham's own craft butcher shop, Carne, has been providing locals with high quality, Pacific Northwest meats, seafood, eggs and more since 2013. It moved, in 2017, from its original South State Street location to the intersection of Broadway and Elm, just north of downtown Bellingham, which is where you'll now find this most special of places.

Carne's owner, Shaun Almassy, had always wanted to start his own business with a long-time friend, and they finally found a niche to fill. "He was a butcher working at the grocery stores in town," Almassy says of his friend, "and he saw that people were asking for something that the supermarket didn't offer: ethical, sustainable meats."
The new business came with a steep learning curve: "When you're a union meat cutter, they don't teach you anything about ethics or organics or sustainable practices," Almassy says, "because they know their meat doesn't fit those categories."
So once you've identified the problems, how do you work toward a solution? "There was a little bit of Googling, to see what results popped up for partners in Whatcom County. And then you ask that farmer, 'Do you know anyone that raises pigs, do you know anyone that raises chickens?' And you're always asking who's following the best practices," Almassy explains.
Now, after seven years as a successful purveyor of top-quality meats, new suppliers in the area call Carne when they're looking to make a start. "The rules we have for our suppliers are no hormones, no antibiotics, always raised on pasture, and from the Northwest," says Almassy. "The first step is the taste test. We always do a blind, side-by-side comparison with our beef. If it meets our standards, we visit the farm and see that they're doing everything that we like to see farmers doing."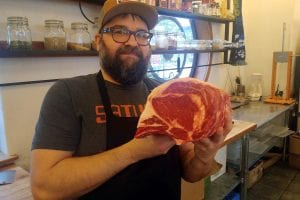 What farmers are doing is a large component of Carne's mission, and leads to an important discussion about the world around us. Every day we hear about the dangers of releasing more carbon into the atmosphere, and one of the solutions may lie in the practice of regenerative farming.
"It's not just raising animals on a pasture, it's growing crops, as well," says Almassy. Regenerative farming means not bringing in fertilizers, not using sprays, and not tilling. "If you grow a crop for one season, and the next year you allow animals onto that land, they fertilize it for you, and aerate the ground for you. Then you don't even have to own a tractor, and you're not burning fossil fuels."
Science isn't just sounding an alarm, it also provides a different path to a healthier future. "They say that in one tablespoon of living soil, there are more microbes than people on Earth. By one estimate, we have 30 years left on our soil before we won't be able to grow thing without manufacturing compost and growing crops under a light," Almassy says. "The most important feature of this regenerative practice is that if you run a proper regenerative farm, there is beef that captures carbon."
While regenerative farming hasn't made enough impact locally to stock Carne's shelves, Almassy is happy to spread the word as he supports the best suppliers the area has to offer. Making a positive impact has brought some local restaurants to Carne, as well. "They come to me for two reasons: I think they believe in the ethics of the meats we're carrying, and they see the allure of having that on the menu: pasture-raised beef hamburger, ground locally at Carne." Almassy is happy to see Carne's name on the menu at Archer Ale House, Ovn, Mt. Bakery, the Horseshoe and Streat Food.
Some locals would like to make the switch to the products Carne offers, but are stopped by the price tag. Almassy has a solution for that: "What I would tell anyone who thinks they can't afford to shop here is to go through your food receipts from last month, figure out how much money you spent on protein—eggs, all of your meat, and seafood—and just spend that here. Nothing is going to happen to your budget, the only thing that's going to change is you're going eat a little bit less meat, and you're going to put a dent in factory farming."
It may be surprising to hear a butcher tell you to eat less meat, but there's a positive trade-off in eating less, but eating better. "I used to eat a 16-ounce rib eye from the grocery store, and [now] I maybe eat 8 ounces of rib eye in one sitting," says Almassy. "Your body knows what you're putting into it, and it says, 'Hey, there's nutrition here!' Your taste buds are satisfied, and your stomach is satisfied."
Carne
1205 Washington Street in Bellingham
360-647-8686
www.carnebellingham.com
Featured photo of owner Shaun Almassy by Steven Arbuckle