In downtown Bellingham, the tall brick building at 1224 Cornwall Avenue—known by most as "The Leopold"—is among the city's most iconic historic structures.
Last year, the building began a new chapter to mixed use as apartments and downtown hotel space. Daylight Properties, which owns and manages the building, has been working to return the building to its former glory as a social center of downtown Bellingham.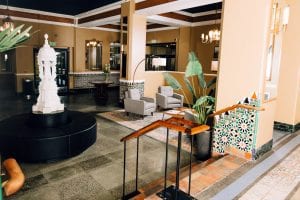 In addition to fine lodgings, new residential apartments and its beautiful Crystal Ballroom, space is being developed for a restaurant, bar and coffee shop.
"The restaurant will have the opportunity to assist in catering special events, work with the hotel to provide room service and accommodate our residential tenants," says Daylight Properties Leasing Manager Jena Curry.
Tara Sundin, Community and Economic Development Manager for the City of Bellingham, agrees that converting the property back to its original hotel use shows Daylight's commitment to historic renovation and community need.
"A downtown hotel has been on our list for decades," she says. "Visitors now have a wonderful downtown option when they come explore our great city."
What's Old Is New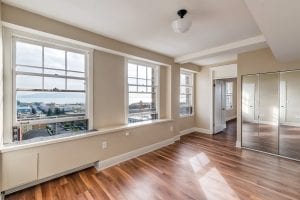 Leopold Apartments resident Katie Bryant is 91—the same age as the building she lives in. Bryant lived at the Leopold for three years when it was a retirement community, and then relocated to Mount Vernon. Her new place was nice but not ideal, she says, and it put her further away from her daughter who lives in Bellingham. So when the opportunity to move back to the Leopold presented itself, Bryant went for it.
After moving back in September 2019, Bryant says she's happy to be living in the same apartment she previously occupied.
"I love downtown," she says. "I can walk to everything—bank, post office, Rite-Aid, Co-op. Everything."
Remodeling of rooms and additional safety features are still on-going, Bryant says, and the new apartments are very nice. The only difference for her now is she must do her own cooking.
In all, the Leopold Apartments consist of 54 residential units, many of which feature new kitchens, bathrooms, paint, tile and flooring. Daylight estimates the apartments will all be completed by fall of this year.
Of the 54 apartments, a few are still undergoing cosmetic improvements, says Curry. Excluding the unfinished apartments, the building is currently at 50 percent occupancy, and the demographics are across the board.
"We have recently graduated college students, people new to the Bellingham community and, most importantly, several returning tenants from the retirement center," Curry says.
On the hotel side, 40 boutique-style rooms of various sizes and prices are available for guests. In addition, the Leopold's ballroom is available to host weddings, concerts, receptions, balls, galas, auctions, business meetings and conventions, just as it's done for the last 90 years.
"The Hotel Leo allows event goers a place to stay nearby," says Hotel Leo Manager Jamie Verkist. "Once we have a restaurant and bar, they'll benefit from the hotel and events business."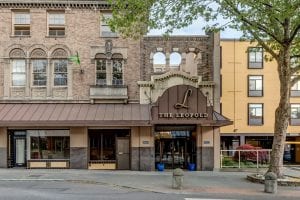 Rick Sepler, the City's Director of Planning and Community Development, says that the Leopold's presence will only serve to further benefit downtown Bellingham's health, both today and tomorrow.
"The transition to current use has really made a significant difference downtown," he says. "The more residential population we have downtown, the less car trips there are, so the less need there is for vehicles. So it's better environmentally, too."
A Luxurious History
The Leopold began life in 1899 as the Byron Hotel, named after its owner, Captain H.C. Byron. At the time, the brown brick structure had arguably the city's finest accommodations, with ideal access to the rest of downtown.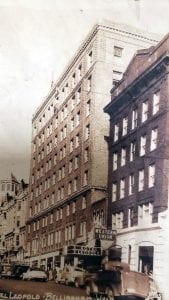 In 1910, a German immigrant named Leopold Schmidt, who had established himself as a local brewing baron with ownership of Bellingham Bay Brewery, purchased the hotel for $100,000. By 1913, the Byron had grown to 200 rooms, half of which had private baths.
After Schmidt died at the hotel in September 1914, his hotel manager and friend, Henry Schupp, decided to rename the hotel after him. In 1920s, further additions were made: the Tulip Room, now called the Crystal Ballroom, and a large 1929 tower addition that increased capacity to 500 rooms. During the mid-1930s, actor Clark Gable allegedly stayed at the Leopold while filming the movie Call of the Wild.
The original Leopold structures were demolished in 1967, and their locations now serve as parking and restaurants on the corner of Cornwall and West Chestnut Street. The 1929 tower and another 1968 addition now comprise the facility, which is listed on both local and national historic registries. Today, much of its original charm remains, including terrazzo flooring and Catalina tiling. At the Leopold, luxurious reminders of a grand past are never far from view.
Sponsored