Bellingham-based cinematographer Tyler Hamlet has just wrapped up a new action sports film, featuring the music of the Grateful Dead and narrated by basketball great and self-avowed Deadhead Bill Walton. An exciting blend of classic ski film, '60s psychedelics, and the latest in camera technology, Fire on the Mountain is wildly fun and freeing. The film features world class athletes doing what they love, in visual splendor.
The short film, which was shown at Makeworth Market as a benefit for the Surfrider Foundation, brings together surf legend Rob Machado with well-known skiers and snowboarders Kimmy Fasani, Danny Davis, Jeremy Jones, and Michelle Parker. Chris Benchetler, one of the athletes, is the mastermind behind this project, which started with Grateful Dead art created by Chris for Atomic skis.
"Action sports find inspiration in all kinds of places," says Hamlet. "When Chris and I started working on this, the Dead song 'Fire on the Mountain' seemed like a natural soundtrack." Through some hard work and luck, Bechetler was able to use his San Diego connections with Machado to convince Walton to write some of the narration and voice the film. Collaboration and inspiration were the cornerstones of the project.
The film was shot over the last year at locations including Mammoth Mountain (a major sponsor of the project), Norway and Indonesia. Hamlet, who was principal cinematographer, also co-directed and edited the piece.
Using a combination of camera types, including drones, Go Pros, handheld digital SLR and a new camera from Red Digital (the Gemini), which is optimized for low light and was crucial for the night shoots, Hamlet was able to capture amazing action.
The night shoots, both on water and the slopes, were lit using a number of methods, resulting in bold swathes of color and illuminated skeleton suits. "Everyone wants to know about the skeleton suits we used," Hamlet says with a laugh. "We used a lot of waterproofing, some fuses and kill switches to make them safe. But I want to say: Don't try this at home!" The glowing skeleton suits are used to chilling effect, both in night surfing and night skiing segments.
Distribution of film has changed dramatically. "Ski films used to show kids how to emulate the pros, but now social media is everything," says Hamlet. "A 15-second Instagram post can show a kid how to do a triple cork, and they don't have to wait for the annual ski movie."
"Now," he continues, "I think in terms of navigating film with a business plan, sponsors, and something that results in deliverable content." Fire on the Mountain is available on YouTube, and has shown at Florida Film Festival, Whistler, and other film festivals. Fire on the Mountain is also shown at various benefits and compatible events, such as Rob Machado Foundation, Night of Lights in Mammoth, and the X Games in Aspen. The producers worked with Protect our Winters to provide the film for a benefit premiere in Jackson Hole.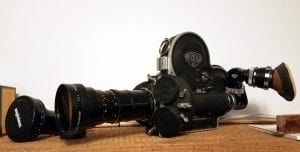 Hamlet is avid about carbon neutrality responsibility, and this film is certified carbon neutral in the credits. "I realize we use planes and equipment to make these projects, but we also work to offset our impact," he says. He uses organizations such as Carbonfund.org to offset carbon footprint, both as a business and individually. "We were fortunate to have sponsors like Smartwool who helped make this film carbon neutral."
Hamlet began his career after taking a film class in high school. He used the cameras to critique himself and his friends learning ski moves in Steamboat Springs, Colorado. "I liked cinematography. It was creative, fun, and I wanted to apply myself," he says.
He graduated from the Brooks Institute of Photography in Santa Barbara, but found he didn't want to go the conventional route to Los Angeles. "So I got into shooting action sports," he says. Over the years, he has done work for clients like ESPN, X Games, and Atomic.
Hamlet met Benchetler on his first shoot for Poor Boyz Production 15 ½ years ago, and both come from freeski backgrounds. They've created more than 10 films together and continue to collaborate, including for Fire on the Mountain.
Hamlet and his wife, Lisa Loberg, left Haines, Alaska, where Loberg owned a restaurant, about five years ago, when the heliskiing annual ski film work slowed. Hamlet was traveling six months a year, and ready to put some roots down, which led to Bellingham by way of Glacier. "There are lots of creative people in Whatcom County, and great outdoor access. I especially enjoy mountain biking on Galbraith these days," Hamlet says.
Other projects on deck for Hamlet include a year-long documentary showing how Kimmy Fasani, a world class snowboarder, is adapting to pregnancy and then motherhood while still maintaining a firm hold of her career and sponsors. Her contract clauses have set an industry precedent that's good for other women athletes.
Segments for The DoDos, a YouTube channel that focuses on creating adorable animal videos, is one sideline for Hamlet that's not action-sports related. "At Thanksgiving, I told by sister-in-law, who is a vet, that I was shooting with The DoDo and her face lit up. These are good success stories, and I enjoy shooting them," he says.
Hamlet is launching a new website, FlagshipIndependent, and also working for more commercial clients, including Juneshine, an organic hard kombucha.
Watch Fire on the Mountain and get inspired to grab a board or your skis, fire up some Grateful Dead, and encourage someone to follow their dreams.