Only a few blocks from Railroad Avenue and its historic track, Bellingham Railway Museum entertains visitors with railroading memorabilia from Whatcom County and beyond. Model trains line the shelves and run through model towns, recalling a history this volunteer-run nonprofit has told since 2003.

"We are about half a dozen people who belonged to a model railroad club originally," says volunteer historian Dale Jones. Bellingham Society of Model Engineers (BSME) began in 1994, building and collecting model trains. When they lost their lease, history-minded members started Bellingham Railway Museum and others became Whatcom Skagit Model Railroad Club in Alger.
At this small but dedicated museum, you won't have to look 500 miles from home for railway history. Bellingham Railway Museum offers a historical and recreational experience for rail buffs of all kinds.
History of Whatcom County Railways
Bellingham Railway Museum juxtaposes local history placards with artifacts from the "golden age" of railroads sweeping America upon the Transcontinental Railroad's construction.
"By 1869, they'd finally built a railroad across the country and joined up with all the different railroads," says Jones. "And it all became a big spider web all over the United States and Canada and Mexico."
The Pacific Northwest was the end of the frontier. Whatcom County's earliest railroads began decades later to travel through forested and mountainous terrain and promote industry. "Whatcom County railroads were the very first way, other than boat travel, to get around this area," says Jones.
Lumber and coal mining in Whatcom County started with Roeder and Peabody's sawmill on Whatcom Creek circa 1852 and Blue Canyon Coal Mine in Sehome circa 1853. In the 1880s, these industries started using steam engines and hopper cars respectively. "Logging, mining, fishing, dairy, all the produce they grew in this county…a lot of it went out of here as a commodity," says Jones.
The Bellingham Bay and British Columbia Railroad, Whatcom County's first, began in 1883. "A lot of people from California invested in it before they laid the first track," says Jones. "But they didn't have a locomotive here until 1888." The Fairhaven and Southern Railroad, incorporated in 1888, followed suit—as did smaller lines that paralleled each other competitively.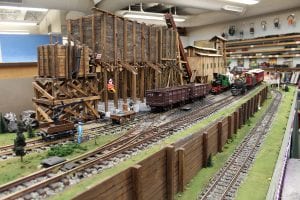 Whatcom County industry "went all around the country, if not the world," says Jones. "A lot of schooners went from Bellingham to Hawaii with loads of lumber." With Bellingham's lumber, California rebuilt after the 1906 San Francisco earthquake and aviation companies such as Boeing built spruce airplanes for World War I.
In 1912, Milwaukee Road bought the B.B. and B.C. line. As other major railroad companies bought local tracks, they condensed lines as highways became the dominant form of transportation. As Bellingham Railway Museum shows, however, enthusiasm for railroading is alive and well.
Bellingham Railway Museum's Exhibits
At Bellingham Railway Museum, you can circle around a hand-built Whatcom County replica through exhibits of historic photos, information, and memorabilia. These extend chronologically from the 1800s to recent decades.
"There's a lot of artifacts and stuff that have been donated by people all around the county, if not the state," says Jones. "Our lantern collection is pretty thorough. It just shows you what it took back then."
Thanks to other generous donations, the museum features G Gauge trains constantly running on the Whatcom County display and Lionel trains that visitors can operate. Children can enjoy playing with Thomas the Tank Engine and Brio train sets on the floor, next to bookcases packed with reading. Visitors can also find a geocache called "The B.B. and B.C. Cache" with railroad knowledge and volunteers' help.
"The displays that we have are for young and old," says Jones, adding, "Any time you stimulate a community, it's just neat for them to see that and watch the trains run around."
The museum's website shares events that they and other museums host, such as open houses on Smithsonian Day in September. Bellingham Railway Museum often hosts birthday parties before or after hours, complete with table setups. They also have several membership options you can purchase for admission cards and discounts.
Celebrating Our Railroading Legacy
Bellingham Railway Museum encourages visitors to discover their local railway heritage. "When they take out a railroad line, many people want to make rails-to-trails," Jones says. The museum's Rail Trail Walking Guide covers such areas as the Interurban Trail, Railroad Trail, and Historic Fairhaven.
Volunteerism keeps Bellingham Railway Museum running on track. Signing up to assist in their operations or making donations (whether money or a vehicle) helps keep them open for visitors' enjoyment and enrichment.
"It gives people an education," says Jones. "When they come in, they have fun, but they also learn." Whether you come for the education or recreation, Bellingham Railway Museum is an enchanting place to spend an afternoon.
Bellingham Railway Museum
Open Tuesday through Saturday, 12:00 p.m. to 5:00 p.m.
1320 Commercial Street in downtown Bellingham
360-393-7540