We all have aspects of our appearance we'd like to improve—changes that we imagine would raise self-esteem and provide a healthier, happier life. With years of experience in aesthetic medicine and other medical specialties, Dr. Tianna Tsitsis and her RejuvenationMD team use the very latest technology to help patients do just that.
Dr. Tsitsis, who grew up in Illinois, attended medical school at Thomas Jefferson Medical College, but didn't know what type of doctor she wanted to be. "My husband-to-be was in the military, so I went into internal medicine to do something all-encompassing," she says. "You can always use a good internal medicine doctor."
She began work as an internal medicine doctor in Skagit County, and the one dermatologist she worked with was always really busy, so Dr. Tsitsis made her own dermatology kit to help her patients.
As she grew more familiar with the skin, Dr. Tsitsis received a letter inviting her to a seminar on lasers. "I thought, I know I love dermatology and lasers sound awfully interesting,'" she recalls. "So, I went to the seminar and fell in love with them."
Dr. Tsitsis then met an emergency room doctor with his own skin clinic in Seattle, where she watched him work with patients. Impressed and inspired, Dr. Tsitsis began training at the same institution. "Every time I came home from training, my husband would say, 'You look happier than you've ever been.'"
After Dr. Tsitsis earned her Board Certification in Aesthetic medicine, RejuvenationMD launched their first office in Burlington. As they grew, Dr. Tsitsis opened a second location. "We decided to bring our expertise to Bellingham," she says.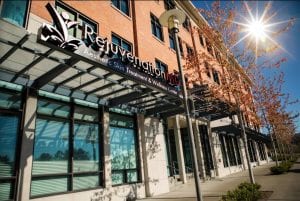 Bellingham's RejuvenationMD office is located in Barkley Village, where shelves of products suitable for all skin types line the lobby shelves. After checking in with reception, patients can peruse pamphlets about the different services and treatments offered by Dr. Tsitsis and her staff.
At that first appointment—whether one is looking for age spot corrections or a reduction in varicose veins—all patients receive a one-hour, complimentary consultation and complexion analysis using their VISIA® system, which measures eight different areas of aging.
"We want to see the pores, we want to see the UV damage, we want to see the redness," Dr. Tsitsis explains. "It gives our doctors really good insight as to what is going on with your skin, even underneath the surface in areas you cannot see with the naked eye, and then we can give you a comprehensive plan."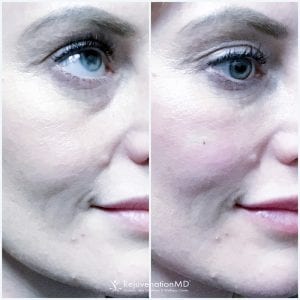 RejuvenationMD is among Allergan's top 500 customers. "Out of tens of thousands of offices in the country, we are in the top 1% with regard to how many injectables we do," says Dr. Tsitsis. These include Botox, a muscle relaxer that smooths out lines and wrinkles caused by repeated muscle movements, and fillers, which can be injected into the lips, cheeks, deep lines, or hands, to add volume. Fillers can also help restructure the shape of your nose, chin or jawline without the need for surgery. Read more about fillers and what they do, here.
RejuvenationMD also employs state-of-the-art lasers for anti-aging and wellness treatments. Depending on the laser, physicians can treat a wide range of issues, such as wrinkles, rosacea, urine incontinence, varicose and spider veins, acne scars and more. Lasers can treat hyper-pigmentation, tighten loose skin, reduce pore size and improve texture. The Forever Young BBL™ laser by Sciton® has even been proven to reverse aging at a molecular level. There is so much you can address with laser treatments; learn more about RejuvenationMD's treatment options here.
RejuvenationMD is also one of the top CoolSculpting® providers in the country. "One of the most common reasons patients visit us is for CoolSculpting treatments," says Dr. Tsitsis
Using the science of cryolipolysis, CoolSculpting permanently eliminates up to 25% of fat cells in each treatment area. The frozen fat cells are destroyed, then absorbed and expelled by the body. The process is so easy that some patients even nap during treatments. CoolSculpting is a non-surgical, pain-free way to contour the body and patients can see results in as little as one session. However, more than one session may be required to achieve optimal results.
These are just three modalities offered by RejuvenationMD—but the practice offers so much more.
"People come here because they want to be here," says Dr. Tsitsis. "They leave feeling better about themselves; they love the results and they love their experience."
Sponsored