When most people retire from a long career in a taxing profession, they usually slow down a bit.
Dave McEachran, however, isn't one of those people.
After 44 years as Whatcom County's chief prosecutor, McEachran decided to walk away at the end of 2018. Nearly a year into his "retirement," however, he's still coming into the office every Wednesday to work on some things.
While the decision to step back from the job he loves was difficult to make, the 73-year-old says the time finally seemed right to let someone else take the reins. This isn't to suggest McEachran was having trouble keeping up; even in recent years, he often worked 50 to 60 hours a week. Four nights a week, after a full day at the courthouse, he'd go home and put in several more hours of work.
Over the decades, McEachran helmed hundreds of trials, pulled occasional all-nighters at crime scenes with local law enforcement, and was on-call 24/7 to help grant search warrants, among other things.
"It's a very arduous job," he says of being a prosecuting attorney. "Finally I thought, you know, maybe it's time for a break."
60 Minutes From Ski To Sea
Although he's lived most of his life in Bellingham, McEachran grew up on Michigan's Upper Peninsula, about 100 miles north of Green Bay, Wisconsin. Even today, he speaks with an upper Midwestern accent undiminished by time.
McEachran left the area to attend law school at the University of Colorado. When it came time to graduate and establish his practice in 1971, he wasn't sure where he and his wife would move. Several friends, however, had joined high-paying law firms with offices in Alaska. Intrigued, McEachran and his wife took the cheapest flight they could find to Anchorage.
At some point during the redeye flight, the pilot mentioned the lights below were from the city of Bellingham. The place's motto, he claimed, was "sixty minutes from ski to sea." As an avid skier who also wanted to own a sailboat, McEachran thought that sounded pretty good.
"I told my wife, 'If we don't like Anchorage, let's take a look at this place,'" he recalls. As it turned out, they didn't like Anchorage. Nearly 50 years later, they still live in Bellingham.
McEachran was in private practice for only about four months before starting as a deputy at the Whatcom County Prosecutor's Office in January 1972. In 1974, he was elected prosecuting attorney for the first time. He would serve 10 more four-year terms, running unopposed until his last election, in 2014. In that one, the write-in candidate was a nine-month-old dog entered as a joke by its owner.
Keeping Them Safe
In a temporary office, just down the hall from his successor inside the Whatcom County Courthouse, McEachran sits surrounded by boxes of documents labeled "Washington State Archives." On his desk sit two boxes of slides and several thick stacks of typewritten documents.
They're all related to an upcoming appeal for serial killer Ken Bianchi, better known as the "Hillside Strangler." Bianchi and his cousin murdered a dozen women in the late 1970s; Bianchi killed two Western Washington University students while living in Bellingham in 1979. He's currently serving a life sentence at the state penitentiary in Walla-Walla; McEachran aims to keep him there.
Once a week he visits his office to organize court records from the case, so appellate attorneys will have what they need when Bianchi's appeal comes up. Keeping the public safe from dangerous criminals like Bianchi, McEachran says, is what made his career so fulfilling.
It's also, of course, been sobering. Over the years, he's seen firsthand the damage violent crimes have on victims, their families, and the community at-large. Years after a trial, the memories of a crime stick with him.
Perhaps most profound, he says, are memories of a case that kept him working for six months following retirement. The 1989 murder of teenager Mandy Stavik went unsolved for 28 years, until DNA led to a suspect's 2017 arrest. This year, that suspect finally stood trial and sentencing.
"I didn't feel like I'd retired until we finally got him sentenced," McEachran says. "I'm still trying to figure out what I do next, and how I keep busy. I have a lot of hobbies, but it can be hard to translate hobbies into things that have great value to me. It's going to be a process."
Many Interests, More Time
With more time on his hands, McEachran is definitely keeping busy.
Five days a week he hits a local gym to weight-lift—an activity he's done since he was a teenager. He started lifting weights to help strengthen himself for competitive skiing. Long after his ski racing days ended, the weight routine remains, providing both physical and mental benefits.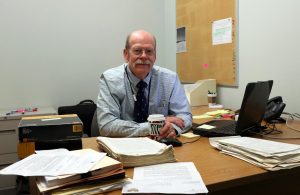 McEachran also does martial arts training, incorporating kung fu, jujitsu, and even knife disarmament; a long career of incarcerating criminals kept him interested in self-defense, especially after being twice attacked in a court room during his career.
Another hobby McEachran enjoys is woodworking. He once crafted a kayak for his son to race in Ski to Sea, and has collaborated with other law enforcement officials to make tables and furniture for local gala auctions. Making furniture, he says, provides a more tactile sense of accomplishment than prosecuting did.
McEachran also loves riding his Harley-Davidson and skiing. He's owned motorcycles since he was 16, and been a skier since age 5. The latter has been his longest-running hobby: he skied every day in high school and raced competitively. He'd have kept up with it in college, he says, had his father not insisted otherwise.
"It's like riding a bike," he says of skiing. "The first time you ski, it's something you never forget."
In addition to hobbies, McEachran also has more time to check in with his two adult sons, both of whom still live in Western Washington. He also has more time to spend with his wife of 51 years. McEachran says it'll be an adjustment for both of them to have him around the house more often.
"She told me, 'Don't think you're going to be having lunch with me every day,'" he says with a laugh.
Although his lifetime of prosecuting work will likely conclude soon for good, McEachran still has strong interest in several unsolved cases he worked on. If a break occurred in one of those cases, he says, it would be hard not to get involved.
For now, though, Dave McEachran seems content with the way his life and career have turned out. In the end, that's as much as any of us can hope for.
"It was a very, very busy job, but just fascinating," he says. "I really enjoyed it."