On a recent December evening, Ron Pattern sits in his Fairhaven studio with longtime friend Paul Lachapelle. Pattern and Lachapelle first met in 1984, and have worked together for more than 35 years.
Lachapelle, director of operations at Bellingham's Signs Plus, speaks fondly of his workdays with Pattern. "We've always kind of been a yin and yang," he says. "My skills differ from [Pattern]'s skills, but between the two of us, we kind of check all the boxes." Pattern recently retired from his work as a fine artist at Signs Plus, much to the dismay of Lachapelle and his other coworkers.
As holiday shoppers bustle on the streets below, Pattern's studio is warm and filled with the sounds of his favorite music pouring out of his speakers. The Morgan Block building was built in 1889 out of wood, which can still be seen on the wooden stairs leading up to Pattern's second-floor space.
The small room's walls are covered in paintings, save for a frame that appears to once have been a door. Pattern tells me a story of Prohibition days, when the building was used to house tenants. He tells me that doors were installed room-to-room, rather than strictly room-to-hallway, so that if the police showed up during a bash, partygoers could easily escape with their booze. He tells the story with a hint of respect and admiration in his voice, and a bit of a chuckle, which makes him even more likable.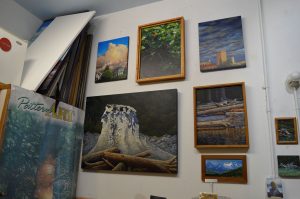 Pattern's hyper realistic art ranges in tone, from tasteful nudes to the Herald Building sign towering over downtown Bellingham. There are two pieces on easels, one of orca whales swimming peacefully in the Sound, and another of a majestic bird sweeping over the surface of the water. Both were crafted using Sintra, a material often found in sign making. The use of the Sintra in Pattern's pieces creates dimension and depth. "This is kind of different because it's all dimensional pieces, multi-layered instead of just putting paintings up on the wall," he says. "I wanted something a little different."
These pieces, amongst others, are part of a new permanent art installation at PeaceHealth St. Joseph's Medical Center. After attending a hospital event last winter, Pattern was approached with an offer to look at empty wall space on the third floor. He then spent six months creating the new works, all of which depict scenes from the Northwest, Pattern's home base.
The pieces now hang in a closed ward, so it's not exactly public-accessible, but the goal of the them, says Pattern, is to bring joy to patients staying in the hospital. The scenes depicting nature contrast the starkness of the hospital. The artwork went up on Sunday, December 15.
In addition to the art, St. Joseph's was one of the biggest projects Pattern worked on during his time at Signs Plus. The new campus in the Cordata area of Bellingham features a lot of Pattern and Lachapelle's work, such as the wayfinding signs and ID signs. "We signed that whole thing inside and out," Pattern says. Signs Plus did similar work for Skagit Valley Hospital.
Pattern retired from the sign business to pursue his studio work full-time. "It was almost like I had two jobs; I had my day job at Signs Plus, and then I'd come here," he says, looking around his studio.
As the success of his business, Pattern Art, has grown, so has his desire to dedicate more time to it. His studio is open during the Fairhaven Fourth Friday Art Walks, and you can also see his work on the first floor of PeaceHealth St. Joseph's Medical Center, in its permanent collection. If you're walking around downtown, you might catch a mural or two that Pattern had his hands in, as well.
The sign business is changing, along with the rest of the world, and has gone digital. "When I started, it was all brush and paint and hand-crafted signs," says Pattern. "Now, the paint aspect is pretty much gone. There's still a lot of art involved on the design end and especially the fabrication end, but commercial graphic production now is all digital."
Despite Pattern's insistence that his work in the sign business is growing obsolete, Lachapelle begs to differ. "Ron is a fine artist. A lot of people in the sign industry now are most definitely not fine artists. There aren't many people [in the sign industry] that have the amount of talent this guy has," says Lachapelle.
"We've been preparing for [Pattern's retirement] for a long time because we knew it was coming," he continues, "but a guy like him leaves a pretty big hole. There's not another Ron out there."
Sponsored