The mid-morning sun streams through the windows of the newly opened Bellingham Handmade Collective, illuminating the giant horns and grinning face of a Woog. What's a Woog? They're adorable, seriously snuggable monsters made from upcycled materials by Collective member Natalie Carr.
"To see people holding them in the store is the cutest thing in the world," says Bellingham Handmade Vice President, Elizabeth Hale. "It's something about that spark that connects people. They think of them as individuals, and you know the way they're holding that Woog, they're not going to leave the store without it."
The Woogs are not only cute—they're upcycled, which means all the materials used to craft your new best friend were saved from languishing in a landfill.
In many ways, Carr's Woogs represent what Bellingham Handmade Collective is all about. It's a store, yes, but also so much more than that. "It's redefining retail for the sake of our community," Collective President Rachel Jackson says. "We've been calling it 'conscious consumerism,' an effort to bring things close to home."
Sixteen artists are currently part of the Bellingham Handmade Collective, including Hale and Jackson themselves. All artists receive 100% of their sales. The offerings on display are all thoughtfully crafted and sourced, ranging from Juan Campos' handmade leather works (Coyote Hideout Leathers) to Erin Keedy's small-batch specialty hot sauce (El Fuego Sauce) to Veronica Friello's plant powered products (Wild Child Herbs).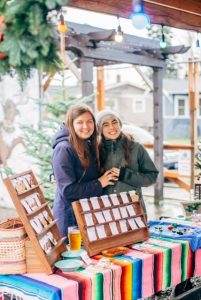 Their art is displayed in the Collective's store, a bright, airy space that features wood sourced from the original Seattle Times building and a noticeable lack of plastic. Bellingham Handmade's movement towards zero-waste wasn't explicit; rather, it was just an inherent part of the culture they were part of and promoting. "If you look around the store, there's almost no plastic involved in any of our products except for some of our cards and bath bombs. That's literally it," Hale says. "It naturally became that way. We weren't like, 'Please don't use plastic with your stuff.' It's just kind of a generational awareness."
The store is designed to be inclusive and supportive for artists. There's a social space where people can take classes in different crafts or catch up over coffee—Jackson taught a class on ear hook making a few weeks ago. There is also a quiet zone where others can "actually get work done."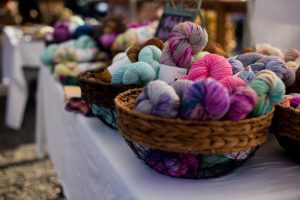 The spirit of community that's built into the Collective is the common thread in Jackson and Hale's journey. It led to their vision coming to fruition. What started as a season of pop-up markets at Goods Local Brews, culminated in a huge fundraiser at Lairmont Manor that set the stage for a more permanent location and a place for the Collective to call home.
"We wanted to be able to make this a place where people could buy things and hang out," Jackson says. "It was white walls, just an office space. And then after the fundraiser we were able to afford a beautiful build out."
"We had donations from hundreds of community members and local businesses," adds Hale. "Everyone was rallying for the cause. There were hundreds of people there. We put in so many volunteer hours. It was probably the craziest thing we've ever done—it was like a wedding."
"It was way harder than a wedding!" Jackson says, laughing.
It was also an affirmation that artists can and must be an integral part of the Bellingham community.
"When this started, I was a single mom with zero support system," Jackson says. "I worked at my daughter's childcare, thinking if I work full-time at childcare and get a discount I should be able to survive financially, but there was no way."
She saw another path. "Bellingham Handmade creates an environment where people can dictate their hours, work for themselves, and be good role models for their children because they're pursuing their passions," Jackson says. "When we hit our fundraising goal, I cried. It made it real. It meant that the community wants artists to survive."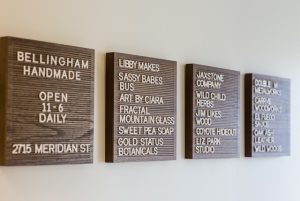 Hale and Jackson's vision led to certification of the Collective as a non-profit in Washington and a federally recognized non-profit as an umbrella project of Allied Arts. That means that they can dream even bigger.
"I'm ambitious about our future, throwing huge events like Downtown Sounds or even the Anacortes Art Festival," Jackson says. "It's crazy Bellingham doesn't have something like that."
Bellingham didn't have something like that. But now, the vision of Bellingham Handmade Collective is making the city a place where the arts, artists, and a couple friendly Woogs can create and thrive side by side.
Featured photo by Amy Slusher Photos