Submitted by: Toys for Tots
Each year, Whatcom County's Toys for Tots program helps make the holiday season possible for nearly 3,000 children in Whatcom County. During the first three Friday and Saturdays in December, our community and local businesses donate new, unwrapped toys and cash donations. Toys for Tots volunteers then collect, store and distribute the toys to Whatcom County families. The Toys for Tots organization is 100% non-profit, and all donations stay local.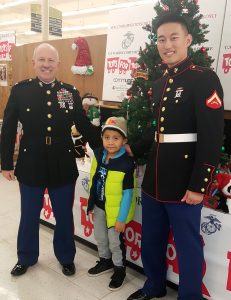 This year, with help of the owners of Village Lighting, our 2019 Toys For Tots Distribution Center will be located at the their store at 1616 North State Street in Bellingham.
The Distribution Center will open be open from 10 am to 6 pm on the following Fridays and Saturdays: December 6 and 7, December 13 and 14, and December 20 and 21. The last day to donate or receive toys will be December 21.
There are many ways to support the program to include over 125 drop-off locations throughout Whatcom County that accept cash or toy donations. Cash collected helps buy toys for the campaign. Drop off locations include: Yeager's Sporting Goods, all Bellingham and Ferndale Haggen stores, Little Caesars Pizza, Walgreens and many, many more friends of the program. Please visit our website for a location near you. Cash donations can be made at Hardware Sales and Haggen stores. Cash donations help us buy toys for the age groups often missed: infants, toddlers, tweens and teens.
All donations are kept within Whatcom County, and never leave the local campaign. This charity is run entirely by volunteers and 97% of all donations go directly into toys, not overhead. For those who would like to participate as a volunteer or donor, please visit us via Facebook or visit our website at http://bellingham-wa.toysfortots.org/.