There's no feeling quite like cozying up with a good book—and especially if it's from one of Whatcom County's many independent bookstores. Whether you're searching for the next bestseller, a 20th century classic, a comic book, or just a place to lose yourself for a few hours in floor-to-ceiling stacks, there's certainly a shop in town for you.

I explored a few of our local stores in search of finding what makes each one unique. Some offered the smell of coffee and fresh pastries alongside your browsing, others carried the scent of well-loved pages of treasured classics. I heard talk radio over one store's sound system, the "ping ping" of a pinball machine at another, and even stumbled upon a poetry reading with a local poet at yet another. Ultimately, I found that each one of greater Bellingham's bookstores was just as distinctive as the types and range of books they hold.
The Comics Place
A neon Batman sign lights up the window and a Homer Simpson statue greets visitors to downtown Bellingham's oldest and biggest comic book store, The Comics Place. This greeting is quickly followed by co-owner Django Bohren checking in to see if he can help you find anything specific, such as the latest issue of a particular comic book or the perfect gift for your Marvel-obsessed friend.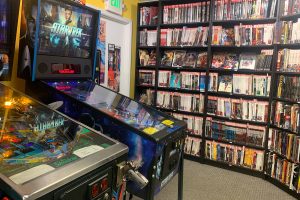 Peruse shelves of board games before heading towards the back of the store, where you might just get lost among the brightly colored books and graphic novels that range from new releases to old-school and vintage.
The Comics Place began in 2013 down the block on Bay Street. It was inherited from the previous owners who provided Bellingham with its comic supply since 1982.
With new comics arriving on the shelves every Wednesday, the Comics Place is a weekly stop for many Whatcom County residents and a place the whole family can find entertainment. "Grandpa will play pinball while the kids shop for comics," says Bohren.
Henderson Books
If you enjoy a bookstore chock full of hidden treasures and one-of-a kind books, make your way to downtown Bellingham's Henderson Books. Situated near the Mount Baker Theatre and Black Drop Coffeehouse, its local history is evident as soon as you walk in the door.
Owner and store namesake Bob Henderson opened the original Henderson Books 32 years ago on Champion Street, where the Temple Bar now sits. Years later, the store and all its new and used books moved around the corner, and then moved again to its current Grand Avenue location, where it's been for 21 years.
What makes this bookstore special is the quality of stock and more unusual nature of some of the books you'll find there. You can visit every day of the week from 10:00 a.m. to 6:00 p.m. and 11:00 a.m. to 5:00 p.m. on Sundays. Make sure to be aware of the Canadian holidays, as those are the shop's busiest days.
Village Books
If you're looking for a little bit of everything—books galore, a large gift shop full of delightful items, and coffee to sip on during your browsing—make a beeline for Village Books. They have two locations, one in historic Fairhaven and a second in the Waples Mercantile Building on Lynden's Front Street. Both spots have an individual charm that draws browsers of all ages.
"It's fun to see kids plop down in the kids section with a picture or chapter book," says Lauren Sommer, a manager and book buyer at the Fairhaven Village Books.
The largest independent bookstore in Bellingham, Village Books has been inviting visitors and shoppers since June of 1980, celebrating its 40th anniversary next year. Village Books hosts over 300 events annually, including story time and activities on Purple Fridays when kids are off school. Slightly older audiences can explore the events calendar and find readings and signings with both local and well-known national authors, open-mic nights, writing groups, and more.
Eclipse Books
Before you even step inside this used bookstore in Fairhaven, you'll be greeted by used cook books, novels, nonfiction, and magazines lined up outside its front entrance. And once inside, you'll want to watch your footing to make sure you don't knock over any of the numerous stacks that range from one to three feet tall.
David Carlsen, owner and founder of Eclipse Books, first opened the store in 1989 on 10th and Harris; he later moved the shop to its current location on nearby 11th Street.
With a love for books—and used books in particular—Carlsen launched the bookstore while he was a student at Western Washington University.
"Even though it takes new books to make used books, I think that used books are superior," he says. Eclipse regularly attracts book lovers from Seattle to Vancouver, and invites individuals to donate, shop, and donate again after they've finished reading their purchased books.
Cozy Corner Books
If you travel just a little north of Bellingham you'll find Griffintown's Cozy Corner Books, a small town bookstore that's packed with history—both in its book selection and in the building itself. With a complimentary cup of coffee in hand, you'll have no trouble discovering a perfect book to cozy up with.
---
The Comics Place
105 East Holly Street in downtown Bellingham
www.thecomicsplace.com
Henderson Books
116 Grand Avenue in downtown Bellingham
www.facebook.com/Henderson-Books-116958788323679/
Village Books
1200 11th Street in Fairhaven and 430 Front Street in Lynden
www.villagebooks.com
Eclipse Books
1104 11th Street in Fairhaven
www.facebook.com/pages/Eclipse-Bookstore/100855376626070
Cozy Corner Books
5772 2nd Avenue in Ferndale
www.facebook.com/griffintowncozycornerbooksandcoffee