A barbershop is often simply thought of as a place where men and boys come for a cut and a shave. But it's also a spot for social interaction for everyone. Barber Shack owner Jared Jones-Valentine has created an atmosphere of bustling fun in his Bellingham shop.

Barber Shack offers full-service hair care for both men and women, where all are welcome. With its $10 Tuesday Haircut special, this Birchwood neighborhood barbershop has become quite popular, too.
Accented with an eclectic décor, Barber Shack features locally sourced artifacts like an old traffic light, vintage sinks, and church pews.
A Facebook recommendation brought me to Barber Shack. My last visit happened to be on a Tuesday, and the place was packed. The wait was a little long, but it was well worth it. Just watching the way the barbers and customers interacted was fascinating. As Jones-Valentine cut my hair, I commented that all his barbers offered such loving care for their clients. He told me that was exactly the tone he aspired to have in his shop.
Jones-Valentine says $10 Tuesdays is a way that he can give back to the community. "If a fresh haircut for a young boy about to go back to school can instill self-pride and confidence, then I'm on the right track," he says. Taking pride in our self-care is important to us all, and a trip to the barbershop or hair salon sometimes parallels important times in our lives. Men's haircuts at Barber Shack include an old-fashioned straight razor neck shave. Veterans and seniors always get a discount.
Jones-Valentine's barbers are all independent contractors and he hires like-minded men and women. Shop philosophy, guidelines and prices are made clear, and then "the rest is up to them." With great pride, Jones-Valentine says, "Ten people make an honest living here. We serve the public, and we all have a blast every day."
Getting to the point of loving his job took some time, though. Jones-Valentine's father died when he was 11. The death of his father brought his mom and a few of his siblings back to Bellingham, where his parents originally met. He later lived in such places as New York, Philadelphia and North Hollywood. He took on a variety of jobs, including modeling and theatre. He simply wanted to see and do more.
Jones-Valentine became a barber after burning out from working a decade for the U.S. Department of Housing and Urban Development in Seattle. His intense caseload included 480 files for 15 different low-income buildings.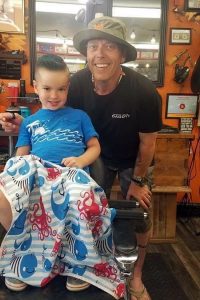 "Social work was a fantastic career," he says. "A lot of your day was about staying open hearted with each individual, verses being jaded." At the time, he was also a single parent raising four children.
His ex-wife was a barber and her work looked appealing to him. In what he described as the "funnest career move he ever made," Jones-Valentine and his daughter studied cosmetology together.
In 2015, Jones-Valentine returned to Bellingham; his four kids were grown and he had six grandkids. His aging mom was here. He was engaged. He didn't have a plan; he didn't even have a car. But he took a job as a barber and prayed for guidance. He spotted an empty little red building on Maplewood Avenue and thought, "I want to open a barbershop here."
2015 turned out to be a spectacular year for Jones-Valentine. He got married and his first two-chair barbershop was born. When that tiny building was later earmarked for removal to accommodate parking and bike lanes, Barber Shack moved to its current 1,857-square-foot location on Cedarwood Avenue, in 2017.
Up to that point, Jones-Valentine had thought a two-chair shop was plenty, but thanks to word-of-mouth referrals, business in the larger space has been fantastic. More than a hundred people came for haircuts on opening day.
Jones-Valentine is an all-around compassionate human, a truly big-hearted man. He has served as a board member for Sean Humphrey House and the Bellingham Technical College Cosmetology Program, and on the Bellingham Salvation Army advisory board. He's currently a member of the Washington State Board of Cosmetology, and has his hand in multiple local projects.
Readers may remember Jones-Valentine's involvement in the 2018 Unity Coal Mine Bridge project. Bellingham City Council member April Barker, a customer, encouraged him to take on that project. One month later, after "snagging everyone I knew," Jones-Valentine made it happen. With great community support and sponsors, 14 teams of more than 300 volunteers painted the colors of a rainbow on a neighborhood bridge. The 2018 Whatcom County Dispute Resolution Center (WDRC) Peace Builder Awards event recognized Jones-Valentine and the project with the "Collaboration Award" for engaging community members in celebrating diversity and building neighborhood pride.
Whether he's trimming hair or bringing volunteers together for a good cause, Jones-Valentine has found meaningful ways to "spruce up" the community.
Barber Shack is open 7 days a week and haircuts with Jones-Valentine are by appointment only.
Barber Shack
2500 Cedarwood Avenue in Bellingham
360-296-9190
www.bellinghambarbershack.com
www.facebook.com/bellinghambarbershack
www.instagram.com/bellinghambarbershack