Nobody wants to get sick. Even more so, nobody wants the flu. Yet each fall and winter, millions of Americans contract a strain of it; last season, at least 245 people in our state died from the virus, according to the Washington State Department of Health.
Fortunately, there are many things you can do to protect yourself, your family, and your community from the spread of colds and flu. Chief among these, of course, is getting the annual flu vaccine.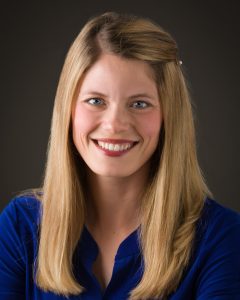 Monika Reynolds, a nurse practitioner at PeaceHealth's Same Day Care Clinic near Bellingham's PeaceHealth St. Joseph Medical Center, says a flu shot is the quickest, easiest thing you can do to prevent you or anyone else from getting the virus.
"Getting a flu shot, to me, is a good thing to do as part of the community," she says. "It's not just for you; it helps the very young, the very old, and the immune-comprised in your community who maybe can't get vaccinated. By decreasing the overall rates of flu within the community, it helps keep everyone healthy."
While getting a flu shot doesn't guarantee you won't get the flu, it's still your best defense against it, Reynolds says. Flu vaccines have been associated with lower rates of hospitalization, less severe symptoms and shorter illness duration.
The boundaries of flu season aren't static, but typically run from fall through winter, with the bulk of cases between November and February; Reynolds says they've seen positive cases of the flu as late as June. The fact the flu generally strikes during the coldest, darkest months of the year doesn't help anybody, she adds.
Still, there are plenty of best practices we all know (but don't always follow) to stay healthy. Wash your hands, well and often. Reynolds says to aim for at least 20 seconds of soapy hands and water.
"You should really give a good scrub," she says. "The palms of your hands, the tops of the hands; in between your fingers and underneath your nails. Like you would think a doctor would scrub their hands before they go into surgery."
If you're unable to wash your hands after contact with a germy surface, carry around a small bottle of alcohol-based sanitizer; it will kill most bacteria.
Other sound advice for keeping your immune system sharp: Eat a healthy, wholesome diet, and don't skip meals. Make sure you drink enough water to stay hydrated. Take a daily multivitamin. And get enough sleep each night.
Reynolds says that, during this season of increased darkness, you might think people would sleep more. But the realities of modern life—working later into the day, watching TV or using your smartphone—probably doesn't change our usual habits, keeping us from the standard 7 to 9 hours of rest most humans require.
Another great idea: practice stress reduction. Stress hormones can suppress the immune system, making it easier to get run down and catch something. Consider the sources of stress in your life and seek to manage them: say 'no' to an extra burden you don't need, start meditating regularly, and stay organized when things get busy. The results will be good for your body and your mind.
With dark, rainy, and cold days dominating during flu season, many people make good use of gym memberships to get exercise. While that's great, it also exposes you to more germs. When you go to the gym, be sure to wipe down the equipment before and after use. Try not to touch your face—including your ears, eyes, nose and mouth—while working out, and be sure to wash your hands afterward. Doing these things not only helps you, but everyone else there, too.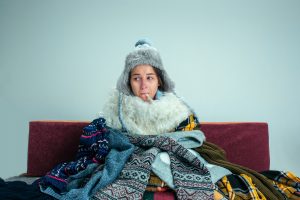 In case you're wondering about taking extra vitamin C to ward off a cold, Reynolds says it really does help when you're exposed to pathogens. However, it's most effective to have extra vitamin C in your system before you get sick. In other words, it never hurts to add some C to your diet in the form of a vitamin, drink mix, or glass of orange juice if you'll be around someone with a cold.
If you do get sick, though, it can't be emphasized enough: STAY HOME. Sending yourself or your children to work or school helps no one. If you have a fever, diarrhea, or are vomiting, don't go out in public unless you need to seek emergency healthcare. For lesser symptoms like coughs, sneezes, or runny nose, cover with elbows instead of hands or nothing at all. Alternatively, you can wear a small mask to prevent your germs from spreading.
"I know we might kind of think, 'that's weird,' but it is good practice," Reynolds says.
Although quarantining yourself during the first 3 to 5 days of an illness helps everyone, there are times when medical care is necessary.
That's one reason PeaceHealth is expanding same-day care access with three new Whatcom County clinics. The clinics will provide both immediate assistance, as well as follow-up primary care service from providers and nurses.
Reynolds says visiting a clinic is best done within 48 hours of getting sick with the flu. If you test positive for flu early enough, prescribed antiviral treatment is very effective. Once you or a loved one is immune-compromised and gets sick, watch symptoms closely. If symptoms become overly persistent or serious, go get checked out.
The first of the new clinics—the Fairhaven Plaza Clinic—will open in December, staffed with two doctors and two nurse practitioners (including Reynolds) during daily hours of 8:00 a.m. to 5:00 p.m. A community-wide open-house of the clinic will be held Wednesday, December 11, from 4:00 p.m. to 6:00 p.m.
PeaceHealth's Cordata Main office is expanding to include a walk-in clinic by early next year, and a new Lynden clinic will offer same-day care upon opening in 2021. These locations will help provide proper care to those who need it fast and can't see their doctor right away, while also keeping emergency rooms from filling with those who don't need to be there.
So, this cold and flu season, do your best to stay healthy and illness-free. But if you do get sick, remember that PeaceHealth same-day care clinics are here to help.
Sponsored