To the uninitiated, the name "Mount Baker Club" may sound overly general. But as a volunteer organization facilitating outdoor recreation in Whatcom County for over a century, the Mount Baker Club proudly celebrates its versatility and historic preeminence.
Founded in 1911, the Mount Baker Club mainly offers hiking, biking, cross-country skiing, snowshoeing, camping, kayaking, and canoeing in the North Cascades. Members and nonmembers alike can participate.
The club occasionally broadens its horizons to the Chuckanut Mountains, Skagit, San Juan, and Island Counties, and as far as eastern Washington, the Columbia River Gorge, and Mount St. Helens. British Columbia destinations have included Chilliwack Valley, Hozomeen Mountain, Coquihalla Summit, Fraser Canyon, Sunshine Coast, Howe Sound Crest, Whistler Mountain, and Squamish.
The Mount Baker Club also sometimes branches out to climbing and new forms of outdoor recreation, such as standup paddle boarding and inline skating.
"The thing that's nice and really unique about the Mount Baker Club is that it covers such a wide spectrum of outdoor recreational activities in natural areas," says Bud Hardwick, former conservation committee chair from 1999-2001. The Mount Baker Club always welcomes new members who seek adventure in the great outdoors.
A History Old as the Hills
"Every generation of the Mount Baker Club has had a different focus, direction, and emphasis," Hardwick says.
Bellingham jeweler Charles Easton founded the Mount Baker Club alongside community leaders and businessmen to sponsor the Mount Baker Marathon. This historic race later inspired Ski-to-Sea and the Mount Baker Ultra Marathon, which have involved Mount Baker Club members. In 1916, Easton lobbied in Washington, D.C. to create a local national park, similar to Rainier, and preserve the natural state of the mountain. Easton succeeded on the second front.
The Mount Baker Club reformed in 1928 under Charles "Happy" Fisher's presidency. Fisher was a teacher at Fairhaven Junior High teacher and grew up on Eldridge Avenue. He established several routes, including Shuksan's Fisher Chimneys and Winny's Slide, named for Fisher and an incident where a member named Winifred skidded down the mountain unhurt.
The Mount Baker Club has skied since the thirties, building cabins at Verona Creek, Heather Meadows, Mazama Park, and Glacier, in addition to the famous Kulshan Cabin. The club's monthly newsletter, "The Rambler," had separate columns for skiing and hiking.
In the sixties, spouses in the club would alternate between taking care of younger kids at home and taking older kids with them on two-week backpacking trips. Gary Haufle led the club's 1982 restoration of Winchester Mountain Lookout, among other lookouts the U.S. Forest Service would otherwise condemn.
"When I saw the photos of what I had to work with, it was just a jumble of scrap that was left, and they literally took it all apart and rebuilt it," says Hardwick. "It's amazing to think of the transformation they made."
The club experienced a renaissance during Marjan Eicher's 1999-2001 presidency. Called "Mount Baker Hiking Club" after their all-purpose name expired, they regained it and their historical documents.
"This kind of fascinating and irreplaceable information would have been lost without someone's effort in writing it down and the care that others took in preserving this scrap of paper for decades," Hardwick writes in "The Marjan Eicher Years," a document presented at the club's 2005 Annual Dinner. "This then is a small attempt to record for future members what a dedicated club with excited and energetic members can accomplish."
Adventures in Whatcom's Wilderness
Today, the Mount Baker Club's activity calendar offers trips for all skill levels. Members receive email notifications about short-notice outings, typically carpooling and chipping in gas money. Trip leaders sometimes share supplies from the club's inventory.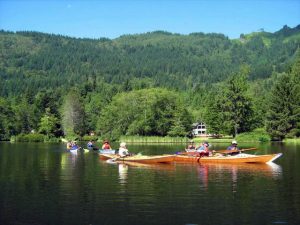 "The leaders of the club, as well as the general membership, are always happy to share with you little tips about how to be comfortable and how to move efficiently in our wildlands," Hardwick says. Members are often well-versed in avalanche safety.
Leading trips requires only outdoor experience and approval. Afterward, trip reports include attendance metrics and photographs.
The Mount Baker Club offers weekly bike rides, annual camping trips, and frequent socials. These gatherings have fostered lasting friendships and a deep appreciation of Whatcom County's natural areas.
"It was wonderful to be introduced to the area with all these different hikes in places, some of which I never had heard of," says Hardwick. "And you're going with people who are very familiar with the terrain."
Club engagement does not end with outings. Conservation efforts alongside the Federation of Western Outdoor Clubs have garnered national attention.
Mount Baker Club's future remains "ever-changing," Hardwick says. "I know that it'll be related to outdoor recreation, I know it'll be a broad spectrum of things…every generation puts its own stamp on it."
Families and individuals can join Mount Baker Club for small annual dues and one-time registration fees.