The holiday season is a time to come together, spending time with those who matter to you most. It's also a time to take part in the traditional festivities that make the holidays so special. That's why, for the third consecutive year, downtown Fairhaven is transforming into a place full of winter magic.
From the first Saturday after Thanksgiving to the final Saturday before Christmas, Fairhaven Winterfest offers many events in which to embrace the season. From old-fashioned carriage rides to a caroling competition, the holiday spirit will abound.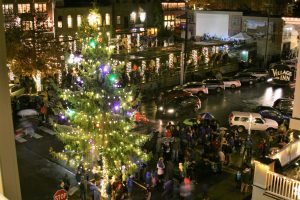 "There's a great sense of community and connection," says Scott Ward, chairman for the Fairhaven committee that organizes Winterfest.
Emma Weinberg, Winterfest committee member and Fairhaven Village Inn manager, says Winterfest evolved out of the annual tradition of horse-drawn holiday carriage rides through Fairhaven between Thanksgiving and Christmas. Over the years, other independently orchestrated events sprung up alongside. Now, multiple weekends of events are centrally organized, with plenty of support from local businesses.
This year's Winterfest begins Friday, November 29. Father Christmas himself will make an appearance at the Fairhaven Gazebo at Harris Avenue and 10th Street, from 3:00 to 5:00 p.m., giving children and adults alike a chance to voice their holiday wishes. If your children would rather write letters to Father Christmas, they can leave them inside the classic Victorian mailbox on the Village Green stage all Winterfest long.
Saturday, November 30th yields the first Saturday of free, horse-drawn carriage rides from noon to 3:00 p.m. The carriage departs from the Fairhaven Village Inn and transports riders for several blocks over the course of about 15 minutes. Father Christmas will also make his first Saturday appearance at the Inn during this time.
From noon to 5:00 p.m., a holiday market will take place at the Fairhaven Village Green. There'll be plenty of seasonal food, drink, and gift-buying opportunities from local artisans, small business owners and non-profit organizations.
At 3:15 p.m., Bellingham Circus Guild members will perform in several Fairhaven locations. After that, catch a unique preview performance of The Nutcracker by the Bellingham Arts Academy for Youth (BAAY) & OPUS ballet school on the Village Green stage at 4:15 p.m. At 4:35 p.m., the Bellingham High School Showstoppers hit the stage to sing seasonal favorites.
At 5:00 p.m., join together outside the Fairhaven Village Inn for the annual Christmas tree lighting. In addition, students from Bellingham High School and Western Washington University will showcase their musical talents at various spots through Fairhaven.
This full day of fun is Weinberg's favorite part of Winterfest.
"It's just so fun to look around, and see people from all over," she says. "We get locals, and people coming from Lynden, Blaine, and Seattle. It's just a really festive, magical time."
Saturday, December 14 features a new event that's sure to become a tradition. The Winterfest Firelight Stroll will take place that evening, allowing participants to walk a half-mile path festively glowing with hundreds of electric candles ensconced in decorative paper. Local businesses will also offer hot cocoa, cookies, and other specials.
Winterfest concludes on Saturday, December 21, with the Fa La La Caroling Competition, held on Fairhaven's street corners and the Village Green. A contest for singers of all ages and abilities, participants register in groups of four to 20 people, and can accompany their voices with acoustic instruments. Each group will perform in one spot for about an hour while the audience wanders from group to group. Carolers will sing sets of four or more holiday-related tunes while collecting donations for two non-profits: Skookum Kids and the Historic Fairhaven Association.
A distinguished panel of judges, including the legendary "Dirty Dan" Harris and Betty Desire, will observe each singing group. Eight groups—two in each judging category—will then compete in a sing-off on the Village Green stage, with winners named for "Most Entertaining," "Most Creative," "Most Musical," and "Best Children's Group." The "Fa La Lanthropy Award" will be given to the group that collects the most donations.
The caroling is, by far, Ward's favorite part of Winterfest.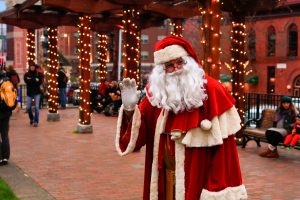 "It's such a low-tech, old-fashioned experience of standing on the street corner and singing," he says. "And with Fairhaven's historic backdrop, it's just so sweet. I don't think it can happen in many places with that same romantic sense about it."
Through all four weekends of Winterfest, local businesses will compete in a holiday window display contest. The public can cast votes for their favorite, with each vote entering them into a Fairhaven-themed gift basket raffle. There's also the "Signs of the Season" treasure hunt, a passport-based program where participants collect stamps inside eight Fairhaven venues. Once passports are turned in, participants are entered in a December 21 drawing for several adult and children's prizes.
Finally, local writers can contribute to Winterfest through the first annual "Tales of the Season" writing contest. Short stories and poems of 300 to 500 words, describing your favorite holiday memories, will be considered when submitted by November 14. The entry fee is $5. Twenty of the best pieces will be honored with actors reading them, on December 11 at Village Books and December 20 at The FireHouse. Winners will also be posted online and featured in dozens of Bellingham shops throughout December.
With all these events in mind, there's plenty of reason to head to Fairhaven this winter and get into the holiday spirit! For more on Winterfest, visit the official event website.
Sponsored