Launching Success, an educational toy store in Bellingham, is "launching" into the holidays with exciting new toys and special events.
Start off with a copy of their new holiday catalog, which you can pick up in-store or by mail, packed with countless ideas for the holidays, from giant plush toys to stimulating toddler toys, STEM-based play and a lot more.
"It has some of the hottest toys across the board as far as ages and activities," says owner Jen Zimmermann. "We're really proud of the catalog."
All these toys and more are available online and in-store. Come to their store on Prince Avenue and kids can test out the toys for themselves.
"We work with a team of people that pick these products, so we know that they're tested," Zimmermann says. "We know that they've been really looked at and considered for our catalog."
New toys aren't the only thing Launching Success has planned. This November and December, expect a line-up of events that give back to the community.
Events
Launching Success loves to give back and you can join them on November 9 for Neighborhood Toy Store Day. Celebrated across the country in specialty stores with unique, quality toys like Launching Success, visitors can come in for free activities, food, and fun.
Children can play with new toys, and the entire event benefits Blue Skies for Children, a non-profit that sponsors homeless, low-income and foster children in Whatcom and Skagit Counties.
Help raise money for schools during Shop for Schools Week (December 8 through 14), too! Participation is easy, and it's a wonderful opportunity for schools, preschools, and daycares to earn money, Zimmerman says.
Schools sign up, and families can come in and shop for that particular school. Launching Success totals up those purchases and, at the end of the week, gives 10% of the proceeds back to the school. Families support their child's school and simultaneously get magnificent gifts for the holidays. Email team@launchingsuccess.com to sign up!
"It's a community giving," Zimmermann says. "We want to support schools, we want to give back where we can, and this is a really easy way for them to earn money."
These events and more can be found in detail on their Facebook page.
Toys
Along with their events, a lot of exciting holiday toys are hitting the Launching Success shelves. Following are highlights of just a few.
My Audio Pet is one of Zimmermann's personal favorites. These cute, golf ball-sized Bluetooth speakers come in four styles: penguin, panda, pug, and unicorn. Turn these little guys on and they pair with your phone. They also sync together for surround sound.
"It has great sound, Zimmermann says. "It's great for a kid's room."
Another is the Tell Your Story Alphabet Bead Kit. Kids can create bracelets that include words, and then stack them to tell a story. "A thing that's happening right now is this empowerment of boys and girls," says Zimmermann. "This gift doesn't necessarily have to be just for girls."
The kit comes with 800 beads, five yards of elastic, and is a fun, creative activity, as well as a nice way for kids to express themselves.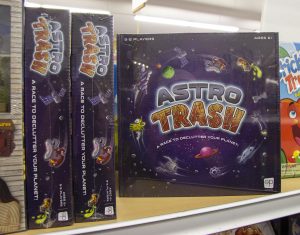 Launching Success is also offering several new board games, including Astro Trash. It's fun, easy, and gets pretty zany. The object is to clear your planet of free-floating debris by moving your "trash" left to right onto other player's planets.
"It's great for the family," Zimmermann says. "They're throwing stuff on your planet, you're throwing stuff on other people's planets…it's just super fun! Easy to learn, easy to play."
Another board game, especially for older children, is Trekking the National Parks. This Mensa-approved game is all about national parks. Gather items, collect cards, and learn about parks through the nation. It's fun, but also deeply education.
"We really pride ourselves on having these quality games where families can play together but also be learning," Zimmermann says. "I think at that older age, it's hard to get your kids engaged in a game, and this one is really cool."
Launching Success offers several glow-in-the-dark items for physical activity, including Nightball and LightGames Ring Toss. Nightball has motion-activated LED lights, and is extremely bright at night. The ring toss also has LED glow, and gives a colorful take on a classic game.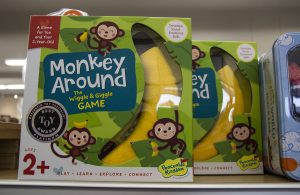 It can be hard to shop for toddlers, but Launching Success has you covered. Monkey Around, described as a "silly, wiggly game," develops social skills. Players fill up tokens on a tree and move around expressively, via hops, hugs, high fives and more.
Zimmermann is looking forward to the holidays and loves the excitement of people coming in with catalogs.
"We just like it when people come in and kids are excited and they circled every page, they want all these random things," she says. "It's just fun. The excitement of giving is fun."
Check out Launching Success's website for toys, info, and more. Be sure to visit their Facebook page, as well, for information on upcoming events. And, as always, be sure to visit the store in person to let your kids discover and try out all kinds of toys.
Launching Success
133 Prince Avenue in Bellingham
www.launchingsuccess.com
Sponsored