Who doesn't love fall? When a chill returns to the air and vibrant leaves skitter in the wind, blanketing the ground, coziness abounds. And don't forget the culinary bounty of apples and pumpkins. Celebrate the season with Bellewood Farms at its eighth annual Ciderfest on November 9 from noon to 5:00 p.m.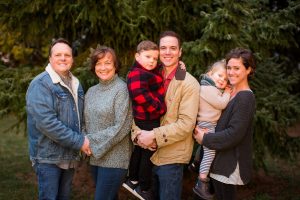 You've seen the looming red barn-style building at 6140 Guide Meridian. But if you've not been by before, you haven't spied what lies just behind it this time of year: a picturesque pumpkin patch, sprawling apple orchard, corn maze, fantastic view of Mount Baker, and much more. A large, covered seating area overlooks it all, a comfortable perch for eating, drinking, socializing and welcoming the season with family and friends.
If you're familiar with Bellewood, you may have noticed something is different. "We've changed the name from Bellewood Acres to Bellewood Farms," says co-owner Eric Abel. In part because the farm offers so many events and activities; they don't want to lose the agricultural emphasis of the business. "It's such an important part of what we want to do—we really are a farm first." Abel, along with his wife, son, and daughter-in-law, took over operations in August of 2018.
The Abel family inherited Ciderfest and have expanded it, inviting even more local cider makers to join them and share their products with the public. "For $25, everyone gets an event shot glass and can go from booth to booth trying the different ciders," says Abel. Expect to sample Bellingham natives like Herb's Cider, Lost Giants, CiderHead and Bellingham Cider Company, as well as other Pacific Northwest cideries.
And it won't just be the professionals at Ciderfest. "We've invited hobbyists to make their own home brew and enter our contest," Abel says. "A team of judges, including local professional cider makers, will award a prize for best home brew."
Cider is the star of Ciderfest, but Bellewood is also an award-winning distillery so spirits are on the tasting menu, as well. "We make vodka, gin and brandy, and pumpkin liqueurs," says Abel. "We also have a new liqueur we're introducing for the holidays, a cinnamon vodka that will be available at the Ciderfest."
Along with the wide variety of beverages, there will be live music and tons of tasty food. There's something from everyone—and every age.
Kids are an important aspect to the Bellewood mission, which includes education. "During the month of October, we'll do probably 60 school tours," says Abel. Children coming for two hour visits, during which they get to see the orchard in action, as well as sample and learn about a variety of apples. "It's important for kids to understand that their food is not just coming out of a package, you can actually go to a tree and pick an apple."
In addition to their distillery, kitchen and café—which are open to the public all year round—Bellewood Farms also offers up a charming and chock-full Farm Store. From fresh baked goods to handmade local pottery, kitchen items to décor piece, there are plenty of gift ideas, keepsakes and delicious goodies for sale.
"We sell local products here from artisans, as well as other name brands," says Abel. "We have cheeses from Twin Sisters Creamery and Holmquist hazelnuts." And even when it's not Ciderfest, local hard ciders and wines can be found in the Farm Store. "We want to share with people the richness of local agriculture, and show them how it goes beyond providing food to people."
Stop by Ciderfest and see all the ways this agricultural institution is moving into the future. "Since we acquired this place, our family is making a bigger commitment to local community," says Abel. And they haven't lost sight of the importance of a good time, either. "Cider is growing, and it's fun to be a part of that."
Sponsored