People don't often pair hair salons and school buses in the same train of thought, but Sarah Guenther had a vision to convert an old bus into a mobile salon.

She purchased a used school bus a year and a half ago and has since opened the Little Bird Salon. With the help of her partner and friends, the bus has been transformed into an iconic part of Goods Local Brews off Northwest Avenue. Offering haircuts, styling, and colorful feather extensions—plus lots of amazing local merchandise—Guenther has created a truly unique salon with her own eclectic sense of style and flair.
Guenther says she had to overcome a lot of doubt and what could have been missed career opportunities. But these experiences only fueled her desire to open up this salon on her own terms. "Build it and they will come" was her mantra throughout the process of getting the bus ready.
Like most women entrepreneurs, Guenther wanted to create the work environment she craved in past job experiences. Too many times she had felt that her workplace didn't reflect her values and the respect just wasn't there. When explaining why she wanted to start her business, Guenther says she wanted to create an intimate experience where clients would feel totally comfortable. While working in larger salons, she found all of the simultaneous conversations distracting, but working one-on-one with her clients she appreciates the intimacy and vulnerability they might feel in the chair.
In between being a bicycle courier and a teacher at a local cosmetology school, the idea for a mobile salon started as she accumulated customers on Lopez Island, where her parents live. "I would go once a month to Lopez, book a few haircuts, and then book a few more to the point where my whole weekend would be full of clients," she says. "While sitting down with my uncle and discussing my dreams for my own salon, he offered me some seed money to get started." With this capital, she could finally make a realistic plan.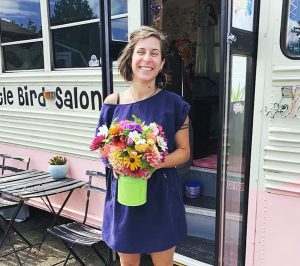 As she worked out a business plan through SCORE and combed Craigslist for an appropriate structure, Guenther found a bus that was already converted into a mobile clothing boutique—and it was already painted pink! It took a while to ready the bus for clients, but from October 2017 to March 2018, she worked on it steadily. She figured out a plan with Goods Local Brews to share space with the taco truck, Dumpling Girls, and the existing produce stand.
At one point, Guenther found herself, "in a ball crying on the floor" because of all the work that still needed to be done, including plumbing and electrical. "Build it and they will come" remained her mantra. She knew she just had to get the thing built. She was still working part-time, single parenting, and working on the bus, but she was able to open the salon in May 2018.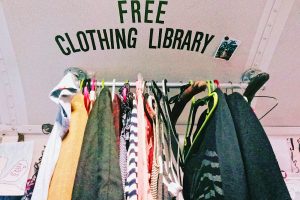 In an inspiring story of perseverance, Guenther found generous folks to help out and by August 1, 2018, was fully self-employed and economically sustainable. It was scary at first because this was it, this was all of her eggs in this pink bus basket. But more than a year later, the Little Bird Salon is booked five to six weeks out. When asked what advice she would give to other entrepreneurs Guenther says, "You are what you believe yourself to be. People will believe your passion."
You can find Guenther cutting and styling away in the pink bus, and she still takes in the occasional drop-in client. Not only can you expect an exceptional haircut, crafted around your personal needs, but Guenther is also offering salon products for purchase and has a clothing exchange rack, where you can bring in gently used items and exchange them for new-to-you duds on the rack. In the future, she plans to have another hairdresser join her in the salon to expand her hours and accommodate more clients. Stop in and say hello when you see the pink bus.
Little Bird Salon
2620 Northwest Avenue in Bellingham
360-920-7816