Entering the new high school football season, Mount Baker head coach Ron Lepper could count the number of returning starters he had on one hand.
The Mountaineers advanced to the Class 1A state quarterfinals in 2018, but graduation had gutted the team's varsity lineup heading into this year. Mount Baker needed to replace nine starters on offense, including its entire offensive line, and eight on defense.
"We definitely had a lot of question marks," Lepper says.
Turns out Lepper and his players had plenty of answers.
Despite all the new faces, the Mountaineers haven't missed a beat this year, opening the season a perfect 6-0 with several impressive wins along the way.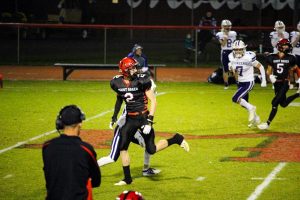 Currently the AP's No. 2 ranked team in the classification, Mount Baker finds itself in the driver's seat in the always competitive 1A Northwest Conference with three regular season games remaining.
"[The players] have really embraced the things we believe in, such as hard work, coachability, team first and respecting their teammates, coaches, and program," Lepper says when asked what's impressed him most about this team and their hot start.
Offensively, the Mountaineers returned all-state tight end Waylon Kentner and Jason Lee, who rushed for more than 1,000 last year. So, Lepper and his staff knew they had a couple of the state's best weapons—but who would block for them?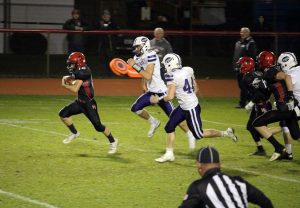 The answer turned out to be seniors Cody Saulsbury (6-foot, 211 pounds) and Kris Flowers (5-11, 172), juniors Victor Schuener (6-1, 284) and Aiden Corning (6-4, 251) and sophomore Davin Beason (6-0, 196).
"We really try to take pride in offensive line play here at Mount Baker and encourage them to keep the tradition," says Lepper.
The group appears to be doing exactly that as they've hit their stride the last few games, helping the team score 42 points against Meridian and 57 against Nooksack Valley.
The Mountaineers couldn't have got off to a better start to the season as they headed to 2A kingpin Lynden for a non-league contest. All season-opening games are difficult when you're breaking in multiple new starters, but to play on the road against a bigger school that's won six state titles since 2006 and is considered the platinum standard in the classification is a daunting task, to say the least.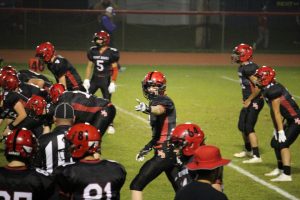 Little of it phased the young Mountaineers.
Trailing 7-0 early, it would have been easy for the young team to fold. Mount Baker, however, excelled.
Junior quarterback Mason Jacoby scored on a short rushing touchdown and then hit Kentner on a 6-yard scoring strike to put the Mountaineers up 14-7 before the intermission. Lee punched it in from 3 yards out on what proved to be the game winner to start the second half, and Mount Baker won 21-14.
"It was a great way to start the season and a reward for doing the things we ask of them," Lepper says. "It was great for our community and the program—but in the end, it was a non-league game and we had to keep getting better in order to reach our goal of qualifying for the post-season."
Lynden hasn't lost since, while the Mountaineers have done exactly what their coach asked out of them and improved off of the victory.
After defeating Sehome and Cascade to wrap up their non-league slate, Mount Baker has also knocked off Northwest League foe Lynden Christian (24-8) in addition to its wins over Meridian and Nooksack Valley.
Failing to give up more than 14 points in any one game, the defense has certainly lived up to the program's tradition of hard-nosed play.
Kentner and Lee are two-way starters, playing linebacker and defensive back, respectively, and fellow senior Mark Tikhonov is a returning starter at middle linebacker.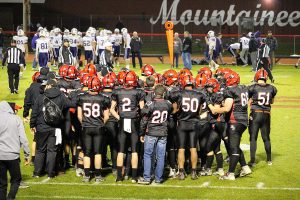 "We like to think of ourselves as grinders, nothing fancy," Lepper says about the team. "We try to play a physical brand of football."
The Mountaineers will play their final regular season home game on October 18 against visiting Lynden Christian (4-1) before closing things out on the road with games at Meridian (October 25) and Nooksack Valley (November 1).
A league title would assure the squad of hosting a district player game on week 10. A win there would send Mount Baker back to the state playoffs for the sixth time over the last seven years.
"We still have a lot of work to do as a team," says Lepper, who led the team to a second-place finish at state in 2013, "but we are very pleased with what they've done so far this season."