As part of its effort to continue closing the digital divide, Comcast is again expanding its low-cost internet service program for low-income households in Washington State and across the country.
The expansion of the Internet Essentials program, which offers broadband internet service to low-income families, seniors, veterans and those with disabilities, was announced October 4 in Spokane. Since its 2011 inception, Internet Essentials has provided more than eight million Americans with affordable internet service, including 340,000 in Washington and 10,500 in Whatcom County.
David L. Cohen, Comcast Senior Executive Vice President & Chief Diversity Officer, made the announcement in Spokane as part of a 12-city, cross-country promotional tour for the program. He was joined by Northwest resident Rico Roman, a United States Paralympian gold medalist in sled hockey. Roman, a Purple Heart recipient, lost his left leg in 2007 while serving in Iraq.
"The internet is arguably the most important technological innovation in the history of our country," said Cohen at a press conference. "There's no question that it has fundamentally changed the way that we work, live, shop, play and communicate. Sadly, there are still millions of Americans who are not connected to the internet at home."
As the country's largest and most successful program of its kind, Internet Essentials is shrinking the internet gap in America by providing broadband service to eligible households for just $9.95 per month. This includes a free modem and no installation fees. In addition, low-income families can purchase heavily discounted computers for $150 or less. Eligibility has increased 11 times in the program's eight years, Cohen says, but this year represents the biggest increase in eligibility, effectively doubling the number of low-income participants.
Although providing Internet access for those without isn't easy, the number one barrier to it is a lack of digital literacy skills. Not knowing how to use the internet or a computer, Cohen says, or having a fear of it due to issues like privacy, often keeps people from making the internet part of their daily lives. Combined with a lack of budget-friendly service providers and computer equipment, it's easy to see why a gap exists.
The overwhelming success of Internet Essentials comes from addressing all of these barriers, Cohen says. Comcast has assembled a comprehensive suite of digital literacy training materials, available in print, online, and through thousands of non-profit and governmental partners.
One of the biggest announcements from the Spokane event was the unveiling of a partnership with one of those partners: Goodwill. Comcast helped the non-profit create a state-of-the-art interactive digital classroom inside its Spokane services office. The 20-seat classroom will help provide digital literacy training free of charge to any interested Goodwill customers and members of the community. It will also support this Goodwill's local job training and placement program, giving participants the chance to learn how to use technology to find work and build technology skills that they can use throughout their career. The classroom features adjustable tables on hydraulics for those with disabilities, along with interactive learning and digital tools. Comcast also provided a grant to Goodwill, and surprised program participants with 50 laptops and six months of complimentary Internet Essentials service.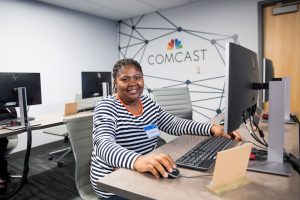 Although the Comcast Digital Classroom Program is currently just being piloted at Goodwill Spokane, Cohen says Comcast hopes to expand support at additional Goodwill offices nationwide in the future. Comcast also recently spearheaded a Goodwill-based jobs and technology training program in Seattle.
"This is a new, significant partnership," Cohen says. "We're hoping it will serve as a national model."
For Roman, seeing the positive impact Internet Essentials makes on other military veterans has been inspiring. From applying for jobs to getting VA benefits, Internet access is critical for those who've served. There's also a more personal importance: communicating with other soldiers once they've gotten out of the service.
"That's a huge part of returning back to civilian life," Roman says.
As a whole, Cohen says Comcast is immensely proud of their program's success. By providing internet service to those who need it, he hopes the result will be a nation of citizens who develop the skills needed to compete for jobs, become more educated, and build family-sustaining careers that can lift them out of low-income situations.
"If you don't have internet access, you're not going to be able to be a full and active participant in a 21st-century economy," Cohen says. "My hope is that, by increasing the digital literacy and capacity of any community, we'll have a more qualified workforce, and we will continue to build our economy."
For more about Internet Essentials, see their website or call 1-855-846-8376.
Sponsored